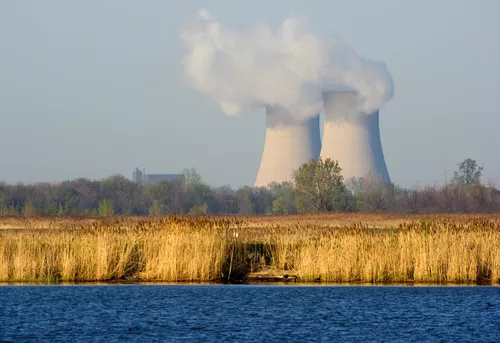 If you're still youngish or not a student of atomic history, you may know the phrase "We almost lost Detroit" — but not know what event it refers to.
No, it wasn't the riots. (Or the uprising.) It wasn't the crack cocaine epidemic, Devil's Night, or the bankruptcy. No, the song is a reference to Detroit's first nuclear reactor, Fermi I, which
suffered a partial meltdown in 1966
. The event was probably the best-known nuclear incident in the country at the time.
At 3:09 p.m. on Oct. 5, 1966, core temperature alarms sounded after a blockage kept the liquid sodium coolant from entering the reactor's fuel assembly. Several fuel rod melted at temperatures around 700 degrees Fahrenheit, and the plant had to be shut down. It was repaired later and was run for a few brief years, but was shut down permanently by 1972.
Ever since that fateful day in 1966, Fermi 1 has become a point of contention between friends and foes of nuclear power. The partial meltdown inspired the book We Almost Lost Detroit, which in turn inspired Gil Scott-Heron to write a song by that name. (For its part, Detroit Edison — now DTE Energy — published a book called We Did Not Almost Lose Detroit.)
But many of the
original criticisms of Fermi 1 seem unassailable
. For instance, the criticism that staff tended to dismiss warnings from the plant's elaborate monitoring and alarm systems as anomalies, or even a suppressed AEC memo that it shouldn't have sited an atomic breeder reactor 29 miles from the fifth-largest city in the country.
Needless to say, the record of nuclear power is beginning to look pretty sketchy in 2016. Looking back on the catastrophes at Chernobyl and Fukushima, some countries have decided against using nuclear power, and local communities are increasingly aware of what can happen.
This comes as the
enthusiastic backers of atomic reactors are declaring that plants built to last 30 or 40 years might keep operating for 100
. And as
the United States is poised to spend $1 trillion to build a new generation of nuclear weapons and production facilities
.
The nuclear question is all the more vital to people living in the Great Lakes region because of the risk of polluting our major source of water. And it's not just Fermi that raises the issue. Until a few years ago, there were plans to ship radioactive steam generators on the Great Lakes.
Those plans have been shelved for now
. But the Canadian government still intends to build
an underground storage facility for nuclear waste near Lake Huron in Ontario
. And yet there isn't a vibrant public debate about these plans, plans that could affect the health and well-being of millions of North Americans.
Luckily, we still have our feisty anti-nuke activists who continue to oppose the expansion of atom-smashing for power generation or weapons, including Alliance to Halt Fermi 3, Beyond Nuclear, Citizen's Resistance at Fermi 2, Coalition for a Nuclear Free Great Lakes, Don't Waste Michigan, and the Toledo Coalition for Safe Energy
A consortium of these groups are holding a gathering Downriver on Wednesday, both to commemorate the partial meltdown at Fermi 1, and to discuss plans for a nuclear-free Great Lakes. Nuclear experts will be on hand to discuss "the narrow aversion of a cataclysmic disaster" that "must serve as warning to the current day threat from Fermi 2," which Radio Free Europe called one of "
Five Nuclear Disasters Waiting to Happen
."
Wednesday's event begins with hospitality and displays at 11 a.m., and the "People's Recordation" begins at 3:09 p.m. Oct. 5, at Loranger Square, Monroe. See the Beyond Nuclear site for more information.