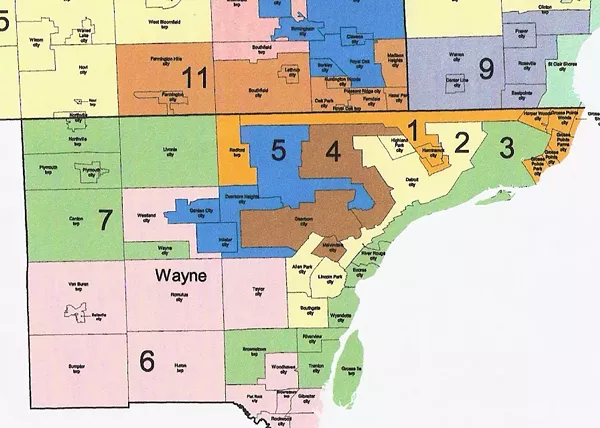 Can a protest get the Michigan Chamber of Commerce to drop its opposition to a proposal to end gerrymandering in Michigan? Activists are hoping so.
The nonprofit, anti-corruption group Represent.Us will today host a rally outside the downtown Detroit office of Michigan Chamber of Commerce chairman Mark Davidoff, who is also Deloitte's managing partner for Michigan. The chamber is one of the top financial backers of Citizens Protecting Michigan's Constitution, a ballot advocacy group aiming to to derail proposal to have an independent body redraw Michigan's political districts.
Citizens Protecting Michigan's Constitution has sued to block the initiative. If it survives the legal challenge, it will go before voters in November.
As part of their protest, activists will deliver 4,000 petitions demanding that Citizens Protecting Michigan's Constitution drop the suit.
"This lawsuit is a ploy by special interests to stop the voters from ending gerrymandering at the ballot this year, and keep the system rigged so that politicians choose their voters instead of the other way around," a newly released digital ad by
Represent.Us
reads.
The Michigan Chamber of Commerce and connected groups have contributed more than $220,000 to Citizens Protecting Michigan's Constitution, the Michigan Campaign Finance Network reports. That's more than two-thirds of the contributions the group has received.
Citizens Protecting Michigan's Constitution argues the changes of the anti-gerrymandering proposal are so significant that they would require a constitutional convention, rather than a vote of the people. The Michigan Supreme Court has agreed to take up the case and is set to hear oral arguments on July 18. (Further complicating things is the fact that at least four of seven justices on the Michigan Supreme Court have
received significant campaign contributions from the chamber
.)
"The Chamber does not support gerrymandering, as the misinformation campaign suggests; we oppose this specific ballot proposal because it's bad public policy," the Chamber said in a statement to
Crain's Detroit Business
.
But activists say that's not what it's really about.
"Business interests who oppose the anti-gerrymandering initiative have a corrupt, mutually beneficial relationship with their establishment politician friends who are terrified by the fact that the initiative would upend the power structure in Lansing," says Ellen Moorehouse, with Represent.Us. "It would finally enable voters to choose their politicians, instead of the current system that lets politicians pick their voters.
"Fixing gerrymandering is the most effective way to reduce political gridlock, increase choices for voters, and restore fairness and civility to government," she adds.
So many restaurants, so little time. Find out the latest Detroit dining news with our weekly food newsletter delivered every Friday morning.