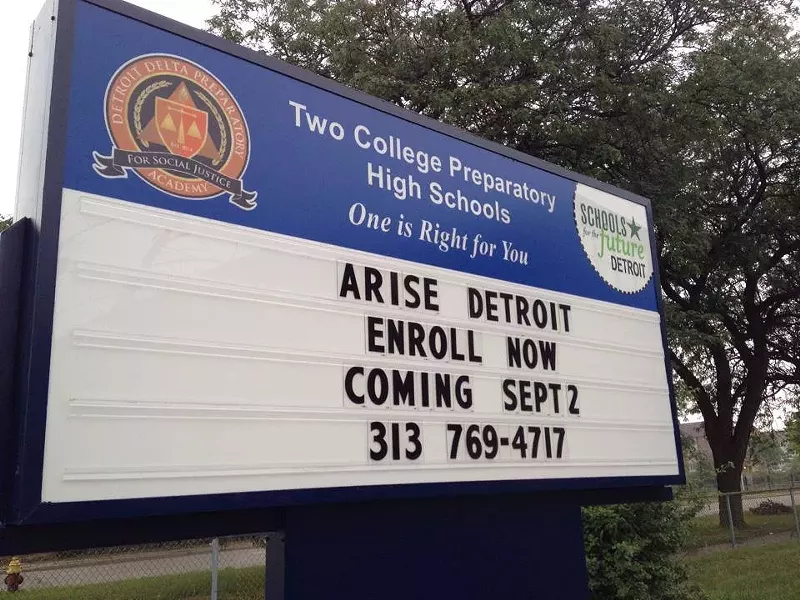 Less than a month into the school year, Detroit's Delta Preparatory Academy for Social Justice suddenly sent students packing today as education officials announced its permanent closure to the shock of parents and students.
The board of education for Delta Prep, a public charter school, voted 4-1 to shut down the school effective Oct. 1. Students were left in tears, says Kelye King, whose daughter, Ajah Jenkins, was a senior at Delta Prep and a member of the National Honor Society.
"The school did not notify the parents at all. It was a total shock," she says. "Just a cruel way to do it."
Students were ushered into the auditorium when they arrived Wednesday morning and told to turn off their phones, King says. School officials told the some 200 students of the school's imminent closure, then sent some home on busses while others were picked up by parents. The school's principal, William Tandy, was not present, King says, and officials did not immediately provide reasons for the closure.
"My daughter and her friends are devastated," she says. "They're worried about staying with their friends, whether their credits are going to transfer, if they're going to graduate on time."
Delta Prep is managed by Equity Education, which has offered to transfer all of the school's roughly 80 seniors to another school they manage, Detroit Leadership Academy, where they will be able to graduate on time and together, King says.
"The children and families of Detroit deserve better than the decision that was handed down today by the [Delta Prep] School Board," Equity Education says in a statement to
Metro Times
. "It is important for our families to know that today we presented the [Delta Prep] board three ways to avoid this closure — and allow our students to continue their school year."
Those options apparently did little to persuade the charter school's board.
President of
Equity Education
Renee Burgess, who manages the school, posted a statement on Delta Prep Academy's Facebook page.
"As an organization, and personally as a parent, I believe it's wrong to educationally evict children from their school, particularly once the school year has started," she wrote. "The instability and trauma that is created when you close a school will remain with these children."
King's unsure if she's ready to trust another Equity-managed school, and so is Tonika Williams, another parent of a senior at Delta Prep.
"I don't know if I should send her back," Williams said. "It was a small school where she found teachers she trusted. She had a math teacher she absolutely adored. Now what? Is she going to go to DPS where there's lead in the water?"
The
July 2018 partnership agreement
between Delta Prep, the Michigan Department of Education, the State School Reform Officer and the academy's authorizer, Ferris State University, reveals a litany of red flags in the school's operations.
The contract, which outlines benchmark goals through to 2021, reveals that in 2017, more than half of all students were suspended and only 20 percent regularly attended class. Not a single student at the school in the past two years has qualified as proficient in sciences. Earlier this year, the Michigan Department of Education identified it as among the 5 percent lowest-performing schools in the state.
The
Free Press
reported that the board's budget depended on enrollment of 265 students, but just 203 enrolled this year, and only 180 showed up daily. Michigan schools get a set amount of money for each student, so a drop in enrollment can wreck a budget.
"They weren't certain they were going to be able to be financially viable throughout the year," Ronald Rizzo, director of the charter school office at Ferris State University, the Academy's authorizer, told the
Free Press
. "While we're all really disappointed ... now we're totally focused on trying to get schools for these students and their families."
Nearly all of the students at the school — 97 percent — are from low-income families, according to the 2018 partnership contract. "Many are in need of social and emotional support. Due to their low-income status, those students living in extreme poverty struggle to have their basic necessities met," the contract states.

Will Feuer is a
Metro Times
fall editorial intern.

Get our top picks for the best events in Detroit every Thursday morning. Sign up for our events newsletter.