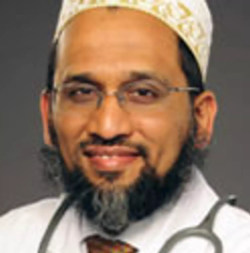 A second metro Detroit doctor and his wife have been charged in a female genital mutilation case out of Livonia.
Dr. Fakhruddin Attar, 53, and his wife Farida Attar, 50, allegedly participated in a conspiracy that involved
cutting the genitals of two young girls from Minnesota. A criminal complaint unsealed last week said
Dr. Jumana Nagarwala
, an emergency room doctor with Henry Ford Health System,
carried out the procedures at a Livonia clinic that authorities now say was owned by Dr. Attar.

Authorities believe Attar and his wife arranged and helped Nagarwala carry out the procedures. They're said to have happened at the Burhani Medical Clinic on Farmington Road, where Ms. Attar is apparently an office manager.
The Free Press
has reported that a lawyer for Nagarwala said no cutting went on, but rather that the membrane from the girls' genital areas was removed and given to parents for a ritual burial. Apparently, it is
a religious custom
by a sect of Indian Muslims known as the Dawoodi Bohra.