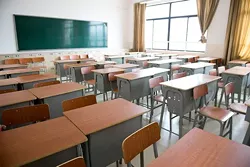 Another day, another Detroit Public Schools corruption case.
The
Detroit Free Press
is reporting that charges have been filed against 69-year-old Carolyn Starkey Darden, the former DPS Director of Grant Development, who allegedly billed the district $1.275 million for tutoring services that were never delivered.
"Detroit students were cheated twice by this scheme. Students that needed tutoring never received it, and money that could have been spent on other resources was paid to Ms. Starkey-Darden as part of her fraud scheme," Detroit's FBI chief David Gelios told
Freep
.
These charges come on the heels of
another DPS corruption case
that was uncovered two months ago and led to charges against 14 people allegedly involved in a kickback scheme for a school supply vendor that billed the district $2.7 million, but never delivered the supplies.
While these corruption schemes are viewed as detrimental for DPS's image — especially as the district's future currently hangs in the balance — they all started at time when the district was under state control.
According to the
Detroit Free Press,
Starkey Darden faces charges for a scheme she's accused of running from 2005 to 2012. It was not until January 2006 that an elected school board was put back into control of the district, after the state took control in 1999 (Gov. Jennifer Granholm then appointed Robert Bobb as the district's emergency financial manager in 2009). The district's other recent corruption case dealing with never-delivered school supplies began in 2002.