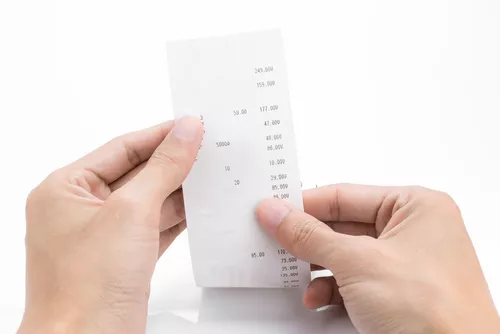 Here's a news item that might have you saying, "I don't need a receipt."
Researchers working for the Healthy Stuff program at Ann Arbor's Ecology Center, a nonprofit environmental advocacy organization, have released a report in which paper receipts from 150 businesses were tested for known endocrine-disrupting chemicals.
The center tested approximately 200 receipts from many different kinds of businesses, including big box stores, drug stores, grocery stores, gas stations, restaurants, and libraries. The researchers found that many thermal paper receipts use bisphenol S (BPS) and, to a lesser degree, bisphenol A (BPA) as the developer chemical.
"BPA and BPS are not chemically bound to the receipt paper," says Gillian Miller, Ph.D., senior scientist at the Ecology Center's Healthy Stuff program. "They come off onto fingers and enter the bloodstream within minutes."
That's cause for concern, researchers say, because BPA interacts with estrogen and thyroid hormone receptors, and because occupational exposure to BPA has been linked to increased risk of breast cancer. It was found in 18 percent of the analyzed receipts.
BPS, however, was found in 75 percent of the analyzed receipts. According to researchers, low doses of BPS disrupt maternal behaviors, the brain, and the mammary gland in nursing female mice.
The report found three retailers using receipt paper with no thermal coating and one retailer, Best Buy, using Pergafast 201, an alternative free of toxic phenol chemicals.
The Ecology Center is calling on other retailers to follow Best Buy's lead.