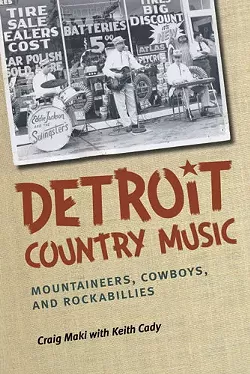 For more Detroit country music talk, listen to our podcast (here) featuring a two-hour discussion about Maki's book, with selections of music from such artists as Buster Turner & the Pinnacle Mountain Boys, Rufus Shoffner, Earl & Joyce Songer, the York Brothers, Chief Redbird, the Silver Sage Buckaroos, Skeets McDonald and Tommy Odom, among others. Also check out a slideshow of photos from the (here).
Excerpt from Detroit Country Music: Mountaineers, Cowboys and Rockabillies, by Craig Maki with Keith Cady, appears courtesy of University of Michigan Press.
October 1943, Detroit nightclub owner William Levin realized he had problems, World War II the least of them. After struggling through the Great Depression, earnings from his vaudeville show bar had slipped into the red. From behind picture windows advertising jazz music, theatric entertainers, and comedians, Levin fought pangs of helplessness as he watched hundreds of workers leave shifts at the Chrysler Corporation and Continental Aluminum facilities nearby and head God-knows-where, but not through his doors. Wartime production in Detroit, including the factories surrounding Levin's Jefferson Inn, at 11707 E. Jefferson, ran at full capacity, 24 hours a day.
Levin's few remaining regulars observed how the neighborhood had changed in the past few years, with newly arrived white workers from the South filling single family homes, rental flats, and apartments. As housing became available, another family from Appalachia materialized, ready to move in. Realizing he couldn't ignore the demographic shift any longer, Levin dialed a telephone.
In the past he had booked entertainers through Detroit offices of national talent agencies, which typically represented few country and folk music artists. Levin phoned the independent Betty Bryden agency in Detroit to hire acts that would appeal to the Southern migrants living and working in the vicinity of his club. Bryden, who led an "all-girl" pop orchestra during the 1930s, landed the York Brothers, two Kentucky transplants, to headline at the Jefferson Inn. Bryden also arranged for Levin to sponsor a radio show for the duo at WJLB Detroit. To his surprise, business improved immediately, and Levin had a happy Thanksgiving.
When he first asked around, Levin discovered the York Brothers, George and Leslie, were famous among the Southern newcomers. He remembered the hoopla their record "Hamtramck Mama" caused in the spring of 1940. Then-mayor of Hamtramck Walter Kanar obtained a court order banning performance of the song within his city's borders. In neighboring Detroit, country music fans wore out that record, and dozens of others the York Brothers made for the Mellow Record Company, based in Edward Kiely's Mellow Music Shops, a few blocks away from the Jefferson Inn.
Kiely opened his first Mellow store in 1939, at 13217 E. Jefferson, across the street from the former Braun's Music House. In 1927-28 Braun's operated WBMH radio, a one hundred-watt station at 1420 [khz]. By 1930, WBMH fell silent. WMBC radio Detroit, based in the Hotel LaSalle (later called Hotel Detroiter) at Woodward and Adelaide, claimed the frequency that year.
The Michigan Broadcast Company launched WMBC in 1924, presenting broadcasters and entertainers from a variety of ethnic backgrounds that made up the citizenry of Detroit. … Country artists dotted the WMBC schedule during the 1930s, and it may have been the station where the York Brothers first appeared after they moved to Detroit around 1938 from WPAY Portsmouth, Ohio. After purchasing the station in 1939, newspaper executive John L. Booth changed its call letters to WJLB.
The York Brothers' radio work prepared them for making recordings, which wasn't much different from playing music in a broadcast studio. Musicians performed around a few microphones (sometimes just one) in a room lined with sound-dampening material while engineers electrically transferred the sounds into grooves on wax master disks. Metal plates were made from masters, and shellac records pressed from the plates. While the Depression caused all but the largest record companies to fold, a revival of the jukebox industry in Detroit during the early 1940s led to a new business model in making and selling records, spurred by factory workers with pocketfuls of nickels to spend in jukeboxes.
In 1939 the York Brothers cut "Hamtramck Mama," a musical portrait of a red-hot playgirl, in Universal Recording Studios at 12942 E. Jefferson. The sentimental "Going Home" appeared on the flipside of 78-rpm disks sporting blue paper labels and the Universal Recording Studios emblem printed in silver ink. Marquette Music, a forty-year-old Detroit vending company, produced and distributed the records in Michigan and parts of Indiana and Ohio.
"Hamtramck Mama" struck a rich vein of precious metal — coins, that is. Its popularity in barroom and café jukeboxes spread like wildfire. A few months later, Hamtramck Mayor Kanar's court order brought wider attention to it, resulting in sales of 300,000 copies in Detroit alone. With no competition from other independent record companies in Detroit, Marquette Music probably issued the first commercial recordings by country musicians made in the city.
At least three more records by the York Brothers appeared on Universal within a year of "Hamtramck Mama." Marquette Music produced the Yorks' follow-up, "Highland Park Girl." Other Universal records by the York Brothers displayed the street address of Edward Kiely's satellite Mellow Music Shop at 965 Dickerson (around the corner from his first). Besides selling musical instruments, lessons, and records, Kiely serviced a route of jukeboxes on the east side. Perhaps to distance himself from Marquette Music and their use of the Universal imprint, around 1941 Kiely introduced the Hot Wax label, featuring silhouettes of two shapely young ladies. He closed a deal with Buhl Sons Company, another Detroit jukebox supplier, and issued "hillbilly novelty" and "hillbilly blues" records by local country-western groups led by Forest Rye, Billy Casteel, and Eveline Haire. Kiely also produced the Mellow label, resulting in a catalog of thirty-some records dominated by the York Brothers.
The Kentucky voices and guitars blasting "Hamtramck Mama" from area jukeboxes announced to Detroit — and the rest of America — that a substantial number of workers from the South had arrived in southeast Michigan. William Levin of the Jefferson Inn figured this out relatively late, yet cashed in on the phenomenon. Levin advertised for hillbilly acts in music industry magazine Billboard. He hired many groups from Detroit and nearby cities (due to wartime travel restrictions), initiated weekend square dances, and sponsored radio shows by his artists. To improve foot traffic, Levin ended his door charge — an unusual move for show bars, according to Billboard. "His idea is a quick turnover," stated an article from December 1943. …
William Levin's Jefferson Inn gave way to scores of bars and nightclubs featuring country-western entertainment across Southeast Michigan. In 1948, the York Brothers, who had moved to Nashville in 1946 and joined the WSM Grand Ole Opry, worked Detroit nightclubs for 38 consecutive weeks. Western swing bandleaders such as Chief Redbird, Arlee Barber, Luke Kelly and Jack Luker kept Detroit bars crowded with dancers. …
Most musicians who began careers in Detroit before and after World War II continued entertaining until the ends of their lives in venues such as older country bars, social halls, picnics, and house parties. Meanwhile, commercial country radio stations spinning contemporary hits for a younger generation earned strong listener ratings. The Detroit Downtown Hoedown, a weekend music festival started in 1982, drew thousands of fans once a year to Hart Plaza (on the riverfront where Woodward and Jefferson avenues meet), to witness the latest stars from Nashville along with Michigan artists.
For most of the 20th century, talented musicians who lived and worked in Southeast Michigan added fuel to the nation's country music machine. [In this book] we pay tribute to those who took part, reigniting a spotlight on pioneers of country music made in the Motor City.