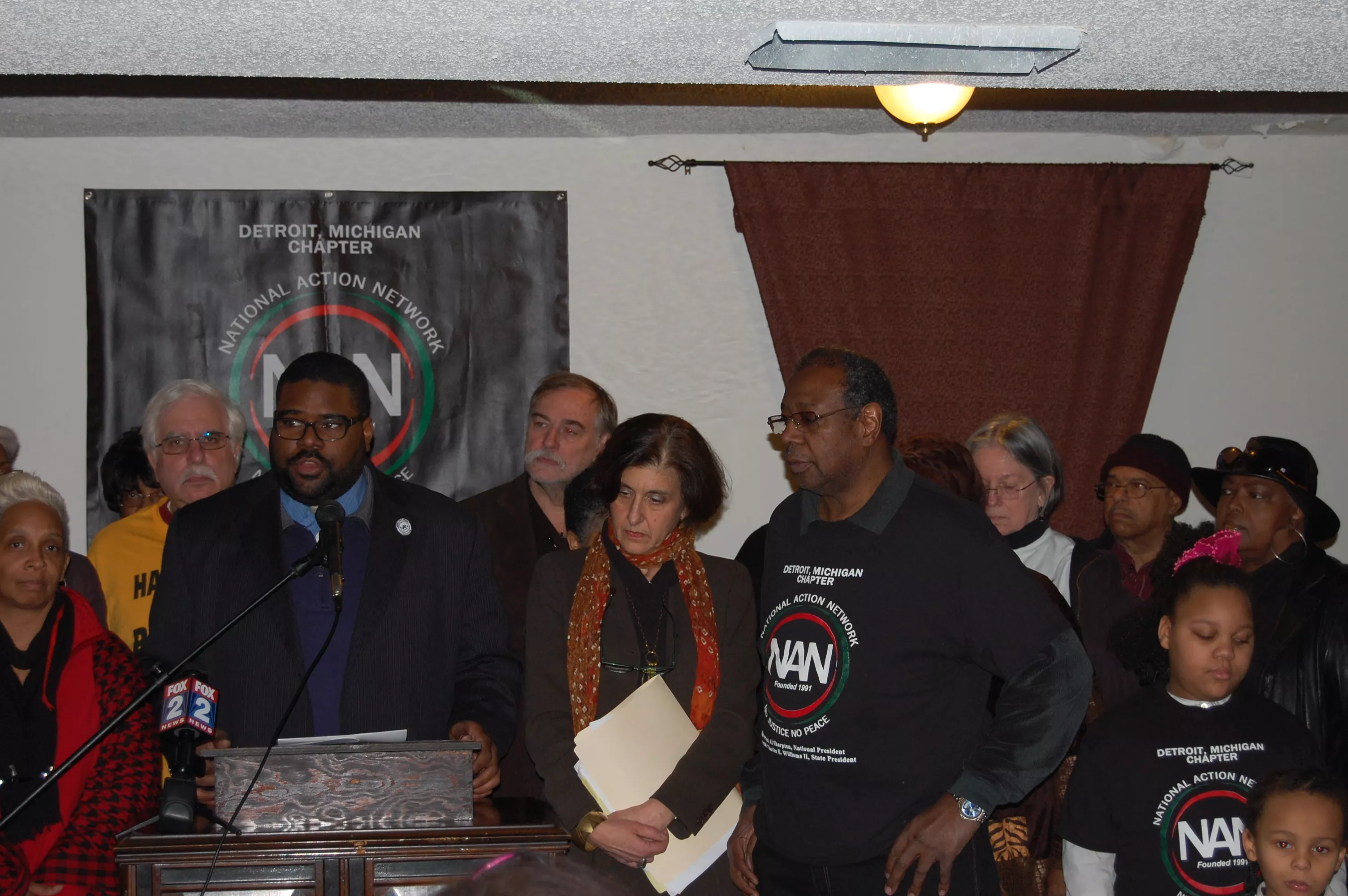 It's not pension obligations that led to the city of Detroit's historic bankruptcy filing; it's a severe lack of revenue.
That was the assertion offered by a coalition of community-based groups Monday in an alternative proposal to the required bankruptcy-exit plan filed last week by Detroit Emergency Manager Kevyn Orr. The same assessment was offered in a report issued last fall by New York-based liberal think tank Demos.
Calling the bankruptcy-exit plan "inhumane," "inequitable" and "unfair," the Rev. Charles E. Williams, president of the National Action Network's Michigan chapter, told a crowd at a press conference Monday: "We are unequivocally opposed to the plan that was submitted by the emergency manager."
Williams says Orr's plan is based off "if-come," a reference to the "grand bargain" proposal hatched by the mediator overseeing Detroit's bankruptcy. The bargain calls for $850 million to be poured into Detroit's coffers from a number of foundations, the Detroit Institute of Arts, as well as a $350 million commitment from the state legislature. As Orr acknowledges in the bankruptcy-exit proposal, called a "Plan of Adjustment," which bears the same vaguely positive language as similar generic phrases like "trial separation" and "amicable parting of ways," if one of those streams falls through, then the entire plan is kaput.
So, Williams asks, what if the state legislature decides not to approve funds? The Plan of Adjustment's answer is simple: The proposed cuts to pensions — up to 34 percent for general retirees, 10 percent for fire and police — would likely grow.
Now, we at the Hits aren't financial wizards, but we do understand Detroit's financial problems are multifaceted.
According to Orr, Detroit's long-term debt accounts for nearly 40 percent of the city's general fund dollars, a number he says could jump to nearly 67 percent in the coming years. Orr maintains that's a chief cause of Detroit's financial problems, and proposes tackling it with, among other things, those cuts to pensions and retiree health care.
The community groups' proposal released Monday, called "A People's Alternative Plan: Toward a Sustainable Detroit," suggests a different approach: Focus on eliminating the city's nearly $200 million budget shortfall, then on what they say is Orr's inflated estimate of a $3.5 billion pension liability and $6 billion health care liability.
That's also the conclusion reached by Demos senior fellow Wallace Turbeville, a former vice president at Goldman Sachs, in the report that challenged Orr's assessment.
The coalition's plan, likely politically unpalatable on a number of fronts, offers some suggestions that, no matter how viewed, would benefit the city, including: ending costly interest-rate swaps deals, fully restoring state revenue sharing, implementation of a $1,000 annual fee to all vacant properties owned by banks, establishing means to collect all outstanding property taxes in Detroit, and more.
Orr's office did not respond to requests for comment at press time.
Backers of the alternative proposal scheduled a meeting Sunday, March 2 at 2 p.m. inside the Central United Methodist Church on Woodward Avenue at Grand Circus Park. Organizers are asking supporters to contribute input and resources to the alternative plan at the meeting.

The entire People's Alternative proposal can be found at d-rem.org/peoplesplan.