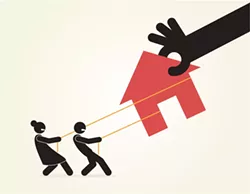 The preview for AJ+'s
Eviction City
documentary is hard to watch. It opens as a group of neighbors try to stop workers who've been sent to evict a family from one of the community's home. A tussle breaks out, a man is pushed to the ground, and a woman is screaming. Tensions are clearly high. These people are fed up with their neighbors losing their home to investors who buy them for as little as $500. They're fed up with living in fear that they will lose theirs.
The preview promises to explore Detroit's eviction crisis, interview residents who've been displaced by home auctions, and those who live in fear of losing their home to an investor. It's a topic our investigative reporter Allie Gross explored in her story
Out From Under
, which we published late last year and it's one that many Detroit residents can relate to.
You can watch the preview below.