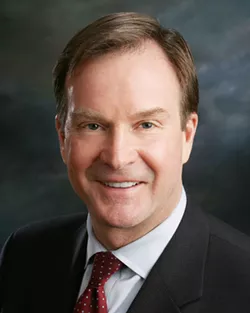 Dozens of protesters swarmed the home of Attorney General Bill Schuette Wednesday afternoon in protest of "Line 5," a controversial and aging oil pipeline owned by Canadian giant Enbridge Inc. and situated under the Great Lakes.
While the protest ended with zero arrests and, according to state police, individuals dispersed on their own, Schuette's office is not holding back from strong language when describing the incident.
According to the
Detroit News,
a spokesperson for Schuette has described the protestors, who allegedly banged on the Schuette's front door for 30 minutes, as "thugs."
"This was a cowardly assault by professional protesters whose car license plates mostly appeared to be from out of state," the
News
is reporting that Schuette spokeswoman Andrea Bitely said in a statement.
Schuette is on a committee to review the pipeline, but has not pulled the plug on the underwater system — a source of contention for protestors, who also have issues with the way the attorney general's office is portraying their protest to the media.
"Maybe the loudness (of our chants) was a thing, but there was no banging on windows or doors or anything like that," Dan Ayler, 29, of Lansing told the
News.
"I find it disturbing the attorney general is going to lie about what people were doing."
Protests over the pipeline have become more visible as of late, especially as critics fear the degradation of its structure, and ultimately the contamination of the Great Lakes.
Environmentalists protesting the 63-year-old underwater oil pipeline began walking the length of "Line 5" last month. Their goal is to bring attention to what they believe to be a cataclysmic environmental disaster in the making. In 1953, when the pipeline was constructed, engineers predicted that it would only hold up for 50 years. We are now 13 years past that date, and activists believe an oil spill is in our future.
These fears are not completely unfounded. In July 2010, Line 6B — another underwater pipeline owned by Enbridge — burst near Mashall. "The spill resulted in nearly 20,000 barrels — 840,000 gallons — of heavy crude oil flowing into Talmadge Creek, which made its way into the Kalamazoo River," former
Metro Times
reporter Lee DeVito explained in a
December feature
on the fight to shut down Line 5.