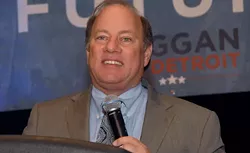 When Detroit Mayor Mike Duggan was out making a final push for votes ahead
of his ultimate re-election last week, he briefly diverged from talking points of streetlights and street sweeping, apparently, in the name of revenge.
Days earlier, an auto insurance reform bill he had hoped to count among his greatest achievements as mayor died in Michigan's House of Representatives. The bill was defeated 63-45, with five of the nine lawmakers from Detroit among the "nays."
"Half of the Detroit delegation didn't vote with us," Duggan told the Detroit News while campaigning at a North End church on Nov. 5. "I intend to campaign against every one of them this August."
Since running for mayor for the first time in 2013, Duggan has fought to reduce auto insurance rates for his constituents, who, on average, pay the highest premiums in the country and often choose to avoid the bill by driving illegally.

And insurers, who for years had been trying to eliminate the state's unique-to-the-nation unlimited medical cap, appeared to be counting on him to help get something done. A Metro Times review of campaign finance records found that, between 2013 and Oct. 2017, Duggan received at least $37,000 from auto-insurance industry-connected individual donors and groups. The contributions came from auto insurance franchise owners, brokers, and lobbying groups mostly based outside city limits. (While Duggan received some donations from trial lawyers and medical interests on the other side of the debate, all of the donations reviewed by Metro Times came before he was elected to his first term in 2013.)
Until this legislative session, Duggan's efforts to reform the system were concentrated on creating a lower-cost, city-specific plan called D-Insurance, which would have capped total medical care benefits at $275,000. The bill died in last year's legislative session.
This year, after weeks of work with Republican House Speaker Tom Leonard, Duggan helped craft a new plan that supporters said would have reduced rates 20 percent on average statewide. House Bill 5013, after amendments, would have let people choose from several levels of personal injury protection in exchange for varying levels of rate reductions. Those who selected $250,000 in coverage would have saved 40 percent on the personal injury protection portion of their premium, those who selected $500,000 would have saved 20 percent, and those who opted to keep their unlimited coverage would have saved 10 percent.

But the proposal did not have widespread support. All of the Democrats in the House, except for four of the nine representatives from Detroit, voted against it. The bill's flaws, they said, included a loophole through which insurers would not have to guarantee rate reductions. They also said insurers would not pass the full savings from the personal injury portion of premiums onto drivers.


The bill also failed to address a practice known as redlining, or charging people different rates depending on non-driving factors like where they live, their gender, or level of educational attainment. And, according to a score by the state's nonpartisan House Fiscal Agency, it would have shifted about $150 million in medical costs for injured drivers to taxpayer-funded Medicaid.

"I think a lot of the pieces in House Bill 5013 were written in terms to benefit the insurance industry," said Detroit representative Stephanie Chang, who voted against the proposal.
Other opponents of the plan, like the Michigan Health & Hospital Association, which represents hospitals, and the Michigan Association for Justice, which represents attorneys, also cast the plan as a "giveaway" to insurers.
As of Oct. 2, the donors on the insurance industry's side of the debate had apparently
outspent
their opponents on the issue, according to an analysis from the Michigan Campaign Finance Network. But while media reports from places like the right-leaning Sinclair Broadcast Group described the most pressure as coming from those opposed to the reform (one Republican lawmaker claimed the House minority leader was threatening to cut staff for Democrats who didn't fall in line with a "no" vote), Chang says she experienced just the opposite.
"Some of the team of people who were pushing House Bill 5013 over the course of several meetings started with a focused policy back and forth [and escalated pressure by] saying they'd take care of my Senate run for me if I flipped my vote," she said.
Chang says she remained convinced that the bill would do damage to her constituents and voted no. And that's what makes Duggan's promise of political payback all the more surprising for her and other lawmakers from Detroit.
"I'm kind of blown back," said Rep. LaTanya Garrett, who voted against the bill and had campaigned for Duggan before he was elected to a first term. "It's bullying at its finest and it's not good policy."
Some Detroit House Democrats who voted against the measure have thrown their support behind a package of 15 alternative no-fault reform bills that they say would reduce premiums without doing away with the state's unlimited medical cap. One of the bills, which would address redlining, is sponsored by Detroit delegation chair Sherry Gay-Dagnogo. A cheat sheet showing how House Democrats say the alternative "fair and affordable no-fault reform" stacks up against Duggan's moribund plan is available below.

The bills do not have support from the insurance industry, making them unlikely to pass the Republican-led legislature. A spokesman for Duggan wouldn't say whether the mayor would support the effort.

Duggan has separately said he'll continue pushing for a plan to drive down auto insurance premiums. The day after his bill was rejected, he told WXYZ-TV he had dinner plans with a group of trial lawyers.

"We're just gonna keep right on going until we get to a solution," he said.