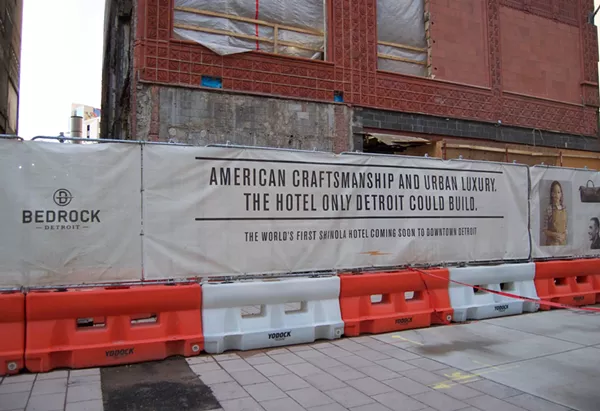 It's no secret that Detroit-based watch and luxury goods maker Shinola has faced a fair share of
criticism for its marketing practices
.
The company, which is owned by a Texas-based private equity group, put down stakes in the city in 2011 with a branding scheme some believe co-opted the workman's spirit of Detroit to sell items the majority of Detroiters could not afford. Shinola also suggested that its watches, bikes, and other products were made in Detroit, when in reality, they are assembled in the city using foreign parts. The issue
prompted the Federal Trade Commission
to enter the debate over Shinola's authenticity, and last year, the company was made to add the words "
Swiss and imported parts
" just below the "Built in Detroit" slogan on the back of each of its watches.
Despite that debacle and ongoing issues over its brand identity, Shinola appears to be enjoying continued success and has substantially grown its operation since first opening in Detroit. The company now has about 50 stores across the U.S. and Europe, employs more than 600 people (about two-thirds of them work in Detroit), and recently expanded its product offerings to include
audio equipment
. In the fall of 2018, Shinola will formally enter the hospitality business when work wraps up on the downtown Detroit building that will become its first hotel.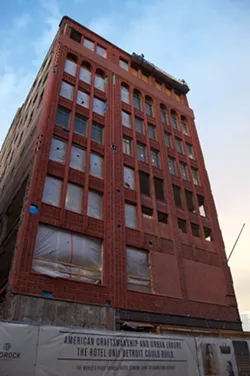 But with construction underway at the Woodward Avenue site that will eventually serve as the face of Detroit for some visitors, we find Shinola again making claims about the city that aren't quite true.
Our thinking-face-emoji sensors first went off on a stroll through downtown last month, when we caught a glimpse of the language the company is using to market the new hotel. Hung along the perimeter of the eight-story red brick building were banners that read, "American craftsmanship and urban luxury. The hotel only Detroit could build."
Just how "Detroit" is building this hotel, however, is not exactly clear. A cursory Google search finds that a
Southfield-based firm
has been hired as the general contractor for the construction project, and deeper digging reveals that those overseeing the hotel's construction cannot yet say how many Detroiters are involved.
"The best you can do very practically in the marketplace today, given the availability of labor ... is hire 25-30 percent [Detroit residents]," says Jared Fleisher, vice president of governmental affairs for Quicken Loans. Quicken founder Dan Gilbert's Bedrock is teaming up with Shinola to create the hotel, and Fleisher's office is in charge of securing tax incentives for the project.
Fleisher did not know how many Detroiters were working on the hotel project, specifically. He did, however, say Bedrock would track and eventually report that information because hiring local "is an important value for us." A spokeswoman for the general contractor on the project, Barton Malow, says the company will next month have a firm grasp on how many Detroit residents are working at the site.
To be sure, the companies on the project are right now not required to hire any Detroiters to build the hotel. There is a
rule
that says developers must hire city residents for 51 percent of work on a project if it will receive more than a total of $3 million in tax incentives, discounted land, or direct money from the city. That rule, however, does not apply to the Shinola project because the hotel's developers have not applied for any tax abatements.
Yet. And that's where the Detroit labor requirement gets a little murky.
Fleisher says the Shinola project plans to apply for a 10-year Commercial Rehabilitation Act abatement, and if approved, the project would likely be subject to the 51 percent Detroit labor rule. But construction at the site has been going on for
nearly six months
with no such requirement. It's not clear what happens should an abatement be approved in the midst of a construction project, but we've reached out to the city to find out.
A spokeswoman for the general contractor, meanwhile, says the company has a strong track record when it comes to workforce development and will follow whatever labor guidelines it is given.
"We'll certainly get to whatever we need to get to and work with Bedrock to help them do that," says Barton Malow spokeswoman Dana Galvin Lancour.
The company is one of the primary contractors overseeing construction of the Little Caesars Arena, where the city has issued at least
$500,000 in fines
to various contractors who've failed to meet the 51 percent Detroit workforce quota. At issue is a
skilled labor shortage
that city officials are hoping to address by putting the fines paid by violators toward a program that helps Detroit residents learn skilled trades. Companies have also been working to get more skilled laborers trained to ensure they can keep up with Detroit's construction boom.
Considering this issue, it makes sense that the Shinola Hotel is — at best — likely just 30 percent Detroit-built. But the company does not seem compelled to change its marketing message with that in mind. A spokeswoman for Shinola asked that we forward our inquiry about the "hotel only Detroit could build" slogan to Bedrock. A spokeswoman with that company could not speak on the marketing effort.