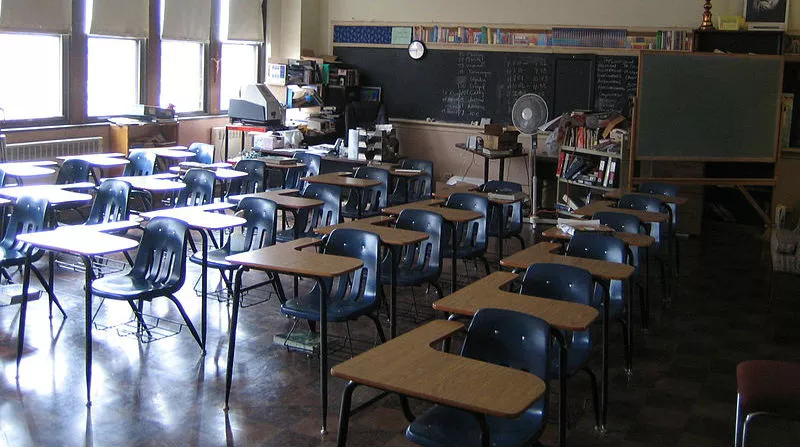 Just three weeks after test results revealed elevated lead and copper levels at 16 Detroit Public Schools Community District schools, a new round of testing shows tainted water at an additional 33 schools. This brings the number of contaminated schools within the district to 57 of 86 schools tested.

The results from the first round of tests shared by the district on Aug. 24, initiated a district-wide water shutoffs at all 106 DPSCD buildings. The tests revealed that 16 of the first 24 schools tested for elevated levels. Students began their academic year without running water and were forced to rely on water bottles and coolers which, were reportedly often warm and have cost the district an estimated $200,000. Solutions were discussed during a board meeting last week when superintendent Nikolai Vitti proposed installing a $2 million filtration system dubbed "hydration stations."

According to a Wednesday statement, a similar protocol will be enforced as with the first round of results. Families and students will be notified via robo-calls and letters detailing the results. Water coolers will continue to be used and the board is moving forward on Vitti's "hydration station" bid which, if approved, would not be installed until the beginning of next school year.

Read the full press release below. For a full list of schools affected by the second round of results visit the DPSCD website.
As you are aware, the District initiated water testing of all Detroit Public Schools Community District school buildings during the latter part of last school year to ensure the safety of our students and employees. This was not required by federal, state, or city law. This testing, unlike the previous testing in 2016, evaluated all water sources from sinks to drinking fountains. When the first round of results indicated 16 of 24 schools had high elevations of lead and/or copper, we turned all drinking water off in schools and provided bottled water and water coolers.

We received the latest round of testing results, which follow the same pattern as the first round. 33 of 52 schools have elevated levels of copper and/or lead. This means, to date, that 57 of 86 schools where test results have been provided, elevated levels of copper and/or lead were identified (this does not include the previous 10 Di-Hydro schools where copper and/or lead was detected).We are still awaiting results for seventeen schools (A.L. Holmes, Catherine Ferguson, Palmer Park, Davison, Fisher Upper/Lower, Pershing) and the original 10 Di-Hydro schools. Staff have been informed of the results and the same will occur for families and students through an automated call home and a backpack letter home.

Moving forward we will continue to use water coolers districtwide and are actively working through the bid processes to make a recommendation to the board for the use of hydration stations. This will occur within the next couple of weeks. The hydration stations would be installed in all schools by beginning of next school year districtwide and replace the need for water coolers. A hydration station would be placed in a school for every 100 students, in addition to one in the kitchen, faculty lounge, and gym. Additional stations would be installed after the first year of implementation if consistent access is a challenge based on the configuration of the school's building.


Stay on top of Detroit news and views. Sign up for our weekly issue newsletter delivered each Wednesday.