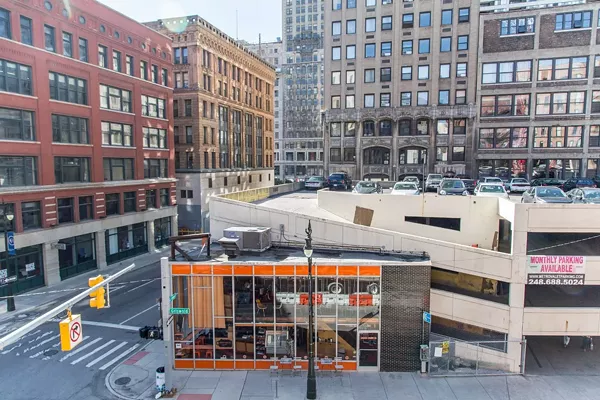 If you read the
Free Press
on Sunday
,
you might walk away with the impression that there was literally nothing going on in Detroit's now-hot Capitol Park neighborhood before 2009.
In a story titled
"How Detroit's Capitol Park went from desolation to a hot destination,"
John Gallagher chronicles how the neighborhood was transformed into "one of downtown's trendiest enclaves" over the past decade thanks
to
the efforts of Detroit Economic Growth Corp. and Dan Gilbert's Bedrock real estate firm.
"Capitol Park's renewal took a blend of public leadership, nonprofit money, private investment, and historic preservation," the
Freep
reports. "Most of all, it took a vision that has remained remarkably consistent."
What's interesting is what's omitted here: There were quite a few major players who were keeping the neighborhood alive long before Bedrock set its sights on it.
For example, there's no mention of the nearby Isaac Agree Downtown Synagogue, the last remaining synagogue in the city, which has owned and operated the building since the 1960s and in recent years hosted dance nights and other events for a wider audience.
There's no mention of Cafe D'Mongo's Speakeasy, the beloved dive bar which operated from 1985 to 1995 before owner Larry Mongo re-opened it in 2007.
There's no mention of how the district's lofts were an integral part of Detroit's
rave scene
in the '90s, which gave rise to party promoters Paxahau (who would later become the producers of the Movement electronic music festival).
While the
Freep
notes the neighborhood is home to a coffee shop, it fails to note that owner Josh Greenwood opened the Urban Bean Co. in 2008, before the economy turned and it was forced to close in 2010 until it reopened in 2013. Clearly, Greenwood saw something here before the DEGC or Bedrock did — and he was right.
The story gives just a three-sentence nod to the low-income seniors who were evicted to make way for the luxury apartment building The Albert. The overall picture it paints is of an alleged ghost town before Bedrock moved in — failing to recognize the little guys who were part of the neighborhood's culture, and who certainly helped make it appealing to a big player like Bedrock.
Updated at 3:53 p.m.:
We totally forgot to mention the
White Room
recording studio, where artists like Laughing Hyenas, Big Chief, Thornetta Davis, and Kid Rock cut records in the 1980s and '90s.

Stay on top of Detroit news and views. Sign up for our weekly issue newsletter delivered each Wednesday.