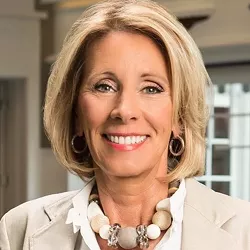 Betsy DeVos is Donald Trump's pick for Secretary of Education and while
some aren't convinced she's got the chops to take on the gig
, others are spending their time petitioning the potential cabinet member in hopes she'll support Title IX protections for rape victims and LGBT students.
End Rape on Campus and Know Your IX are the two groups behind the campaign and they're asking people to take to Twitter to share stories about Title IX's influence in their lives and to include the hashtag #DearBetsy.
#DearBetsy, because of #TitleIX, I stayed in college, went to law school, and now fight for other women and girls' access to education

— Alexandra Brodsky (@azbrodsky) January 9, 2017
When I was raped my school provided me free counseling thx to Title IX. Ensure other victims get the same https://t.co/0m3nsUFlmt #DearBetsy

— Dana Bolger (@danabolger) January 9, 2017
#DearBetsy when I exercised my Title IX rights at my university, it helped save my semester and keep me in school. Please protect Title IX.

— Lauren Allen (@laurgallen) January 9, 2017
The campaign was born out of concerns that the Trump administration will seek to undo the previous administration's efforts to combat sexual assault in schools as well as improve the way educational institutions handle reports of sexual assault.
In an interview with
Buzzfeed News
, End Rape on Campus co-founder Sofie Karasek said, "The goal is for her to commit during her hearing to upholding these really important provisions for students. We wouldn't want to make this issue even more complex for schools to deal with and even more painful for survivors to go through."
DeVos, who's affiliated with conservative groups like Foundation for Individual Rights, has virtually no record on these issues which is part of the reason why End Rape on Campus and Know Your IX decided to approach the subject this way, according to a
Buzzfeed News
story. They asking her to uphold guidance issued by the Department of Education in 2011, 2014, and 2016 informing schools on how to address sexual harassment and transgender students.
DeVos will testify before the Senate's Health, Education, Labor, & Pensions committee on Tuesday, Jan. 17 at 5 p.m.. End Rape on Campus, Know Your IX, and scores of Twitter users are hoping the campaign will push her to announce support of Title IX.