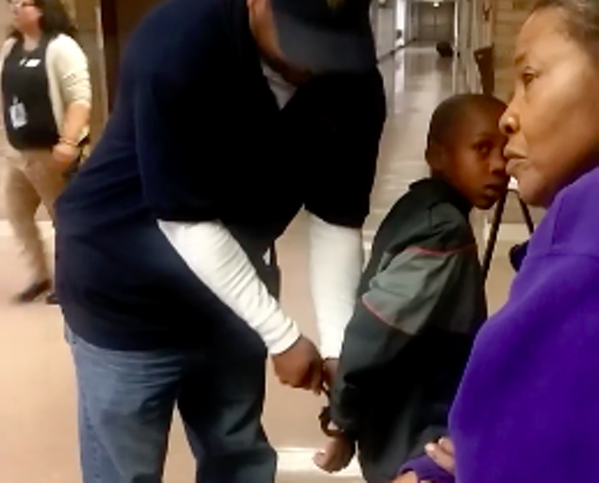 The ACLU of Michigan filed a federal lawsuit today against the Flint Police Department for placing handcuffs on Cameron McFadden while at school, who was 7 years old at time of the incident.

"Putting handcuffs on a 7-year-old child and locking his hands behind his back is inhumane. It's barbaric. It violates every rule of common sense," Mark Fancher, a racial justice attorney at the ACLU of Michigan, says in a statement.

The incident occurred on Oct. 12, 2015 at Brownell STEM Academy's YouthQuest afterschool program in Flint. McFadden, who is African-American and diagnosed with ADHD, reportedly kicked a supply cart and ran around the school's bleachers. YouthQuest staff then called police for a school resource officer. Officer Terrance Walker responded to the call, and then proceeded to handcuff McFadden.

When the boy's mother, Chrystal McFadden, arrived at the school minutes later, she demanded the handcuffs be taken off. She was not told by the officer or school staff why her son was handcuffed, as he had not posed any immediate danger to the school. Walker then told her that the key was in a lockbox and was waiting for a police cruiser to bring it to the school. The boy was handcuffed for nearly an hour, in plain view of other students, school staff, and parents.

"How can you handcuff someone without having a key? How can you handcuff a seven year old child?" Chrystal McFadden said during a press conference announcing the lawsuit earlier this afternoon.

Students with disabilities represent only 12 percent of public school students, but account for 75 percent of all students who are subjected to physical restraints at schools. African-American students represent 19 percent of all students with disabilities but account for 36 percent of all students subjected to restraints, according to the US Department of Education's Office for Civil Rights.

The lawsuit is seeking damages and injunctive relief for violating the boy's rights under the Fourth Amendment and Title II of the Americans with Disabilities Act, Section 504 of the Rehabilitation Act, and Michigan's Persons with Disabilities Civil Rights Act. Walker, along with the city of Flint, Flint police chief Timothy Johnson, and Flint and Genesee Chambers of Commerce are cited as defendants.

The number of officers in Flint public schools had doubled since 2014. The ACLU hopes the outcome of the lawsuit will lead to reforming the Flint school district's policies and protocols on handling behavioral issues of students with disabilities, and effectively removing the presence of school resource officers at elementary schools altogether.

"We need to remove them from our schools," McFadden told reporters. "There's no way a police officer should be there. An adult should be to handle it. An adult should be able to handle it without having to call the police."

The full complaint is available here. A video of the incident can be found here.

Stay on top of Detroit news and views. Sign up for our weekly issue newsletter delivered each Wednesday.