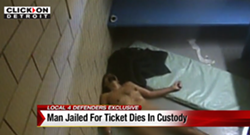 On Monday, the American Civil Liberties Union of Michigan issued a letter pressing the U.S. Department of Justice to investigate the death of David Stojcevski, the Roseville man who died from drug withdrawal in Macomb County Jail this summer,
Buzzfeed News reports
.
Calling Stojcevski's death "unconscionable," the ACLU urged the Department of Justice to investigate what they regard as "two systemic civil rights problems" that led to Stojcevski's death. The first calls into question the jail's treatment of the mentally ill and chemically dependent, as those responsible for Stojcevski's safety apparently "watched over video as the life ebbed out of him." (The video was released to
WDIV
.)
The other problem, the ACLU says, is that Stojcevski's was a "pay or stay" sentence. As
an earlier Buzzfeed News report
suggested, transcripts indicate Judge Joseph Boedeker did not ask Stojcevski about his ability to pay the tickets at the time of sentencing. The ACLU letter cited the 1983 Supreme Court ruling in Bearden v. Georgia:
"Pay or stay" sentence are unconstitutional when they result in harsher punishment — that is, incarceration — for defendants who lack the ability to pay. As the U.S. Supreme Court has recognized, to deprive a defendant of freedom "simply because, through no fault of his own, he cannot pay [a] fine" is "contrary to the fundamental fairness by the Fourteenth Amendment."
Read the full letter
here
.