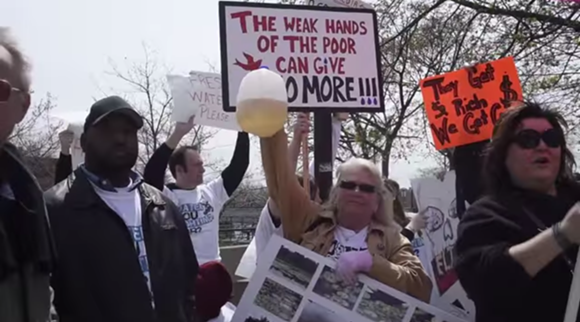 The problems plaguing the city of Flint's water supply have been documented at-length by local and national media outlets: Residents pay on average $150 per month for water service in their homes, one of the highest rates in the nation, and yet the product flowing from the faucet is brown, foul-smelling, and has been connected to a series of illnesses.
The outrage brimming from residents and activists is captured in a six-minute mini-documentary from the American Civil Liberties Union of Michigan (ACLU) released this week, titled
"Hard To Swallow: Toxic Water In a Toxic System in Flint."
The project, an effort by local filmmaker Kate Levy and ACLU investigative reporter Curt Guyette, examines an issue that hasn't been explored in reporting on the issue: the connection between state-appointed emergency management in Flint and the city's tained water supply.
"What happened to Flint and it's water highlights what can happen under emergency management when you have appointed officials who don't have to respond to the concerns of the people they're supposed to be serving," says Guyette, also an occasional contributor to
MT
.
As the film explains, under emergency management, the city transitioned away from the Detroit Water & Sewerage Department as its source for municipal water. Deemed a cost-cutting measure that would allow Flint to control costs,
the city now uses the Flint River for water
.
The result? It's a mess.
Residents say ever since the city began using the Flint River, several have dealt with rashes, hair loss, muscle stiffness, and soreness.
In an interview with the ACLU, a local pastor, Alfred Harris, highlights the fear residents have about drinking water: In his case, he'll no longer baptize anyone in the city.
"If we baptize, we have to go outside the city of Flint," Harris says in the film.
Guyette says the documentary stands out because because it links emergency management to the water issue.
"The situation's been reported on all along, but ... this really ties those two things together," he says.
The irony of the situation is that, in a community surrounded by the largest bodies of freshwater in the world, residents are paying enormous rates for water that makes them sick.
"They're paying more than people in Las Vegas," Guyette says, "and they're surrounded by the Great Lakes."
Check out the full video below.