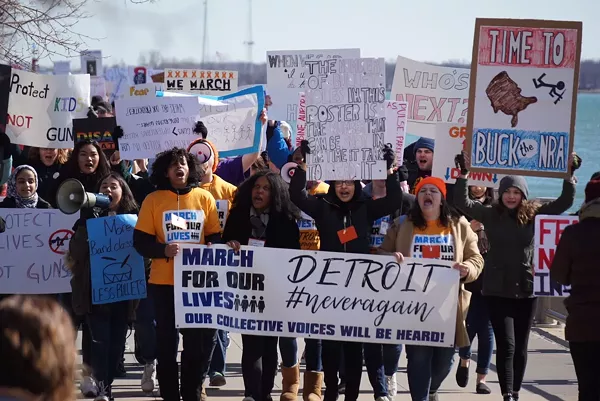 The ACLU of Michigan is urging a Utica school to change a policy that caused it to suspend kids during a national school walkout for gun reform last month, as students prepare to stage another protest this Friday to mark the 19th anniversary of the Columbine shooting.

At issue is a ban on political signage at the Utica Academy for International Studies (UAIS). The American Civil Liberties Union of Michigan yesterday sent a letter to the school urging it to rescind the policy and also to issue an apology for the suspensions.


"School officials should be praising, not punishing, students for engaging in the democratic process and seeking reform following the massacre of their peers in Florida," said Michael J. Steinberg, legal director of the ACLU of Michigan in a press release.

"It's hard to imagine a more unconstitutional school rule than one that punishes students for displaying political signs during demonstrations."
In a notice sent home with students ahead of the nationwide March 14 walkout, the academy said kids were required to get the posters they'd be carrying approved in advance, and warned that those who didn't would face "disciplinary action." According to the ACLU, the letter included a stipulation that "NO political messages will be allowed/approved."


The ACLU says students Meghan Biernat, Elizabeth Voytas, and several others did not comply with school rules, demonstrating with unregistered posters that urged students to call their senators to demand gun control. One poster read, "Thoughts and prayers don't save lives. Gun reform will."

The students were suspended for a day for insubordination.

Students at the school once again appear set for a collision course with administrators, with a Friday walkout planned to coincide with the anniversary of a deadly shooting at Colorado's Columbine High School in 1999.

Other schools in the region also plan to partake in the nationwide walkout, including Dearborn High School. Narjis Alhacham, a junior at the school, is helping organize the demonstration.

"We are protesting that enough is enough," Alhacham says.
"We shouldn't have to fear coming to school to get our education. We want to show solidarity with everyone [who] has been affected by gun violence and we want change."

The students are planning to walk out at 10:30 a.m. until 2 p.m.


Malak Silmi is an Editorial Intern with the
Metro Times
and a freshman at Wayne State University studying journalism and global studies.