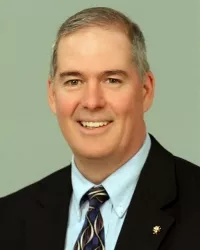 A political rift among top Bloomfield Township officials that's included kidnapping accusations and a whistleblower lawsuit has carried over into more traditional municipal matters: work hours and pay.
Treasurer Dan Devine and Supervisor Leo Savoie have been at the center of a suburban political firestorm since last year, when Devine accused the township's top official of kidnapping his daughter. Ten officials denounced the treasurer last month in a letter that Devine characterized as "sad and pathetic."
Now, Savoie is accusing Devine of working inside his office barely 10 hours a week. In a report by WXYZ Channel 7, the supervisor said: "I believe he makes $139,000 a year. Plus all the benefits. If he only wants to work five to 10 hours a week and be in here five to 10 hours a week, I can't tell you what he does the rest of the time."
The news station's dogged reporter noted Devine's office door was "found" locked on a recent Tuesday, the lights off. In an interview with WXYZ, Devine said he responds quickly to a citizen's concerns or questions.
"A message is taken. I contact them immediately and meet them anytime anywhere," he said. "I've never had a situation where I didn't return a call or wasn't able to sit down with a person immediately."
Residents and local county officials offered a mixed bag of responses, some fine with a treasurer seemingly accustomed to working remotely, while others sternly demand someone who's working "9-5 p.m."
Devine told the news station if residents don't like his style, there's an election this November.
"How I do my job is my discretion," he said. "If people who are electing me in August don't like that they can vote me out, but they've been satisfied for 17 years."
Devine faces a Republican primary challenge Aug. 2 from township Trustee Brian Kepes.