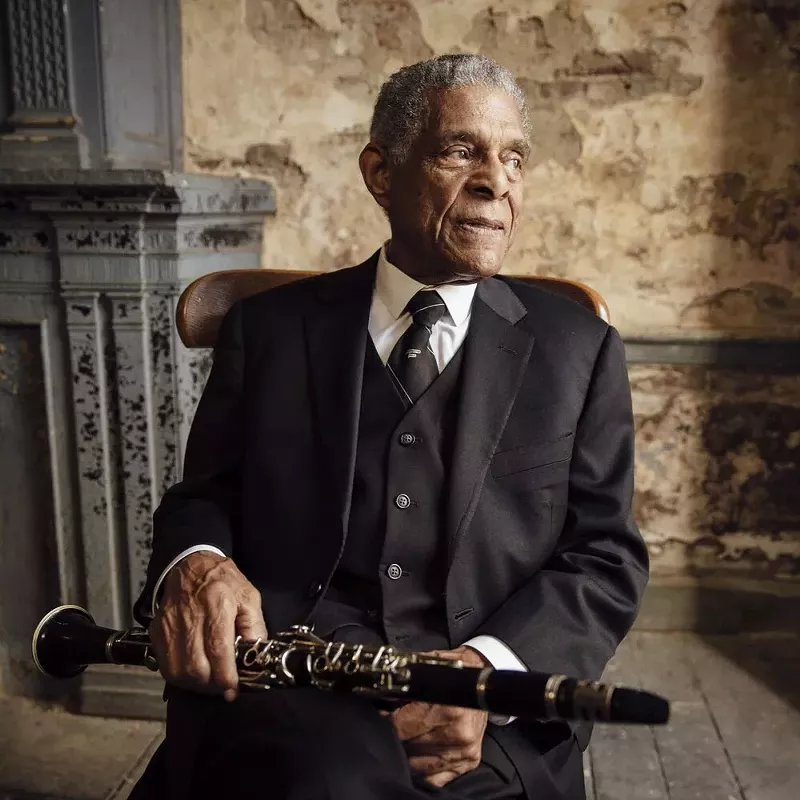 Tucked away in the middle of the French Quarter, way down yonder in New Orleans, is an old art gallery they call Preservation Hall. For more than half a century, this historic hall has carried the torch of traditional New Orleans jazz. The happy kind. The spirited kind. The original kind.
Within its walls reside the keepers of the flame. The holy giants of jazz who share a royal lineage with the likes of Kid Ory, Sweet Emma, Jelly Roll Morton, and Louis Armstrong.
Opened in 1961 by Philadelphia transplants Allan and Sandra Jaffe, Preservation Hall is, for many, the mecca of American jazz. And for jazz musicians like Charlie Gabriel, it's perhaps the very cradle of American civilization.
Like the mighty Mississippi, the shared musical heritage between Detroit and New Orleans runs deep. And Gabriel, the 82-year-old clarinetist in the Preservation Hall Jazz Band, the "pied piper of the second line," is the link personified.
Born in the Big Easy and raised in Detroit, Gabriel is the senior statesman of traditional New Orleans jazz. His family, seven generations deep, is American jazz royalty. Without the Gabriel Family, there could be no Marsalis Family. Without the Gabriel Family, some of us would have no idea
how to "second line."


After living here for more than six decades, Gabriel left Detroit in 2009 and returned to his ancestral home, taking his rightful seat on St. Peter Street. Now Gabriel and the legendary house band from Preservation Hall are back in town — with Rock and Roll Hall of Famer Allen Toussaint on piano. The show takes place tonight at 8 p.m. at Music Hall.
We caught up with Preservation Hall Jazz Band bassist and creative director Benjamin Jaffe to see what it's like to play with Allen Toussaint, what the Gabriel Family means to jazz, and what Detroit means to New Orleans.
---
Metro Times:
This is quite a tour you've undertaken.
Ben Jaffe:
We're headed toward New York. We'll get there around Halloween, and then we'll make our way out West to California.
MT:
And Charlie's with you every step of the way?
Jaffe:
Yeah, Charlie really wanted to make this trip with us, and
we're performing with Allen Toussaint
, so it's really a historic tour.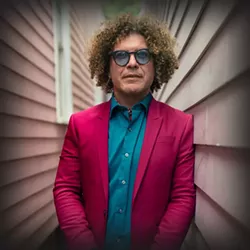 MT:
That's quite the bill. How are rehearsals going with Allen?
Jaffe:
Great. We were in rehearsals all day today. We actually did our first show of the tour [last] Friday night in New Orleans. What a great way to kick off a tour, in your hometown.
MT:
What's it like to play with Allen Toussaint?
Jaffe:
That's a huge project in itself, just sitting down and trying to choose which Allen Toussaint songs to play, you know. Where do you start? You start in the late 1950s … it's unbelievable. … There's only one Miles Davis. There's only one Picasso. There's only one Allen Toussaint.
MT:
So Allen's actually sitting in on piano during your set?
Jaffe:
Oh, yeah. He's gonna take some time to do some solo stuff, but … we're gonna play some of his music — not just songs that he recorded, but songs that other artists recorded of his. I mean, what a blast for him to sing
a song that Benny Spellman made famous
or
Ernie K-Doe made famous
.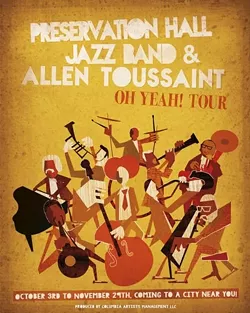 MT:
Is your regular piano player Rickie Monie also on the tour?
Jaffe:
Yeah, we're actually traveling with an organ, as well. So on most of our shows, we'll have two keyboard players. Rickie Monie started off playing in church on a B-3 organ, and then learned to play piano. That's really interesting to me. I mean, most musicians eventually discover the organ. They don't start on the organ and then learn the piano! You know what I mean? That's totally backwards!
MT:
Wow, so Allen's gonna be your piano player, and Rickie's gonna be your organ player. It's like you're taking us all to church.
Jaffe:
I mean, if there are any musicians in Detroit who aren't working on Friday night, there's about to be a history lesson taking place, you know what I mean? I mean, honestly, there's nobody in Allen's class. There's nobody there. He's, like, singular. To actually get to hear him with Charlie and the Preservation Hall Band just kinda blows my mind.
MT:
You're blowin' my mind!
Jaffe:
I wanna be in the audience, you know?!
MT:
Ha, no, you have to play! ... Are you playing bass or tuba this time around?
Jaffe:
I'm playing bass on this trip. There are a couple of songs that I don't play on, so I'm gonna run around to the front and listen from the front.
MT:
So Charlie and the Gabriel family … they're really something special.
Jaffe:
Oh, yeah. I feel like I'm an adopted member of the Gabriel Family.
MT:
You and Marcus Belgrave, right?
Jaffe:
Me and Marcus … Marcus is a card-carrying member of the Gabriel Family. I'm not a card-carrying member yet, but I've definitely felt the love and generosity of his family. They're just such incredibly warm people.
MT:
Charlie has a very musical way of talking. You all do.
Jaffe:
We talk this — this language that we speak in New Orleans, there's a very particular rhythm to the way we speak. There's a flow to the words and the order in which we use them. It's very, kind of, West Indian, Caribbean.
MT:
What's your take on the whole Detroit-New Orleans connection?
Jaffe:
It's really, singularly, Charlie's family that's responsible for a major part of that rope that connects New Orleans to Detroit. It's incredibly poetic that he's back in New Orleans. It's where he belongs, you know? I feel like Detroit is as much his home as New Orleans. But New Orleans is his heart and soul. His family brought New Orleans to Detroit, you know. But he never stopped being from New Orleans. He says that, for 50 years, [people in Detroit always called him] "Charlie Gabriel from New Orleans." He used to get upset about it, but now he wears it as a badge of honor.
I think that living through several life-changing experiences — the passing of his wife and having undergone and survived surgery for cancer. You know, all these things give you a new lease on life, man. And having lived through Hurricane Katrina and watching your city underwater on TV, you know, I think that was the turning point in his life where he's, "You know, I wanna be back in that city. That's where I wanna lay my head down for the last time."
---
The Preservation Hall Jazz Band and Allen Toussaint play tonight at Music Hall, 350 Madison, Detroit. Showtime is 8 p.m. Tickets are $35, $45, and $55. To purchase tickets, call 313-887-8501 or visit musichall.org.

A special afterglow takes place inside the Jazz Cafe at Music Hall at 10 p.m. A separate ticket is required for admission. To purchase afterglow tickets, visit eventbrite.com.