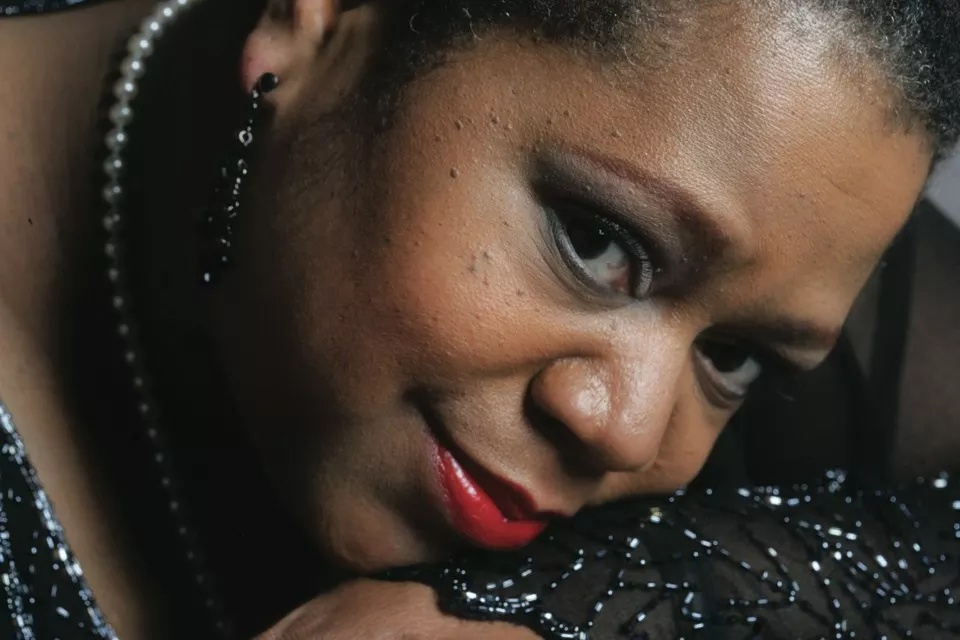 The day after an election, folks mostly want to talk about the results from the polls. That's commendable, although I've heard numerous people say they couldn't wait for the election to be over these past few weeks. Unfortunately, my deadline for this column was well before any results were available. So I thought I'd discuss something that I find pleasant. Consider it a respite from all the tough issues you've been pondering in this election season — which brings me to singer Shahida Nurullah.
I have some affection for her. This emotion is based pretty equally on her infectiously positive attitude toward life and her ability to sing like an angel. Well, the truth is that I have no idea what an angel's voice sounds like, but I'd be willing to bet that Nurullah sings as well as those heavenly creatures. Here's something that is not up for conjecture — by all rights Nurullah could easily be depressed and never sing again. No one would blame her if she had a shitty attitude about life and never sang another note.
In 1988, she was hit by a Cadillac while crossing the street at Van Dyke and Kercheval while heading to a bus stop on her way to work at Gayle's Chocolates in Royal Oak. Nurullah flew into the air from the impact and landed on her head. She broke her left leg, knee, arm and shoulder, and she had a closed-head brain injury. She stopped breathing and, had it not been for CPR administered to her on the street before the ambulance arrived, she could well have died. She was in a coma for two-and-a-half weeks.
I know that about her. What the average person might know about her is that she is the woman who sang the national anthem at the Detroit Tigers baseball game on Labor Day. Or you might have seen her sing "God Bless America" during the seventh-inning stretch in the first playoff game against the Oakland Athletics.
"That is not something you ever think about," says Nurullah, who admits crying when she got the call to do the national anthem. "When I got ready to go out on the field it was like something I've never experienced. I was just trying to remember the words. I was like, 'God, don't let me forget the words to "God Bless America."' I never sang before that many people before."
You'll have to forgive her for the slight fault. I've heard her sing before at least a couple hundred thousand people at Hart Plaza during the jazz festival. However, she is probably reaching her biggest audience ever right now in radio and television advertisements for the Detroit Medical Center's new Neuroscience Unit in the Rehabilitation Institute of Michigan. She sings the Four Tops' "Reach Out, I'll Be There," the DMC's theme song the past few years, and tells some of her own story.
"They gave me back my voice," Nurullah says in the ads. "They gave me back my life."
Chatom Hill, vice president of creative services at the DMC, thought she was perfect for the campaign. "It's a great concept," he says. "Shahida is this great singer so we thought we'd work with that instead of doing a straight testimonial."
Nurullah was a patient at the Rehabilitation Institute after her accident. It's where she came to realize that her injuries required more than six months of recuperation. Her accident was a life-changing event.
She had to learn how to walk again, and how to sing. She walks with a cane and doesn't have full rotation in her left wrist. And, a symptom of her brain injury, she gets tired very easily.
"I have to deal with the effects of the accident every day," says Nurullah. "I have to deal with different levels of energy, levels of discomfort, I can't memorize things as well as I used to. Some of it is effects of the accident and some of it is just the effects of aging. I'm 55 years old now."
I wrote a big story about Nurullah 12 years after her accident, in 2000. I won an award for the story from the Michigan Press Association — best human interest feature. Most of the time in the journalism business, you write a story about someone and then move on to the next one. It's not often that you maintain a relationship with a subject. But then Nurullah's a singer, and I like the way she sings.
She has a wonderful stage presence that draws audiences into the performance as she talks about the songs and might ask the audience to guess what movie a song was the theme for. She's a jazz singer. In many cases, that means the vocalist has a license to add unusual ornaments to the song, but has an unwavering allegiance to the melody. She sings in five different languages, although she has her own affection for Brazilian music by the likes of Gilberto Gil and Antonio Carlos Jobim. She learned to sing their songs in Portuguese by listening to records and copying their words phonetically without actually understanding them.
Now, 12 years since the last article, I find reason to revisit her story. Everybody likes being recognized by the folks back home, and Nurullah has been getting the D-love lately through the Tigers and the DMC. She's been plying her trade all along, having done shows at the Philadelphia Museum of Art, an American Songbook concert with the Windsor Symphony Orchestra, and club dates around town. She teaches voice at the University of Windsor a couple of days a week, although she doesn't make enough to cut off her Social Security disability status. She'd love to be able to support herself but there aren't that many club dates to be had in Detroit, and travel for her presents many obstacles.
Nurullah is a survivor, although she swore she'd never sing Gloria Gaynor's "I Will Survive" after a long run at a club in the 1980s, when she regularly received requests to sing the anthem. Now she has a new anthem, "I'll be there to always see you through ... to love and comfort you."
That's Shadihah Nurullah. She's always there with a smile and a song. And on a day like today, that goes a long way.
By the way: As we settle into our post-election calm (at least I hope that's what it is) I'm enjoying that my telephone is not ringing off its hooks with robo-calls from Presidents Obama and Clinton, Gov. Rick Snyder, the AFL-CIO and the minister from Delray who railed against Matty Moroun and Proposal 6. I also like the break from all the printed material folks left on my porch, hung from my doorknob and stuffed in my mailbox. And for folks who worked the phone banks and don't know what to do with yourselves right now: Hang in there, we have a mayoral election heating up so this will not be a long, lonely winter.
Larry Gabriel is a writer, musician and former editor of Metro Times. Send comments to [email protected]