John Sinclair: On our second floor, we were watching the riot coverage on television. We never watched television, so it was extraordinary to be sitting there watching this, 'cause then you could look and see all the fire and see smoke and all of that right out your window. We were watching TV to see what they were doing in other parts of the city, because they had kind of a secondary riot area on the east side. The report we watched most avidly was when they said the 10th precinct was pinned down by sniper fire. We were exhilarated! [laughs] I have to say the truth. We thought this was the beginning of the end.
Pun Plamondon: I had a pretty significant attitude against the government when I moved to Detroit in May. Seeing the relationship between the Detroit police and the citizens, primarily the black citizens, added to an already organic distaste for government and oppression. So that people were kicking the Detroit police's ass was just a thrill. I never took a joy in anyone getting killed. I was just thrilled about the resistance of the population against the police.
'It looked like a city that was being bombed. And I remember thinking this was the end of Detroit.'

tweet this
Reggie Carter: You could hear gunfire, particularly at night, and there was looting on Dexter and there was looting along Davison, but it didn't penetrate into the residential community. Thing is, one or two blocks away, houses were burning up. People were living in stark fear that they were going to lose their homes, their investment.
Harvey Ovshinsky: Depending on your socio-economic-racial situation, that generally impacted how you felt. I knew black middle-class parents who were furious at the rioters.
Herb Boyd: Fires were raging all over the place. A lot of people got burned out. You had a whole block that was extinguished, on Euclid and Woodward Avenue — boom-zoom: The gas station went up and took out the whole block.
Peter Werbe: People put up "Soul Brother" signs. We had one on the Fifth Estate office — which could have been why the National Guard threw a tear gas grenade through the Fifth Estate office window.
Pun Plamondon: There was a historical marker that identified a house as the birthplace of Charles Lindbergh. In big 3-foot letters across the front porch, someone wrote, "Lindbergh was a fascist," and I just thought this was so cool. And then someone burned it down.
Charles Simmons: I had lived on Philadelphia between 12th and 14th, so I was aware of the various businesses that were burned down, and I remember there was one store, the owner was a very mean person. He was just nasty to everybody. He got burned out. So it seemed like they were selective about who they got. I'm told there was one of these rip-off furniture companies on Grand River where they had extended credit at high interest rates and all that, and people broke in there and stole all their records, [laughs] so they couldn't catch up with all the debtors.
Harvey Ovshinsky: The neighborhood of the Grande Ballroom, at Joy Road and Livernois, that was pretty much on fire, and buildings were being destroyed. And Russ Gibb came down with Tim Buckley to get their equipment, and they were shocked to see that everything was still standing at the Grande — but not around the Grande so much. And Russ asked one kid, "Why is our building still here?" And the young black kid said, "Well, that's where they make the music, man!"
Pun Plamondon: In the daytime, there'd be three or four black dudes riding down the street in their car, hanging out the windows, pumping their fists, giving the "V" sign. At night it was a lot different.
Harvey Ovshinsky: At night it was scary. There was the night riot and the day riot. By day, at least in the Warren-Forest area, it was a circus. By night, you didn't know who was going to hurt whom.
Pun Plamondon: There weren't civilian cars on the road. The only cars I remember were police cars, and they were driving around with their lights off, and some of them would have four cops to a car. And the back doors would be open, so they could jump out real quick with their shotguns. That was scary; there's no doubt about it. They would creep along at 5 miles per hour down an alley, and you wouldn't really see them unless the streetlight reflected off their chrome.
Frank Joyce: I don't remember what day I arrived back in Detroit, but by the time I got back to the city it wasn't that there were lots of new fires starting — there was just this enormous military and police presence.
Harvey Ovshinsky: It was surreal. You were watching the president on television saying, "I'm calling in the troops" — and then you'd look out your window and there were the troops. It was like he was narrating our own story.
Herb Boyd: As the National Guard and Army arrived, it was a whole different climate then, in terms of clampdown. It was just the Detroit Police Department in the first day or two. But then quickly Governor Romney unleashed the armed forces. They came here in, like, in waves, you dig it?
John Sinclair: We were clearly on the side of the residents, not the police. And especially not the National Guard.
Reggie Carter: Then you've got these weekend soldiers, folks who lived up in the northern part of Michigan and come down here with all of their prejudices. I talked to black people who were part of the National Guard at that time, and they say they overheard some whites saying they were "going out to kill some niggers."
Harvey Ovshinsky: Most of these rural folks had never really set foot in Detroit or an all-black community, so I think they were out of their element. And as a result, people got hurt. People got killed.
Charles Simmons: The guardsmen were looking very frightened. They were white guys from upstate. They had never been in Detroit. But then also some of the Regular Army, who had been in Vietnam, came.
Reggie Carter: Federal troops had experience in Vietnam, and they were more disciplined and more accustomed to dealing with situations.
Frank Joyce: To this day, one of my memes about 1967 is that the reason the 82nd Airborne federal troops really came to Detroit was to get the National Guard under control. They basically had a shoot-first, ask-questions-later mindset.
Peter Werbe: The National Guard was just shooting all the time. They shot so much they ran out of ammunition.
Herb Boyd: Many of them were as terrified as some of the people they were supposed to be corralling. I came face-to-face with several of them. They were a little nervous in the face of all the stuff that was going on. And their reflex! They heard a noise or a flash of light, their reaction was: boom! They were shooting first, asking questions later.
Harvey Ovshinsky: I do remember saying, "Well, the war is now home. It's official. Welcome to the '60s. It's there and it's here. It's everywhere."
Charles Simmons: I was listening to the radio, and they were in this neighborhood, on 12th Street or something, and the reporter was riding along while they were going to wipe out this sniper. The sniper had some small-caliber weapon compared to what the soldiers had. And you hear this pop-pop-pop-pop-pop, and then the military opened up with tanks and all kinds of shit: "WHAM!" You know, it sounded like Vietnam.
Herb Boyd: The tanks in '67, boy, you got .50-calibers on top of these tanks. They'd damn near knock a building down.
Charles Simmons: And they said, "Well, we got the sniper's nest," and they drove off. And then a few seconds later you'd hear the pop-pop-pop-pop-pop. [laughs]
Herb Boyd: I lived not too far from La Salle Boulevard. We drove over there and, in the night, we cut all our lights off, because the word got out, "Man, you don't want to have your lights on." You could see the tanks drove right across people's lawns. You could see some of the pockmarks where these .50-caliber shells had hit up against the buildings and left gaping holes.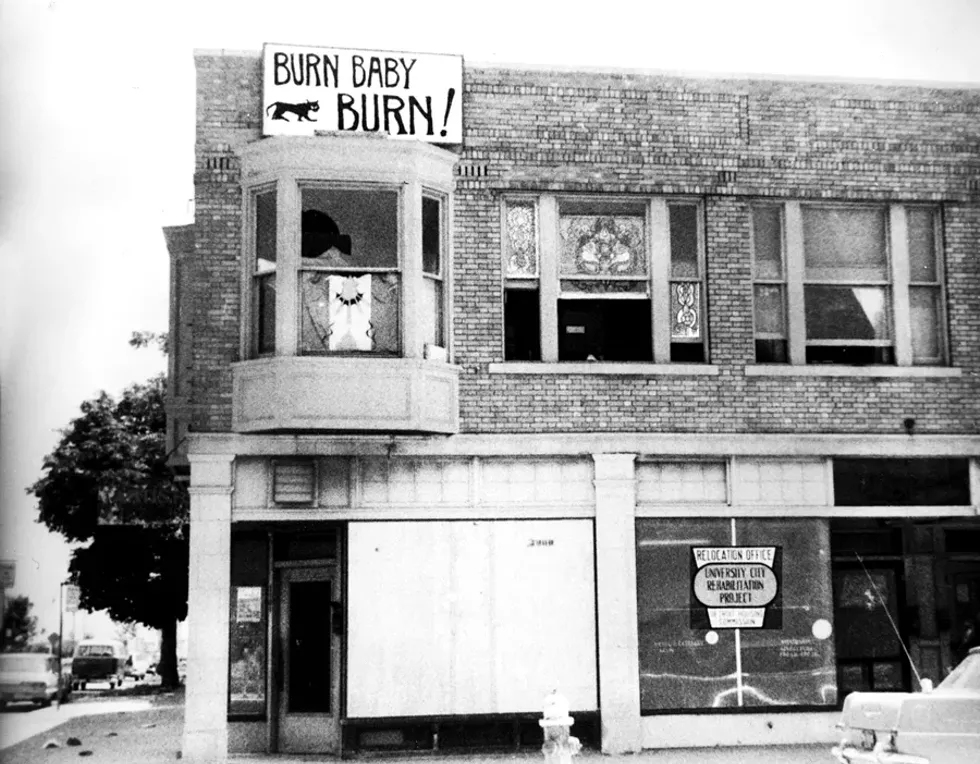 The hippie contingent on Warren didn't escape encounters with police and the National Guard. In some ways, they invited them.
Leni Sinclair: Just before the rebellion started, Gary Grimshaw had taken a bedsheet and painted a black panther on there and "Burn, Baby, Burn," and hung it out the window. Even though that "black panther" looked more like a little black kitty-cat. [laughs] Oh, god. And then the riot started, of course that thing came down in a minute. I can't blame them for thinking we had snipers in the closet.
John Sinclair: The Grimshaw flag! I don't remember the taking-down part, but certainly we had a banner that had a picture of a black panther and it said "Burn, Baby, Burn!" hanging on the downtown side of our building at Warren and John C. Lodge. We were flying the freak flag. See, I don't think they liked that very much.
Leni Sinclair: When the National Guard came into our apartment, John had a confrontation with them. Now, mind you, our daughter Sunny was born May 4, so she was just a few months old, and I was standing there with the baby in my arms while John was hollering at the National Guard: "Get out of my house! You don't have a warrant! You can't come in!" He always had a bad temper when it comes to the police.
John Sinclair: I'm sure a lot of my memories are warped ... by terror! [laughs] It was frightening. Because they came up to our apartment and banged on the door, and then they called me by name. That was the worst part of the whole thing. And I just had my baby daughter, who was three months old, and I just snapped and said, "Well, shoot us or get out of here! You can't do this! If you're going to do this, you might as well shoot me, because I don't even care about living in this kind of an environment if you can walk into my house and just put a gun in my face! Fuck you!"
And they left! [laughs]
Leni Sinclair: The commune members in the Castle were very adventurous. They thought they would hold off the police by barricading the street, and they put out sofas and couches on the John C. Lodge. That was no deterrent to the tanks. And the cops went in and beat the people up. I think some of the people in the MC5 got arrested too. I never got the whole story.