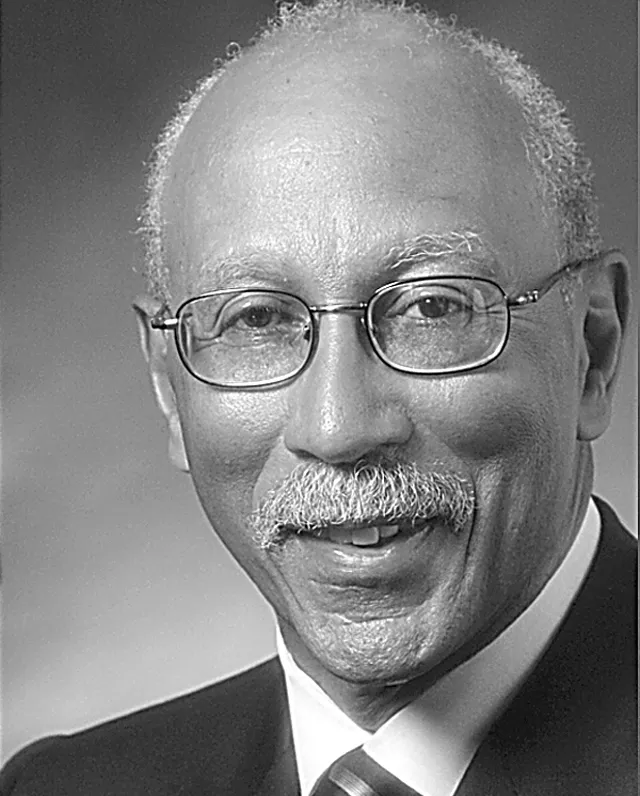 Like him or not, Detroit Public Schools Emergency Financial Manager Robert Bobb has made a major show of rooting out fraud and theft in the district.
From principals filching from the petty cash coffers to the outright misappropriation of contract funds, Bobb has made seeking and finding such financial malfeasance — and putting into place some systems to remedy future theft — centerpieces of his tenure.
Meanwhile, over at City Hall, there's been the toppling of the Kwame Kilpatrick Enterprise — the former mayor's alleged system of using the city as an organized syndicate to, in part, funnel cash to his father, Bernard Kilpatrick, and pal Bobby Ferguson — who just happened to scoop up so many city contracts. Kilpatrick friend and appointee Derrick Miller and Victor Mercado, the former director of Detroit Water and Sewage, were allegedly part of the fun too. The quintet now faces collectively 38 counts in a federal indictment released the week before Christmas.
But the earnest elves here at News Hits are left wondering: Where's the rest of the cleanup?
Perhaps Mayor Dave Bing has been waiting for the feds to finish cleaning the dirtiest part of the house. And it may be that more charges are coming that will find DPS-like malfeasance in the city's ranks. But we're left wondering: Where's Bing's plan for ensuring the ship he captains is tight and clean?
We know he's got the chart for such a course. His own Crisis Turnaround Team — appointed in May 2009 — made "waste, fraud and internal control" one of the five pillars of its report to him in October 2009. The report also included recommendations of what Bing could do to make sure that pillar actually got put in place.
Joe Walsh, one of the volunteer team's co-chairs, stresses he's not privy to what the mayor and his team are doing behind the scenes, and he doesn't suspect the mayor or any of his appointees "are benefiting from, let's say, not prioritizing those as the first things they need to do."
But he points out the mayor-appointed turnaround team thought establishing more controls and doing some forensic accounting would do the city some good.
"As we went through this, we kind of ticked down the rationale for this. A big part of it was we cited what Detroit Public Schools had done. Identifying fraud and re-establishing internal controls is one of the paths that you've got to follow when you've got a cash crisis like Detroit does," Walsh says. "Bobb had some serious findings that he corrected, and I think it set a positive tone about the governance they were going to have on the financial side. We thought it was a good model to consider."
Like the schools, the city is a complex operation that Walsh likens to the Queen Mary.
"The budget — general fund and other enterprises — is almost $4 billion. There are thousands of employees, and, as we know from the Kilpatrick administration, it's not run in a very businesslike fashion," Walsh says. "We're not saying there were issues. We're saying there are risks — and unless you put into place the type of governance you need and the controls you need, you won't know that those risks don't occur."
The Bing administration took Walsh's team's 24-page report and made a single-page table. It showed 26 goals with deadlines between three and 12 months. Among them were such tasks as reducing the number of city bank accounts (there were 300), reviewing the management of grants and centralizing some finance operations that could at least address some of the fraud- and waste-related issues.
And while some goals are met — re-establishing relationships with the philanthropic community, improving the procurement process, and working on reducing the city's deficit in the near and longer term — there's no sign the city is working on the fraud part, neither in public statements, nor at least as you follow headlines or court dockets.
News Hits has tried for two weeks to talk to someone on the mayor's communications team, but there've been no answers to any of the questions conveyed. (News Hits figures that keeping mum could be a crafty strategy until a hammer drops, but sometimes it sure seems that the Bing administration has a non-communication communication strategy, what with filled voicemail boxes and non-response responses, etc.)
Walsh, meanwhile, says he's hoping efforts are indeed under way. Other financial operations need to be improved — accounting, purchasing, centralizing information technology and accounts payables and receivable — as the team cited in its report.
"It's never going to be easy. The sooner they start, the sooner they'll move forward on them," Walsh says. "My hope is it reflects the mayor's strategy for the right time to do it. He clearly does not have the same authority to act that Robert Bobb does."