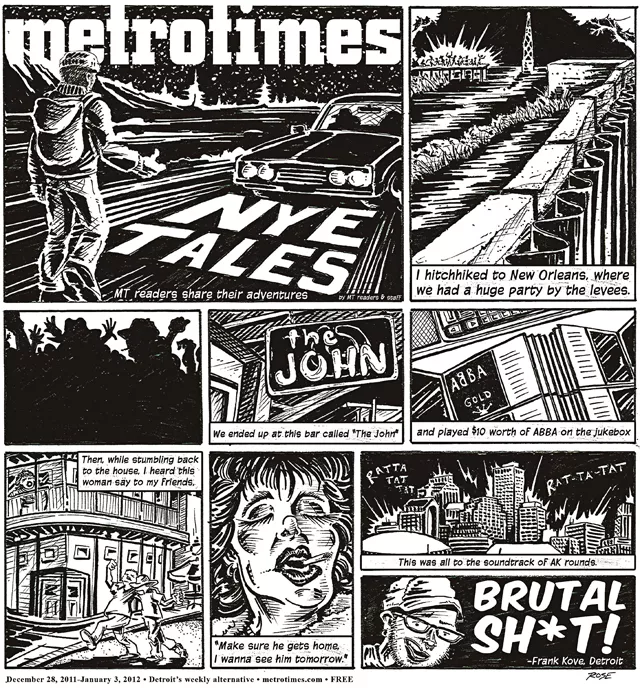 I hitchhiked to New Orleans, where we had a huge party by the levees. We ended up at this bar called "the John" and played $10 worth of ABBA on the jukebox. Then, while stumbling back to the house, I heard this woman say to my friends, "Make sure he gets home, I wanna see him tomorrow." This was all to the soundtrack of AK rounds. Brutal shit! —Frank Kove, Detroit
My most memorable New Year's was New Year's Eve 2000 in the Gulf of Mexico. I decided in 1999 to avoid the crowds and chaos at the turn of the millennium. So I drove down to Louisiana with four of my best friends. We chartered a boat out to a little deserted island 10 miles off the coast and camped out for the week. We were five out of a total of eight people on the 3-square-mile island in the Gulf of Mexico. It was so gorgeous and so relaxing. Of course, camping out in the winter, it gets dark so early that even after many hours of making a big campfire and a full dinner, having drinks and telling tales, watching the stars and toasting the new millennium, it was still only about 10 p.m. when we gave up and went to bed. Truly an amazing New Year's Eve, one I'll never forget. —Megan Owens, Hazel Park
My most memorable New Year's Eve happened when I was living back in New York. I've always loved New Year's Eve, especially the festive atmosphere, meeting people at their happiest, the free-flowing booze, the midnight hurrah. I felt honored that my acquaintance from art school, a guy who was already a successful animator and cartoonist, invited me along with his friends to this unusual party downtown. It was in the basement of a church, and we got there around 10 p.m. It seemed a little dour for a New Year's Eve bash. Everybody was dressed in black with pancake face makeup and was milling around. I learned then that this was the "goth" New Year's Eve party. Except people weren't partying. There was no bar. I didn't even see anybody drinking. A band took over a performance area and played droning, cabaret-style anthems while only a few of the goth kids watched. I started to get really bummed out, and some of my friends talked of leaving, but it was really too late to hit another party or bar where we were. At 15 minutes to midnight, the band stopped playing and this goth kid took the microphone and announced. "At midnight, we want to observe five minutes of silence." This was too much. Luckily, at three minutes to midnight, one of our group pulled out two magnums of Champagne she had smuggled in. We in our little clique roared with approval, sharing swigs of the bubbly at the stroke of midnight while the goth people stared at us with "who farted?" looks on their faces. —Michael Jackman, Detroit
My favorite New Year's Eve was 1988-89, when my friends and I crashed this rich people's apartment party in Paris, eating their food and foie gras and then racing to get under the Eiffel Tower before midnight. Such good times. —Torya Blanchard, Detroit
I was doing the usual NYE "you get to choose what we do because it's your birthday" thing with my ex, and his choice was often lacking. Finally, we went to Third Street, where I was having a blast dancing and hanging out, when he got extremely pissed at me for said dancing. Fight-fight-fight! Home-home-home. Except for when we got home, I said I had to go to the bathroom, ran out the back door, and drove my happy ass to Ferndale to a fuuuun party. Needless to say, I no longer have to consider that birthday when it comes to New Year's Eve —Allison Gurskey, Grosse Pointe Park
It was New Year's Eve 1973 at the Michigan Palace, with the New York Dolls. Julie and I looked at each other, smiling, as we knew the LSD was coming on. Psychedelic colors sprang from our skin, blending as they twirled in the air, forming new and exciting designs I felt blessed to realize. ... Our mascara feeling heavy upon our eyelids, we stopped to light our cigarettes, and in a nanosecond a concertgoer with some Champagne offered us a wonderful quencher for our thirsty lips. At the exact moment the refreshing mini-waterfall of sparkling bubbles flowed into my mouth, the emcee appeared and cried out, "Detroit! Are you ready to ring in the New Year with the New York Dolls?"
Everyone in attendance stood, cigarettes on lips, hands clapping; a joyous roar filled the air. The Dolls crashed out their first song, the Motor-City hit "Personality Crisis," and it was here that my eyes and ears first zapped into the sight and sound of guitarist Johnny Thunders. Amid a kaleidoscope of colorful outfits, fishnets, and platforms stood Thunders, provocative in leather pants and swastika armband, slamming feverishly on the strings of his guitar. Notes crashed, ocean waves on rocks. His smirk taunting the crowd, he rode a watershed of sound that bounced off the theater walls and ricocheted back to him before evaporating mid-air.
His image reminiscent of a member of a '60s girl group, Thunders rocked and moved with every hit, slide and scale of his guitar. He energetically rattled off "Chatterbox." The time was right, midnight, straight-up, and David opened a bottle of Champagne on stage to toast the New Year. Moments later, another rhythmic attack of "Trash," "Bad Girl" and "Pills" rang out, all to the pleasure of the crowd, as we departed one year and entered the next. This incredible musical performance was New Year's Eve and happening in the now in the Motor City, 1973. Much as privileged time travelers, we thundered on an acid trip that propelled us from one year into the next! —Michele Saint Thomas, Wyandotte
It was midnight New Year's Eve 2010 at a dive bar in Taylor: I had my first kiss with the man I'd marry. —Kerry Sharp, Warren
Under the Eiffel Tower when I was 20 and everyone was passing bottles of Champagne around — drinking and spraying. Good times. Also, there was another New Year's Eve when we were at a very dear friend's party and there was dancing in the basement and I was the only guy on the dance floor. Suddenly, and with "Krystál"-clear, drunken inspiration, I said to my many hot female dance partners of all sizes, shapes and ages, "Hey, you guysh! Take turns pretending I'm a pole!" I was quickly dragged off the dance floor by my wife. That was fun. —Andrew Lark, St. Clair Shores
Mine have been uh-oh more than hellz-yeah. One year, right at midnight, when my ex and I were suppose to kiss, he runs outside and shoots guns instead. He ate all the shrimp, drank all the booze then went and shot guns. —Sandy C. Hopkins, Detroit
Ihave long ago given up on the idea of New Year's being a holiday requiring significant planning and preparation. That is what Halloween is for. My grandest aspiration for NYE 2011 is simply to avoid the bathroom. I've spent many a midnight in bathrooms (NYE 2010, Royal Oak, Café Muse, NYE 2007, Detroit, the Works, etc.) The worst is NYE 2003, at Gusoline Alley in Royal Oak. My boyfriend and I decide to stop by Gusoline Alley where some of my friends from work were hanging out. By the time we get there, the girls are already hammered and the guys are sitting off to the side acting as silent human ATMs, as good boyfriends must so often do when surrounded by a pack of women in retail (which is basically like a sorority you get paid to be in). I deposit my boyfriend at the boyfriends' table for safe-keeping, but no sooner had I ordered my first vodka tonic when one of the girls, newly single, decided to lay down on the floor of the bathroom, arms around the toilet, crying. And this is where my human empathy gets me: In the bathroom of Gusoline Alley at midnight on New Year's Eve, trying to peel my drunk friend off the floor by giving her such inspiring exhortations as, "Don't be that girl," and "Get up, you drunk fucker." After I miss the midnight Tosti toast and my boyfriend peeks his head in the bathroom with an expression of "LOL WUT," I come out and inform Kelly, "Your friend is lying on the floor in the bathroom crying." She doesn't want to be bothered with this information while she's busy getting her drink on. I repeat, more urgently and with a very clear implication that I am not going to just go away if she ignores me. I make it my mission for everyone else to suffer the same dignity-by-association of being a 22-year-old girl spending her New Year's Eve trying to convince her puffy-faced, sputtering, snotting, blubbering hot mess of a friend-of-a-friend that she is in fact beautiful and any guy would be lucky to have her. There is no way I am doing this alone; I lack the sincerity.
Through much prodding and pep-talking and pulling, the now-merely sniffling drunk girl acquiesces and vacates the bathroom. She waltzes out with a "Who, me?" look that would make you think she just did something salaciously scandalous in the bathroom and not that she was in fact just face-planted in the toilet sobbing. My silent human ATM boyfriend, who, four years later, almost turned me into that girl (and perhaps I have this girl to thank, as it was probably only because of the nagging memory of this previous, wholly undignified experience that I didn't) hands me two shots of whiskey.
—Nicole Rupersburg, Detroit
It was Belfast in the late '90s — somewhere in town there was a blast in response to the death of an IRA leader. But we were insulated in another area by drink and friendly people.
My friend Anita said that, in Northern Ireland, it was common practice for bar hoppers to "snog" strangers. I'm not sure if she was playing a joke on this naïve American girl, but I liked the idea so much that I declared myself a goodwill ambassador to the boys of Belfast.
And the boys of Belfast, whether Catholic or Protestant, welcomed my goodwill. I kissed one after another and it was good, clean, fun and nobody got hurt.
Later that week, we went to Mass... —J. Galuszka
On Dec. 31,1999; we took a limo ride to the Palace of Auburn Hills. We saw the concert of a lifetime, and the greatest rock and roll band of all time: the J. Geils Band. This was a new experience for me — a classic rock band that could actually play music that sounded great. They were better than the Rolling Stones. The whole show was magical. The band led a countdown to midnight. Guess what? Nothing happened. Remember all the computers and clocks were supposed to shut down at midnight at 01/01/2000? A loud roar came from the crowd and Champagne was flowing on the stage. Everyone was cheering and happy. The next morning I woke up a little tired and happy, because we were married on 01/01/2000. My husband David picked that day because he said if he got married again, it would have to be a day he couldn't — or can I say wouldn't — forget. —Shari & David Seruga,