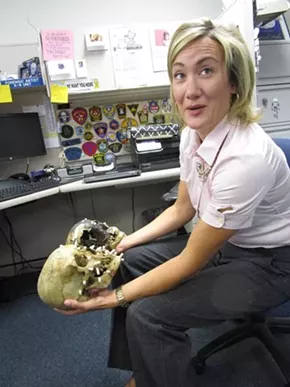 A former public school on a quiet, residential Livonia street is the last place you'd expect to find a Michigan State Police unit hard at work trying to identify dead bodies. But in a small room near the back of the building, in the midst of this quiet neighborhood of well-trimmed lawns and shade trees, a forensic team is on the ultimate identity hunt.
In one nook of the office you'll find Sgt. Sarah Krebs, 37, a trooper whose shelf is lined with human skulls and whose drawer is filled with autopsy photos. Krebs here is as unlikely as the quaint suburban setting. She's upbeat and talkative, dressed less like a cop than a Mary Kay beauty consultant or suburban mom.
That's by design.
"I don't put my uniform on very often anymore. Just unfortunately, to a funeral," Krebs says. "I do carry a gun. I'm still a cop. But when we deal with civilians, we try to go in soft. You don't want to be in uniform."
That's partly because her Missing Persons Coordination Unit doesn't deliver good news, per se, and even when they have news for a family — an identification of a body, an answer to a loved one's fate — the news is usually bad. The four-person team (two full-time employees and two interns), which was officially organized two years ago, is an anomaly of sorts.
"We're almost unique, as far as I know," Krebs says. "We're one of the only agencies that houses a missing and unidentified persons unit and works on both sides of it. A lot of agencies don't even have a missing persons unit. It's actually pretty rare. Not a whole lot of state or local agencies can employ somebody to work that full-time."
For Krebs and her co-workers, that means half the job is compiling all they can on missing persons — an intimidating task, since roughly 4,000 to 5,000 Michiganders are listed as missing with open cases at a given time — and the other half is identifying them once they're found.
If Krebs has a certain delicacy with which she discusses dead bodies, it's because she needs it: Her case files are packed with amounts of death and gore that would give most people nightmares.
You name the grisly case of a dead body found in the city, and she's probably seen it. The 2005 case in which a stray dog was found with a human leg in its mouth on Detroit's east side? "Yeah," Krebs says, "I have that case. The dog was found carrying a limb. It prompted the Detroit Police Department to go out looking for the body. They knew they had one somewhere, and it was a couple blocks away. The dog was the catalyst. I can just imagine a homeowner being like, 'Get that out of your mouth' — and it had, like, a shoe on it."
Or the 2006 case of the body that was found at the shuttered Pope Funeral Home? Krebs doesn't hesitate: "That was Jimmy Adams. That's one where dental records would help us. He was never listed as a missing person. His family knew exactly where he went, they just didn't realize the funeral home had left him there and he decomposed in the coffin — it was never buried. We solved the case the same night because his family recognized that on Channel 7. They came forward and claimed the body of their uncle."
Or William Bracken, the elderly Highland Park man who left home around Thanksgiving of 2009 and never returned? Krebs encountered his remains. "His body was actually found scattered along railroad tracks. He was identified in 2013."
But the unsolved cases remain the most interesting to Krebs. Especially when the circumstances are unusual, such as a half-skeletal body that was discovered this summer. "The lower extremities were hanging in a basement and she was actually laying halfway out the basement window," Krebs says. "So the upper half of the body was exposed to the elements because it was outside. It had the sun beating down on it, so it was almost fully skeletal from the waist up, but below it was a full body hanging down, almost like she was trying to shimmy out when she was shot. There's so many of them. This is, like, weekly. You would be amazed at the number of unidentified remains coming in. It's pretty consistent."
Most of those are coming from the Wayne County Medical Examiner's Office. The unit also works with Monroe County's morgue, which is staffed by the same medical examiner (especially effective for the unit, since many of the floaters that turn up in Monroe's waters come from what Krebs calls "our biggest client," Wayne County.)
Most county morgues are in the basement of a local hospital, with a few exceptions, including Oakland and Macomb counties' modest stand-alone morgues. But Wayne County's is the big kahuna of Michigan mortuaries, capable of storing more than 300 bodies in a massive cooler and a mammoth freezer, all with backup generators just in case the power goes out. On any given day, there are usually more than 150 bodies in repose there, some that have languished for years. At least one rested there as long as 15 years, longer than some bodies stay buried.
The end is just the beginning for Krebs.
---
It's not uncommon for Sgt. Krebs to pick up a skull and call it a him or her, a he or she.
For one, her background in forensic anthropology means she can look at a skull and see much more than the layperson can; she can see race, gender, age, clues to the sort of life that was led. She picks up two skulls off a shelf to demonstrate: "These are both African-American, male and female, and actually she's a lot older than he is and has a much smaller build. We look at sutures, the morphology of different bones, teeth. Teeth are very telling. Teeth tell you a lot about how a person lived. Whether or not they had a dental plan — or if they were smoking crack."
Krebs seems to have a genuine fondness for the people whose remains she's been entrusted with. Sure, she can spin a dozen good crime yarns without stopping after what she's seen, but she's far from callous when it comes to the dead and their afterlife.
"I do spend a lot of time with them and I care for the remains. I mean, they're people, you know?" she says. "And I've spent time trying to identify them, and when I do actually make the connection, sometimes it is very personal."
And those connections happen regularly. In the last two years, the unit has entered hundreds of unidentified bodies into its database, and made 45 identifications, many of them from the backlog at local medical examiners' offices, which can often do little more for the bodies than keep them cold.
"The families had been looking for them for years," Krebs says, "and they were at the medical examiner's office the whole time, but there was no way to connect those dots because the medical examiner's office doesn't have the funding to do DNA testing."
But Krebs can send samples to the University of North Texas, which does it for free thanks to a federal grant.
The DNA oftentimes comes from the cadavers, the first step being the morgue. A typical trip involves taking tissue samples.
"We'll usually cut into the thigh. But those are on the fresh cases that aren't super decomposed. Or I'll take one of the forearm bones, a radius or ulna. They're shorter and easier to ship, and easier to get out of the body — if you can imagine." She says she might also take something from the lower extremities, usually a kneecap, because it's a dense small bone. "We're talking shipping too," Krebs says, "so we're not going to take a femur."
But the DNA mustn't always come from cadavers. And in many cases it hasn't — Krebs and her crew have dusted off every possible avenue to get source material.
Even if a body is buried, case files sometimes yield small, obscure bits of human tissue, such as a medical examiner's slide stored under poor conditions that may still yield usable DNA. "I've seen everything," she says. "I've seen tissue samples, I've seen blood and tissue kept unrefrigerated in a test tube and they were still able to get a profile from it many years later, I've seen bone samples or hair, mummified tissue. Not that that's the greatest practice, to keep human remains in an evidence room for, like, 40 years, but it's great for us."
From there the unit might also work with medical professionals, employers, and families to assemble the forensic evidence to close those cases out: fingerprints, dental records, personal DNA, family DNA, even property records. Krebs' typical day might involve mailing human remains for DNA analysis, bringing in a forensic odontologist to match dental records, creating an artistic reconstruction of a face on one of the human skulls on her shelf, or combing through an alphabet soup of databases, including CODIS (the FBI's Combined DNA Index System), IAFIS (Integrated Automated Fingerprint Identification System) and NamUs (National Missing and Unidentified Persons System).
It's one puzzle with one solution but any number of ways to get there.
The question: Who are you?
---