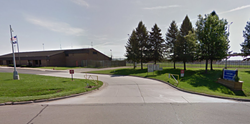 An employee of prison food service giant Trinity is out of a job after having sex with an inmate in a kitchen cooler at a Jackson-area prison, Michigan corrections officials say.
The fornication happened yesterday around dinner time at the
Charles Egeler Reception and Guidance Center
in Blackman Charter Township. The male prisoner was part of the kitchen staff while the female worker was employed by a company called
Trinity Services Group
, a food service provider for the corrections industry.
Michigan Department of Corrections Spokesman Chris Gautz says the inmate, who he would not name, had been in prison since 1997 for an unarmed robbery committed in Wayne County. While on what was supposed to be a 5-15 year stint, he was convicted of possessing a weapon behind bars and given an additional 3-20 years.
While Gautz says Charles Egeler serves as a holding facility for inmates before they get sent to another prison for
longer
term, the prisoner in question was likely part of a small group of inmates who remain at the facility to fill staff positions. Gautz described the woman as being let go from MDOC for "over-familiarity" with an inmate.
The news comes after
we reported
in December that former inmates are suing a doctor from the private prison health service company Corizon for allegedly sexually assaulting them.
And that came after issues with food and living conditions late last year led to protests and what was characterized by the Michigan Department of Corrections as
a riot
in the Upper Peninsula's Kinross Prison (though it should be noted that prisoners have a different version of events than the MDOC).
That came after another Trinity employee was fired for making out with an inmate in September.
That came after inmates
protested poor food service
and living conditions at Kinross in March 2016.
That followed our February 2016 report, "
Something Still Stinks in Michigan and Ohio's Prison Kitchens,
" which revealed that Trinity was shorting inmates on calorie counts and serving inedible food.
And, of course, all that comes after years of issues with the MDOC's previous private food service company, Aramark. The state ended its contract with Aramark in 2015 for overbilling it by $3 million. But that followed incidents in which Aramark employees were busted humping inmates, selling drugs, serving maggots, serving rotten chicken tacos, and serving food pulled from the garbage.
Why, it's almost like it's not an issue specific to Trinity, Aramark, or Corizon, but a matter of the private prison services model being inherently flawed. As our sources have repeatedly pointed out, you can only save money in prison food service by cutting the amount and quality of
food,
and cutting employees' wages. And — as we've seen over and over in prisons and jails all across the country in recent decades — that's when you start to see
these kind
of issues, which destabilize the prison yard and put people's health and life at risk.