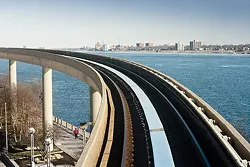 If you thought the People Mover was just totally pointless, think again — it's pointless
and
dangerous.
According to the
Associated Press
, a man was "dragged to his death" Sunday evening after falling off the Time Square station platform and getting lodged between two People Mover train cars.
The
Detroit Free Press
is reporting that "city staff and crews with Elite Trauma Clean-Up could be seen at the stopped train at the Grand Circus station, the stop immediately after Times Square."
This is not the first time the Detroit People Mover — the vanguard mode of transportation — or the Time Square station, for that matter, has been considered a danger. In January 2015, the
train car derailed
after it sideswiped the Times Square station.
"We were all scared that one People Mover (set of attached cars) was going to hit another," Angelica Martin, a Roseville native who had been on the People Mover at the time of the incident, told
MLive.
"There just wasn't much time to think too far ahead about what to do next. We all flew out the doors."
According to
MLive
, nobody was injured in that incident — though the fear was real.
For happier memories of the People Mover,
read our log
from the time we spent 12 hours riding it.