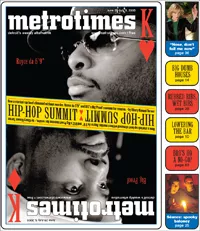 Nine years ago in Metro Times: Hip-hop beef has been so trendy for the past 20 years. East Coast vs. West Coast, Eminem vs. the Insane Clown Posse, G-Unit vs. virtually anyone who talks to them — this is what's made for superb diss-singles and hyped-up shows in rival cities. Nearly a decade ago, MT examined the feud between Royce da 5'9 and Big Proof, two deeply respected Detroit rappers who were once friends, then tried to shoot each other, then talked to MT about how hip-hop "beef" actually just got in the way of making music. Trick Trick and Rick Ross might be able to relate.
What was happening: Reel Big Fish at St. Andrew's Hall, Aquabats at the Majestic Theatre, They Might Be Giants at Royal Oak Music Theatre.
18 years ago: Two juvenile-justice reform moves made by Gov. John Engler were drawing sharp criticism from civil rights leaders and local court systems, with protesters saying that even Michigan's worst kids shouldn't be consigned to the adult criminal justice system as Engler wanted. At this point, the state was also exporting Michigan juveniles to out-of-state facilities because of overcrowding. Recently, the Michigan Council on Crime and Delinquency released a report, "Youth Behind Bars," which criticized the mid-'90s reform by showing that nearly 20,000 youths have been incarcerated or placed on adult probation in the last decade for crimes they committed before they were 18. Some of the youths in prison were as young as 11 years old.
What was happening: Butthole Surfers at the Phoenix Plaza Amphitheatre, Strung Out at the Shelter, R. Kelly at Chene Park.
25 years ago: Remember the war on crack? Detroit was one of its hot zones, unfortunately. MT profiled Bennie Williams, who gave writer R.J. King a nifty tour of the Christian Guidance Center on Trumbull, an all-men's shelter, as he explained his addiction to crack and how he overcame it. The center was providing treatment and housing, as well as boasting an 80 percent cure rate for drug addicts. Williams explained that the center was one of the only ways he could avoid his addiction because it kept him from buying the $5 drug on the streets of Detroit. Though crack use has dwindled slightly (Toronto Mayor Rob Ford seems to be doing just dandy), all-male homeless and drug-abuse shelters like Mariners Inn still remain prominent in Detroit — even if the drugs of choice have changed in these parts.
What was happening: Johnny Winter at Clutch Cargo's, Indigo Girls at the Ark, Violent Femmes at Pine Knob.