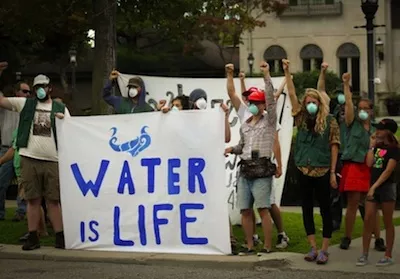 The lefty mag
In These Times
has
a piece from Lauren Gaynor on the water situation in Detroit
. Choice quotes:
•
Activist Valerie Jean Blakely: City officials "are selling this narrative that Detroiters are sitting in their homes with big screen TVs and refusing to pay their water bills. This is just not true. I can tell you that these people are living in complete poverty."
•
Leilani Farha, UN Special Rapporteur on the right to adequate housing: "Every effort should be made by all levels of government to ensure that the most vulnerable are not evicted from or lose their housing as a result of water shutoffs or water bill arrears."
•
"Detroit businesses such as the Chrysler Group collectively owe more than $20 million in back payments to the water department, but their taps have not been turned off. And Detroit's Marathon Refinery received $175 million in tax breaks from the city for an expansion of its operations, including the water-intensive process of refining Canadian tar sands oil."
Read the full piece
here
.