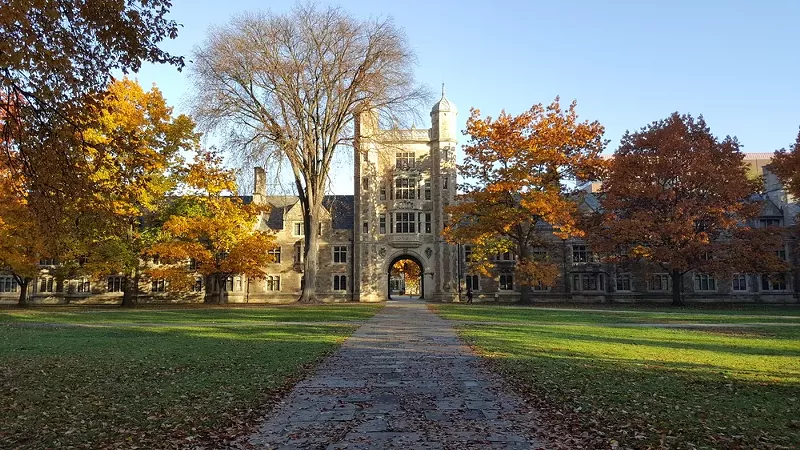 During a meeting of University of Michigan's Interfraternity Council on Thursday night, officials decided to suspend all social activities organized by the university's fraternities. In addition, the council also voted to end new member pledge terms. And, it doesn't look like either decision will be reversed in the foreseeable future.
According to
a report
by
The Michigan Daily
, the suspension of activity comes amid a flurry of allegations that the university's fraternities have been involved in life-threatening hazing rituals and sexual misconduct. The report also notes that during a recent weekend, 30 U-M students were transported to the hospital. Seven more were taken to the emergency room during an "unauthorized" Halloween party that required students to be handcuffed to their date until the pair could finish an entire bottle of champagne.
There have also been allegations of fraternity chapters drugging one another, and some students say they were put in near-death situations during a particularly brutal round of hazing.
The suspension means fraternities will no longer be able to organize parties or mixers — or any activity that involves alcohol.
In what seems like a somewhat contradictory move, the council will allow parties that have already been scheduled and paid for to go on. But, they say, they will be subject to bank statement audits and will be required to have "official plans for sober monitors at the events."
Troubles seem to be mounting for the university. Recently, flyers reading, "Make America white again" were distributed on campus and later racist graffiti was scrawled on one of the university's dorm room name tags.
The incidents are a flashpoint for what seems to be mounting political tensions among the student body.
A
Politico
article published the same day as
Michigan Daily
's fraternity report, notes that although the university's origins are that of a public college, it has accrued a reputation for being nearer to an Ivy League institution. Due to increasing tuition costs, U-M is largely attended by students from upper class families. In fact, "a full 10 percent of its student body comes from families in the top 1 percent of earners, according to data from the Equality of Opportunity Project." In comparison, only 16 percent of students come from families in the bottom 60 percent of earners combined, according to
Politico
.