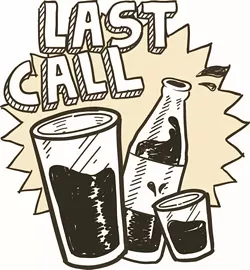 Hoping to make Detroit seem cosmopolitan, like Chicago and New York, Sen. Virgil Smith, D-Detroit, recently sponsored legislation that would extend drinking hours at bars and clubs until 4 a.m.; last call is currently 2 a.m.
But it seems Smith and his supporters may be forced to bring flasks with them, as indications are it's not going to be a small feat. Both houses have to pass the bill and thus far the mood in the senate seems sobering, given the bill was originally proposed a decade ago and has never been brought for a vote in Smith's own chamber.
Yet, optimistically, Smith is pushing forward, telling MLive.com, "I believe that we will get it done."
Reports say the senator is trying to broker a deal with the Michigan Municipal League to give local governments veto power, essentially removing the state from any influence on what bar would qualify; the deal would transfer that say to the local level.
The driver for Smith and his cadre of bar owner supporters is economic, and the price tag for the privilege of those two hours is a steep one: $10,000 annually, plus additional security and a 360-degree video surveillance system. It seems the hoops to jump through in order to serve until 4 a.m. effectively quash about 90 percent of the bars in the city. The casinos, on the other hand, conveniently have the video, the extra muscle and the cash.
Ben Hammond, assistant manager at Good Time Charley's in Ann Arbor says, "Right now we do good enough business till 2 a.m. Kids come out and drink and have a good time till 2. Most of the city usually dies down after that."
The Michigan Municipal League is opposed to the bill as introduced, stating the $10,000 fee is a very low number and wouldn't provide the needed financial support for a local unit of government in providing adequate policing.
The bill is currently in discussion and would need to pass both Senate and House before it's signed into law.
Smith also says that when many patrons hear "last call," they head to a blind pig, or in today's parlance, a pop-up bar — and continue the party without state and city coffers getting their cut.
The bill is still in discussion and a vote has not yet been scheduled.
— Yara Beydoun is an MT editorial intern.