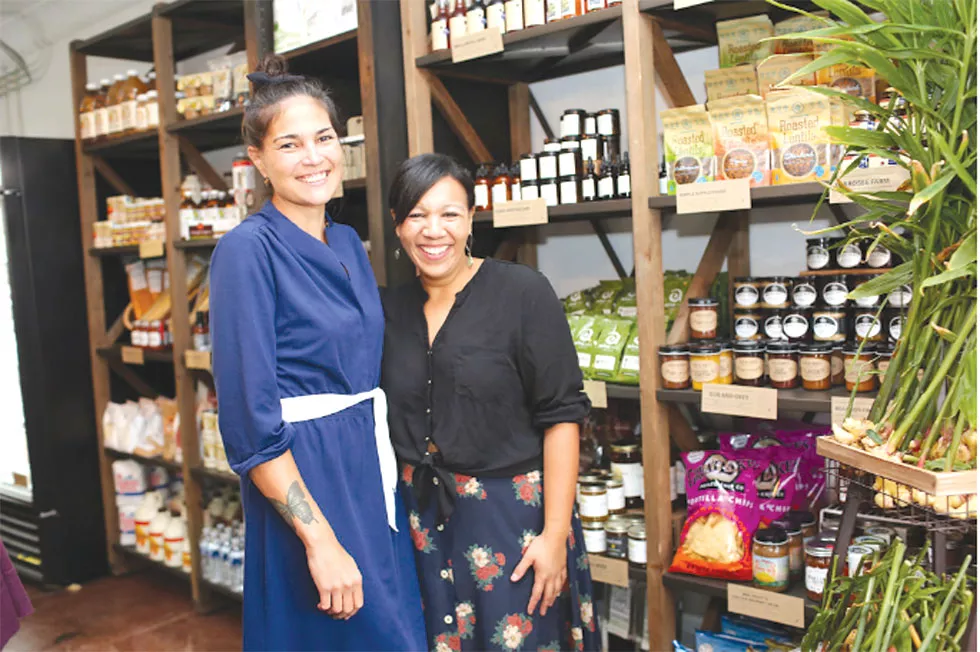 Come-uppers
Shopping destinations to keep your eye on in the coming years
It seems strange to think of any of Detroit's historic neighborhoods as "up-and-coming," especially since many have been experiencing revivals for years now. However, while we've seen an influx of bars and restaurants opening all over town, retail-based entrepreneurs have been a little more shy about coming outside of Midtown and downtown. As more and more boutiques prove Detroit can support them, we're likely to see these areas booming with retail businesses very soon.

University District

Livernois between Eight Mile and Lodge Freeway
University District — named for being home to University of Detroit Mercy and Marygrove College — includes the historic Avenue of Fashion, a shopping epicenter in Detroit's heyday. The area, which is a gateway of sorts between Detroit and Oakland County, is as popular for its historic homes as it is for
Kuzzo's Chicken and Waffles
(19345 Livernois Ave., Detroit; 313-861-0229; kuzzoschickenandwaffles.com)
. While many of the subdivisions in that area have been well-maintained, the strip of Livernois from Eight Mile to the Lodge Freeway has seen better days. But now, several groups are working to enhance the area by opening up new shops and restaurants.
Rufus Bartell, who owns
Simply Casual
(19400 Livernois Ave., Detroit; 313-864-7979)
, has worked in retail in excess of 20 years. More recently he branched off to open R.B.I Group in order to manage events and hospitality endeavors. His brother, Al Bartell, operates
Times Square
(19330 Livernois Ave., Detroit; 313-342-9005)
, a men's clothing store, and will soon open a men's shoe store called Shoebox. Bogdan Tarasov recently opened a location of his wildly popular
Bucharest Grill
(19492 Livernois Ave., Detroit; 313-965-3111)
and says he has retail plans for a storefront across the street. Renovations are almost completed and he says negotiations with a tenant are about 99 percent complete.
"There is an exciting amount of development coming in the next 12 to 24 months," Bartell says.
Those developments include a "Windmill Market" that Bartell says will take place over the next year, as well as a spa, and at least six other concepts.
Corktown
Livernois between Eight Mile and Lodge Freeway
If it seems silly to call Corktown an "up-and-coming" area, we get it. But while the happening neighborhood is so fully stacked with bars and restaurants, retail options are lagging. As of now, a few great shops currently operate in the area — including Erin Gavle's perfectly curated
Eldorado General Store
(1700 Michigan Ave., Detroit; 313-784-9220; eldoradogeneralstore.com)
and Alana Rodriguez's
Mama Coo's Boutique
(1701 Trumbull Ave., Detroit; 313-404-2543; mamacoosboutique.com)
. Both of the shops offer hand-selected vintage items, but differ greatly. While Gavle also stocks crystals, locally made jewelry, and men's and women's clothing and shoes, Rodriguez focuses on super fun women's clothing and accessories.
Next door to Mama Coo's is the
Farmer's Hand
(1701 Trumbull Ave., Detroit; 313-377-8262; thefarmershand.com)
, which bills itself as an "artisanal pantry-market-kitchen" where shoppers can grab a sandwich and shop for flowers, beads, tea and coffee, gift items, and more.
Across the street is
Hello Records
(1459 Bagley Ave., Detroit; 313-300-5654; hellorecordsdetroit.com)
, just one of the city's invaluable vinyl-hocking stores, where patrons can pick through an eclectic mix of genres and records made from the 1940s until now.
John K. King Used & Rare Books
(901 W. Lafayette Blvd., Detroit; 313-961-0622; kingbooksdetroit.com)
, a stalwart in the neighborhood, is also here, but off the main street of Michigan Avenue where more of Corktown's major developments happen.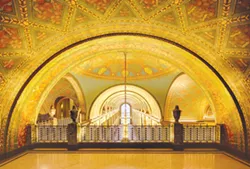 Fisher Building
3011 W. Grand Blvd., Detroit; 313-873-7873
When the Platform bought the Fisher Building at auction in 2015, they knew they wanted to restore Detroit's largest art object to its former glory. It's been two years, and their efforts are finally starting to yield visible — and exciting — results.
According to Platform president and CEO Dietrich Knoer, the company has added air-conditioning and fixed the heat in the arcade, restored the building's frescos, refurbished showcases, and added amenities like the popular
Guerrilla Food
pop-up series. They just put 40,000 square feet of office spaces up for lease, and plan to bring two new restaurants to the building soon.
They've preserved businesses like
Workshop
,
Stella Good Coffee
,
Vera Jane
,
Pure Detroit
, and
Gallery of Contemporary Crafts
, all of which were already operating inside the Albert Kahn-designed building. In addition to
Peacock Room
's flagship location and sister store
Yama
which both occupy a space in the Fisher Building.
"Just like downtown or the Arena District or Midtown, we too have created a certain vision for what it is we want to create here," Knoer says. "Who are the right retailers who fit in here? Our focus is on the independent retailers — indie retail. Not to say we would not welcome a national retailer if it was the right name and fit into the concept."