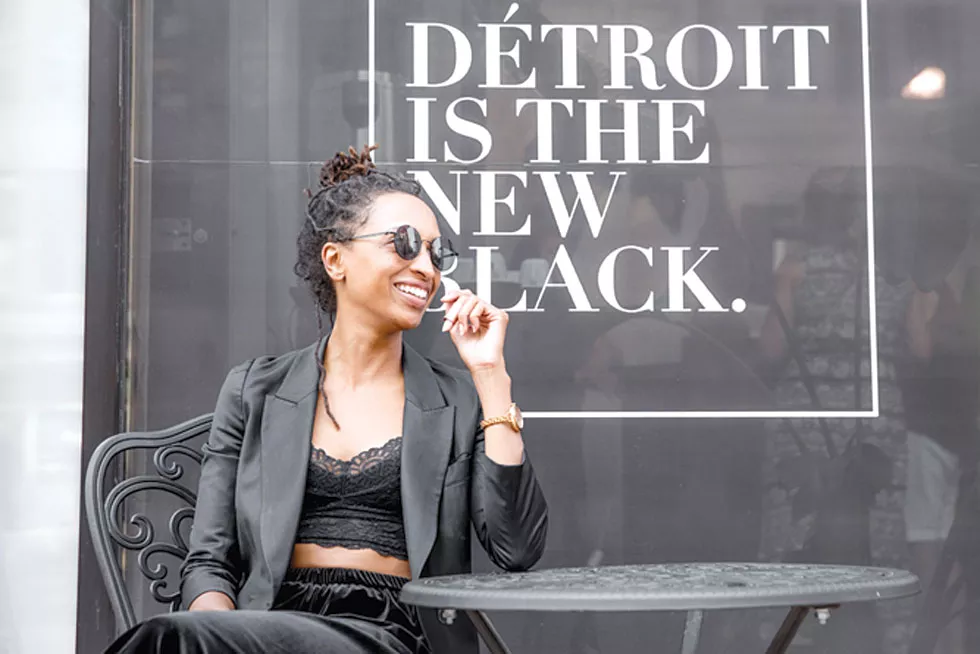 Downtown
Thanks to multimillion-dollar developments like the QLine and the soon-t0-open Little Caesars Arena, downtown Detroit is now a hotbed of activity. As new businesses move in, traffic is getting heavier even when there isn't a Tigers game — a change that shows the tides are turning in the once-downtrodden area. Now, national businesses are flocking to open inside recently renovated storefronts, and peppered alongside are bars and restaurants like Hudson Cafe, Townhouse, and Calexico.
Detroit is the New Black
1426 Woodward Ave., Detroit; 313-818-3498; detroitisthenewblack.com
Owner Roslyn Karamoko got started by screen-printing T-shirts, much like many of Detroit's most successful brands. Now, she operates a large space on Woodward Avenue that's sure to experience an uptick in business once the Shinola Hotel opens next door. Her line includes T-shirts, baseball caps, shirt dresses, one-piece body suits, beanies, leather bags, and more. A Seattle native, Karamoko seems to have keyed into Detroit's favorite style aesthetic — low maintenance clothing that shows city pride — to great effect.
Warby Parker
1449 Woodward Ave., Detroit; 248-721-4126; warbyparker.com
A group of college friends started this now-national chain after quipping that none of them could afford to get new glasses. The business brings low-cost but fashionable eyewear to the masses, and does so in the place where Vernor's Ginger Ale was once created. The shop itself — which is almost all white with a coved ceiling — is gorgeous and customers can sip from-the-tap ginger ale while they shop.
Nojo Kicks
1220 Library St., Detroit; 313-656-4402; nojokicks.com
When Nojo Kicks opened in 2014, a line of hypebeasts wrapped around the block, hoping to be the first to grab this sneaker store's in-demand stock. The chromed-out shop is still a favorite among trend-lovers, and they sell their must-have accessories too. You'll have to hop off Woodward to shop the rare, collectible, and hard-to-find sneakers, though. This shop is behind the super-busy thoroughfare on Library Street.
Hot Sam's
127 Monroe Ave., Detroit; 313-961-6779
Opened in 1921 by Sam Freedman, this store got its name from customers who couldn't believe the proprietor could offer such low prices. They added a "hot" to the store's name because the term implied the goods were stolen. Several owner changes later, Hot Sam's is still a fixture in downtown Detroit shopping (the shop was originally located on Brush Street before moving to the Compuware Building). Store owners Tony Stovall and Cliff G. Green are proud they've continued to operate their businesses within the city of Detroit, adopting the slogan, "Never Left. Never Will."
Bonobos
1417 Woodward Ave., Detroit; 313-938-0130; bonobos.com
Have you ever walked into a store and thought, "I can't buy anything in here?" Well, at Bonobos, you really can't buy anything — or at least, you can't buy anything and leave the store with it. This men's clothier is a "guide shop" which allows shoppers to get a feel for fabrics, fits, and colors. After finding what works best for them, guests can order through a stylist and have their pieces shipped to them.
Things to do:
Campus Martius
800 Woodward Ave., Detroit; 313- 963-2225; downtowndetroitparks.com
Year-round amenities at this city park make it a perfect addition to a downtown shopping trip. In the summer you can dip you toes in the faux "beach" and grab a drink at the Fountain, a shipping container bar open during the warmer months. Come winter, an enormous Christmas tree lights up the ice skating rink.
Greektown
It's an entirely different district, but its just a few short blocks — and a quick walk — from downtown Detroit. Gamble at the casino, grab a fancy dinner at Santorini, snack on saganaki at the Golden Fleece, or sip a cold one inside the Old Shillelagh.
Guardian Building
500 Griswold St., Detroit; 313-963-4567; guardianbuilding.com
With a Pure Detroit location inside, this building is the perfect refuge from the elements, should you find yourself without the proper trappings. Tours of the Wirt Rowland-designed building are every Saturday and Sunday.
Fox Theatre
2211 Woodward Ave., Detroit; 313-471-3200; olympiaentertainment.com
This drop-dead beautiful theater is the perfect reason to schedule a visit to the city. Grab dinner at the Foxtown Grille while you're there.
More stores:
Moosejaw
1275 Woodward Ave., Detroit; 313-338-3661; moosejaw.com
Nike Community Store
1261 Woodward Ave., Detroit; 313-965-3319
John Varvatos
1500 Woodward Ave., Detroit; 313-437-8095; johnvarvatos.com
Under Armour
1201 Woodward Ave., Detroit; 313-335-3162; underarmour.com
Bird Bee
1228 Griswold St., Detroit; 313-315-3070; shopbirdbee.com
Pure Detroit
Guardian Building: 500 Griswold St., Detroit; 313-963-1440
GM Renaissance Center: 400 Renaissance Center, Detroit; 313-259-5100