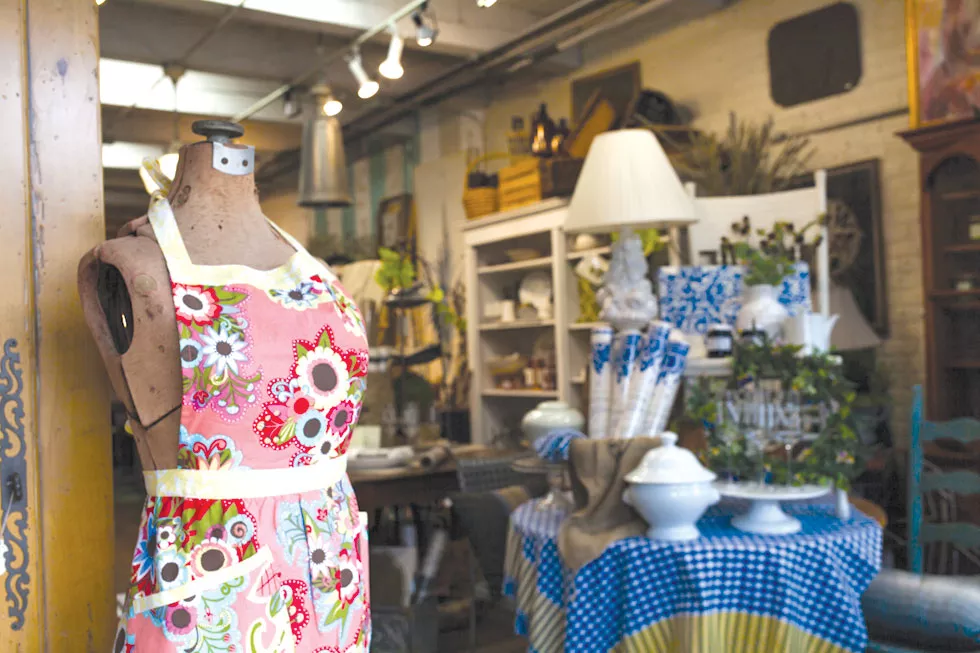 Eastern Market
Heavily patronized on Saturday mornings May through October, Eastern Market is so much more than just a farmers market. The area is alive with retail that thrives Sunday through Friday, too. While Gratiot Avenue provides an obvious stretch of options, other stores are tucked around the market's towering sheds. Here's a breakdown of a few of our favorites.
Savvy Chic
2712 Riopelle St., Detroit; 313-833-8769; savvychictrends.com
Karen Brown's 17-year-old shop has been described as one of the most beautiful in the city and we could not agree more. You'll find special items like fine, French-made tablecloths as well as speciality food items and some clothing. She recently partnered with Cairo Coffee to add a coffee counter to the space, offering one more reason to head into this well-curated boutique. In 2018, Brown says she plans to add a cosmetics counter to the adjacent space that used to sell men's clothing — proof she's always got a new concept up her sleeve. "I always try to think of what will fill a need," she says. "You can't just be one-dimensional."
3 Dogs 1 Cat
2472 Riopelle St., Detroit; 313-285-8371; shop.3dogs1cat.com
Tucked back on Riopelle, this urban pet store will soon move next door to Savvy Chic, making it a little more visible and surely increasing its foot traffic. Head in for modern pet accessories, food, treats, and more. You'll likely be greeted by a tiny canine who serves as the shop's host.
Well Done Goods
1440 Gratiot Ave., Detroit; 313-404-2053; welldonegoods.com
This shop is a real treat — and unlike any other shop in the city. Bethany Shorb, who got her start in the clothing biz by screen printing ties, stocks so many items you'll want to devote a serious chunk of time here. She still specializes in screen-printed items — which now include scarves, aprons, onesies, and hand towels — as well as desk nameplates that say things like "What Would Beyonce Do." A lover of techno, Shorb's shop is one of the best places to go in anticipation of Movement Electronic Music Festival, Charivari, or any of the other outdoor music fests.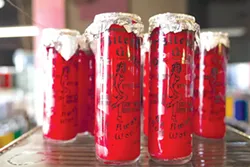 Discount Candles
1400 Gratiot Ave., Detroit; 313-566-0092
If you want to talk about experiential shopping, Discount Candles is the place you're going to get it. Located on the corner of Gratiot Avenue and Russell Street, the shop is as authentic as it gets. While the candles are cheap, the name itself is a bit of a misnomer. Owner Donna Adams stocks religious and spiritual candles purported to have special problem-solving powers. For an extra few bucks, workers will anoint your candle with special oils — and a little glitter too.
Detroit Mercantile Co.
3434 Russell St., Detroit; 313-831-9000; detroitmercantile.com
Tucked back on Russell Street, about halfway between Shed 5 and Milano Bakery, Detroit Mercantile Co. offers "provisions for the urban pioneer," which include angus beef chart posters, aviator sunglasses, and Carhartt beanies. Plus, every holiday season they host a Merry Market that brings together an admirable host of local vendors, plus booze — a fantastic combination.
Things to do:
Saturday Market
Over 225 market vendors attract upwards of 40,000 visitors on any given Saturday at this historic market. Now open year-round, you can shop for fresh, local produce, flowers, air plants, fresh bread, pickles, cheese, and any number of other handmade goods.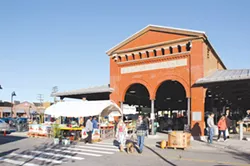 Trinosophes
1464 Gratiot Ave.; 313-737-6606; trinosophes.com
A coffee shop and cafe at heart, this enormous space also includes a large show area where avant-garde art pieces and films are shown. Stop by for a working lunch and nosh on their local, sustainably grown fare, and stay for a chilling performance by an indie orchestra.
Inner State Gallery
1410 Gratiot Ave., Detroit; 313-744-6505; innerstategallery.com
No cultural hub is complete without an indie art gallery and Inner State perfectly fits that bill. Stroll in for an eyeful of thought-provoking art. You might even leave with a print from 1XRun.
Detroit City Distillery
2462 Riopelle St., Detroit; 313-338-3760; detroitcitydistillery.com
It's been a long day of shopping and you need a stiff drink. Stop by this local distillery for something strong. Every Thursday and Saturday the spot, which is also the historic home of Stroh's Ice Cream and Goebel Brewing Co., offers tours.
More stores:
Detroit vs Everybody
2501 Russell St., Detroit; 313-502-5840; detroitvseverybody.com
Eastern Market Antiques
2530 Market St., Detroit; 313-259-0600
SMPLFD
1480 Gratiot Ave., Detroit; 313-285-9564; buy.smplfd.com
Division Street Boutique
1353 Division St., Detroit; 313-285-8887; divisionstreetboutique.com
Motorless City Bicycle Co.
1343 Fisher Fwy., Detroit; 313-285-8120; motorlesscitybikes.com
Orleans and Winder
410 Gratiot Ave #102,
Detroit; 313-409-6343; orleansandwinder.com