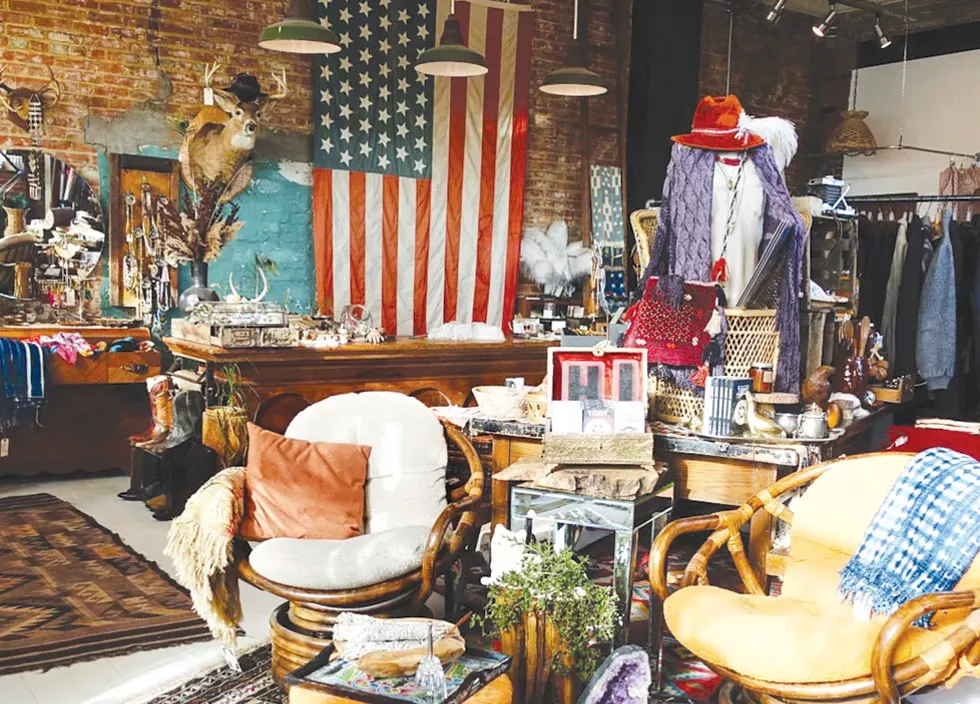 At the turn of the 20th Century, downtown Detroit welcomed a department store that would change its landscape irrevocably. J.L. Hudson's brainchild was a whopping 2.2 million square feet — a retail monolith that was second only in size to Macy's in New York City.
For many years — well into the '50s, '60s, and beyond — Hudson's was a shopping destination for Detroiters and suburbanites. But, as urban sprawl and white flight propagated downtown's demise, the mammoth store saw fewer and fewer shoppers. It eventually closed in 1983 and by 1998, it was demolished into a 60-foot pile of rubble.
Though it's taken some 30 years, many of the nation's largest department stores are experiencing similar fates. Shoppers no longer flock to malls — they can get better deals on the internet, or at discount stores like T.J. Maxx and Marshalls.
According to data collected by the International Council of Shopping Centers, the food and beverage industry added around 1,000,000 jobs in the last three years, while the retail industry lost as many.
Stephanie Cegielski, spokeswoman for the council, says nowadays people want to spend their money on experiences, rather than objects. Coupled with the simplicity and immediacy of Amazon Prime, malls just don't stand a chance.
But while some herald this change in taste as the demise of brick-and-mortar shopping, there is ample evidence to prove otherwise.
"The future of retail is very experiential," Peacock Room owner Rachel Lutz says. Experiential retail is what she specializes in.
Lutz opened the Peacock Room inside Midtown's Park Shelton building in 2011, and it quickly became a mainstay. Women loved the shop's stock of vintage-inspired dresses and accessories, as well as a level of service that was no longer being offered in department stores.
Soon, Lutz took over another space in the building and opened a pop-up called Emerald, a smaller store catering to men. When that ended, she repurposed the space for another permanent boutique, Frida, inspired by the famous Mexican-American artist. Selling summery, colorful, bohemian-chic wares, the shop recently underwent an expansion that doubled its original size.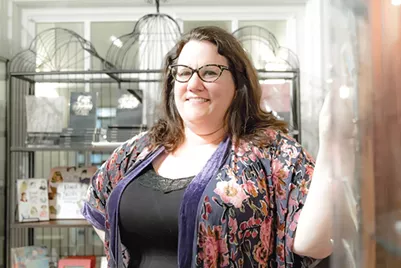 Almost simultaneously, Lutz announced she'd be opening another store, Yama, in the Fisher Building. Months later she revealed that Yama wouldn't be her only venture inside the Art Deco superstructure — a flagship Peacock Room location will also open there in October.
The announcement immediately doubled Lutz's retail footprint, which will be about 7,000 square feet by the time all four stores are fully operational this fall. The number is staggering, even for Lutz, who didn't plan on opening any additional locations until a couple months ago.
After being approached by the Platform — a real estate development group that bought the Fisher Building at auction in 2015 — and seeing the areas available for lease, Lutz joked that she felt "architecturally obligated" to take over the spaces. And while locally owned retail in Detroit is clearly on the rise, that doesn't mean she has no reservations.
"I'm not sure what my long-term plans are with four locations," she says. "As we go through this holiday season, I'll see what my customers want. I don't plan on making any decisions before then."
One thing Lutz is sure of, however, is that Detroit is going to continue to see a retail resurgence.
"The market is too big and too underserved," she says. "This isn't just a retail move, it's an urban planning move."
Through his management and hospitality company, R.B.I. Group, Rufus Bartell is in the thick of the redevelopment happening from Eight Mile Road to the Lodge Freeway, an area that includes the historic Avenue of Fashion. He's the owner of a clothing store called Simply Casual, but says Detroiters want more retail options. During a recent downtown shopping trip, he couldn't even buy his wife a pair of jeans. So, while strides have been made, there is still much work to be done.
Day after day, more retail conglomerates announce store closings — 3,000 shuttered this year alone, according to the International Council of Shopping Centers. Even specialized retailers aren't immune. "Technical cashmere" purveyor Kit and Ace operated a store in downtown Detroit for less than a year before abruptly telling employees they were done. Henry the Hatter, a beloved 124-year-old Detroit institution, recently shut down amid rising rent costs.
Despite these losses, Detroit's indie retail scene appears to be thriving — especially in districts like Midtown, Eastern Market, and Downtown. Other areas like New Center — home of the Fisher Building — and the Avenue of Fashion are on the cusp of revival.
Midtown, arguably the largest shopping destination in the city, has the benefit of a nonprofit organization called Midtown Detroit Inc., which helps connect local business owners with appropriate locations. They've partnered with Shinola and Filson, located on the block of Canfield that's also home to locally owned City Bird and Nest.
Other establishments like Source Booksellers and Thrift on the Ave. have received varying forms of help from MDI in order to continue their success. This year the nonprofit opened Cass Collective, an incubator that will benefit local entrepreneurs while giving the neighborhood a chance to experience new businesses.
"The intention is that a tenure at Cass Collective will give you tools to make long-term business decisions," Sarah Donnelly, retail services director at TechTown Detroit, told Metro Times. "It's hopefully providing the neighborhood with a rotation of new businesses and they can help informally decide who is a good fit by patronizing their business."
The culmination of their efforts, along with those of a healthy group of independent business owners, is an area of dense shopping and dining options.
As for Eastern Market, the historic farmers market seems a natural place for local businesses to congregate, but it wasn't until recent years that shops started opening around those huge sheds.
Karen Brown, owner of Savvy Chic, says she was one of the only boutiques in the city, let alone Eastern Market, when she opened 17 years ago. After nearly two decades she's managed to stay afloat by continuously reinventing her concept, making sure to stock products that aren't easily available online.
"Retail has changed a lot with [the internet]," Brown says. "You have to really be on your game. Great customer service and quality merchandise are key."
Other mainstays in the area include the enormous Eastern Market Antiques, a winding, three-story edifice filled to the brim with vintage furniture and home goods. On the corner of Gratiot Avenue you'll find Discount Candles, a bizarre and truly wonderful store where you can buy candles with names like "Bitch Be Gone" and "Law Stay Away."
More recently, Cyberoptix Tie Lab owner Bethany Shorb opened a storefront called Well Done Goods where you can buy anything from a nameplate necklace that says "Acid" to deadstock apothecary jars. Nearby is Boro, a brand new upscale consignment shop.
Downtown, things are a little different. National retailers like Warby Parker, Bonobos, Under Armor, and Nike all have stores in the strip of Woodward Avenue leading north from Campus Martius. According to Cegielski, this is a great sign. Companies like these — which often set up shop in major city downtown areas — mean the area is on the rise. She cites Warby Parker and Bonobos as two stores that do extensive market research before committing to a new location.
Independent retail is also carving out a market in the area. Roslyn Karamoko, owner of Detroit is the New Black, recently moved her operation to a large storefront on Woodward, next door to the soon-t0-be Shinola hotel.
Karamoko, a Seattle-native, started her business after printing simple T-shirts, which were quickly snatched up by family and friends. Later, she ran a pop-up in Midtown, and then opened a smaller storefront on Forest Ave. before moving downtown. Now the entrepreneur has expanded her offerings to include beanies, baseball hats, leather bags, simple accessories, and even some onesies.
The large space, lit mostly by floor-to-ceiling windows, is the epitome of experiential shopping. The store also hosts poetry nights, and other pop-up events to get people inside — an aspect retailers no longer can ignore.
"We crave social interactions and we get those at stores," Cegielski says. "We don't want to just be in our living room."
Midtown
Cultural institutions like the Detroit Institute of Arts, the Detroit Public Library, Wayne State University, and the Detroit Historical Museum make Midtown an all-encompassing district, but a strip of Cass Avenue is where shoppers will hit retail gold.
Cass Collective
4161 Cass Ave., Detroit; 313-420-6000; casscollectivedetroit.com
This collective space is occupied by six local retailers — Dolly Rockers, Mie Radici, Kill the Hate, Not Sorry Apparel, B'Juelz, and Bleu Bowtique — but not for long. The storefront offers pop-up locations for independent retailers as a test drive for operating a brick-and-mortar location. Businesses can use the space for three months to a year, during which time they can get a feel for how well they fit into the neighborhood. Plus, it's a great chance for shoppers to interact with an ever-changing cast of up-and-comers.
Elite Couture Boutique
4161 Cass Ave, Detroit
;
313-771-3687
Located within Cass Collective on Cass Avenue, this adorable little store sells conservative-yet-sassy women's clothing. Brightly colored and on-trend frocks, tops, and pants fill the intimate space, and all are hand-selected by owner LaKeisha Solomon. Price points are extremely reasonable, making it accessible to just about anyone in the neighborhood, whether they're a student or a member of the nearby church.
Bob's Classic Kicks
4717 Woodward Ave., Detroit; 313-832-7513; bobsclassickicks.com
Bob's Classic Kicks has a collection of colorful cleats inside a store that's just as bright as the shoes. The shop is integral to creating a diverse shopping landscape in Midtown — most of the other shops are more female-friendly.
Source Booksellers
4240 Cass Ave. #105, Detroit; 313-832-1155;sourcebooksellers.com
Janet Webster Jones keeps this bookstore stocked with interesting nonfiction reads as well as unique sideline items. Hit the shop for an author talk, chair yoga, or other community-oriented event.
Things to do:
N'Namdi Center for Contemporary Art
52 E. Forest Ave., Detroit; 313-831-8700; nnamdicenter.org
Led by George N'Namdi, this nonprofit organization boasts four exhibition spaces, including indoor and outdoor areas. It serves a double purpose of preserving the work of master artists as well as giving locals a place to show their works.
Majestic Theatre Complex
4140 Woodward Ave., Detroit; 313-833-9700; majesticdetroit.com
Lady Gaga likes to hang out at Garden Bowl when she's in town and locals have spotted Conor Oberst having a drink in the Majestic Café. This place is packed with history, plus it's a destination for local and national music.
Wayne State University
You don't have to take classes to stroll through this school's busy campus and enjoy the beauty of buildings like Old Main, the Mackenzie House, or the Hilberry Theatre. Check out one of the libraries or hang out in the mall.
Treat Dreams
4160 Cass Ave., Detroit; 313-818-0084; treatdreams.com
An ice cream shop that got its start in Ferndale, Treat Dreams is the perfect place to take a load off — and get a special treat — after hauling shopping bags all around Midtown. We recommend a scoop of Kooky Monster.
More stores:
1701 Bespoke
4160 Woodward Ave., Third Floor, Detroit; 313-444-3680
Cass Corridog
4240 Cass Ave. #110, Detroit; 313-775-1018
Peacock Room/Frida
15 E. Kirby St., Detroit; 313-559-5500
Busted Bra Shop
15 E. Kirby St. A, Detroit; 313-288-0449; bustedindetroit.com
RunDetroit
441 W. Canfield St. #5, Detroit; 313-638-2831; run-detroit.com
City Bird
460 W. Canfield St., Detroit; 313-831-9146; citybirddetroit.com
Shinola
441 W. Canfield St., Detroit; 313-285-2390; shinola.com
The Hub
3611 Cass Ave., Detroit; 313-833-0813; thehubofdetroit.org
Flo Boutique
404 W. Willis St., Detroit; 313-831-4901; flowingflava.com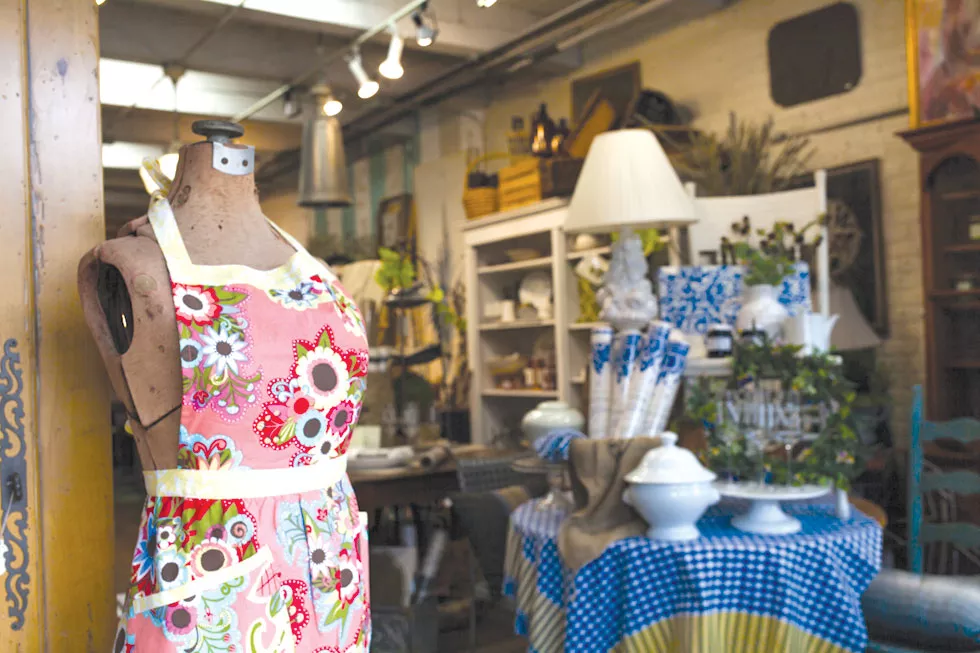 Eastern Market
Heavily patronized on Saturday mornings May through October, Eastern Market is so much more than just a farmers market. The area is alive with retail that thrives Sunday through Friday, too. While Gratiot Avenue provides an obvious stretch of options, other stores are tucked around the market's towering sheds. Here's a breakdown of a few of our favorites.
Savvy Chic
2712 Riopelle St., Detroit; 313-833-8769; savvychictrends.com
Karen Brown's 17-year-old shop has been described as one of the most beautiful in the city and we could not agree more. You'll find special items like fine, French-made tablecloths as well as speciality food items and some clothing. She recently partnered with Cairo Coffee to add a coffee counter to the space, offering one more reason to head into this well-curated boutique. In 2018, Brown says she plans to add a cosmetics counter to the adjacent space that used to sell men's clothing — proof she's always got a new concept up her sleeve. "I always try to think of what will fill a need," she says. "You can't just be one-dimensional."
3 Dogs 1 Cat
2472 Riopelle St., Detroit; 313-285-8371; shop.3dogs1cat.com
Tucked back on Riopelle, this urban pet store will soon move next door to Savvy Chic, making it a little more visible and surely increasing its foot traffic. Head in for modern pet accessories, food, treats, and more. You'll likely be greeted by a tiny canine who serves as the shop's host.
Well Done Goods
1440 Gratiot Ave., Detroit; 313-404-2053; welldonegoods.com
This shop is a real treat — and unlike any other shop in the city. Bethany Shorb, who got her start in the clothing biz by screen printing ties, stocks so many items you'll want to devote a serious chunk of time here. She still specializes in screen-printed items — which now include scarves, aprons, onesies, and hand towels — as well as desk nameplates that say things like "What Would Beyonce Do." A lover of techno, Shorb's shop is one of the best places to go in anticipation of Movement Electronic Music Festival, Charivari, or any of the other outdoor music fests.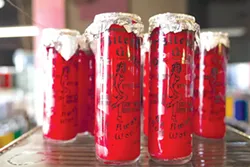 Discount Candles
1400 Gratiot Ave., Detroit; 313-566-0092
If you want to talk about experiential shopping, Discount Candles is the place you're going to get it. Located on the corner of Gratiot Avenue and Russell Street, the shop is as authentic as it gets. While the candles are cheap, the name itself is a bit of a misnomer. Owner Donna Adams stocks religious and spiritual candles purported to have special problem-solving powers. For an extra few bucks, workers will anoint your candle with special oils — and a little glitter too.
Detroit Mercantile Co.
3434 Russell St., Detroit; 313-831-9000; detroitmercantile.com
Tucked back on Russell Street, about halfway between Shed 5 and Milano Bakery, Detroit Mercantile Co. offers "provisions for the urban pioneer," which include angus beef chart posters, aviator sunglasses, and Carhartt beanies. Plus, every holiday season they host a Merry Market that brings together an admirable host of local vendors, plus booze — a fantastic combination.
Things to do:
Saturday Market
Over 225 market vendors attract upwards of 40,000 visitors on any given Saturday at this historic market. Now open year-round, you can shop for fresh, local produce, flowers, air plants, fresh bread, pickles, cheese, and any number of other handmade goods.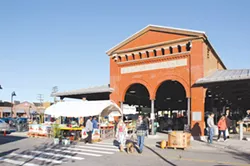 Trinosophes
1464 Gratiot Ave.; 313-737-6606; trinosophes.com
A coffee shop and cafe at heart, this enormous space also includes a large show area where avant-garde art pieces and films are shown. Stop by for a working lunch and nosh on their local, sustainably grown fare, and stay for a chilling performance by an indie orchestra.
Inner State Gallery
1410 Gratiot Ave., Detroit; 313-744-6505; innerstategallery.com
No cultural hub is complete without an indie art gallery and Inner State perfectly fits that bill. Stroll in for an eyeful of thought-provoking art. You might even leave with a print from 1XRun.
Detroit City Distillery
2462 Riopelle St., Detroit; 313-338-3760; detroitcitydistillery.com
It's been a long day of shopping and you need a stiff drink. Stop by this local distillery for something strong. Every Thursday and Saturday the spot, which is also the historic home of Stroh's Ice Cream and Goebel Brewing Co., offers tours.
More stores:
Detroit vs Everybody
2501 Russell St., Detroit; 313-502-5840; detroitvseverybody.com
Eastern Market Antiques
2530 Market St., Detroit; 313-259-0600
SMPLFD
1480 Gratiot Ave., Detroit; 313-285-9564; buy.smplfd.com
Division Street Boutique
1353 Division St., Detroit; 313-285-8887; divisionstreetboutique.com
Motorless City Bicycle Co.
1343 Fisher Fwy., Detroit; 313-285-8120; motorlesscitybikes.com
Orleans and Winder
410 Gratiot Ave #102,
Detroit; 313-409-6343; orleansandwinder.com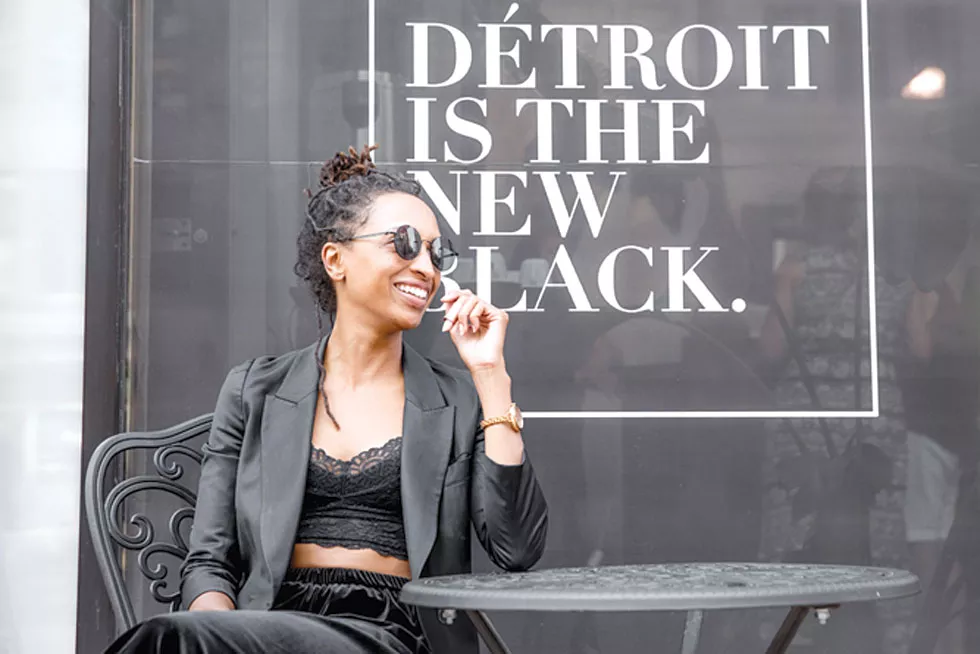 Downtown
Thanks to multimillion-dollar developments like the QLine and the soon-t0-open Little Caesars Arena, downtown Detroit is now a hotbed of activity. As new businesses move in, traffic is getting heavier even when there isn't a Tigers game — a change that shows the tides are turning in the once-downtrodden area. Now, national businesses are flocking to open inside recently renovated storefronts, and peppered alongside are bars and restaurants like Hudson Cafe, Townhouse, and Calexico.
Detroit is the New Black
1426 Woodward Ave., Detroit; 313-818-3498; detroitisthenewblack.com
Owner Roslyn Karamoko got started by screen-printing T-shirts, much like many of Detroit's most successful brands. Now, she operates a large space on Woodward Avenue that's sure to experience an uptick in business once the Shinola Hotel opens next door. Her line includes T-shirts, baseball caps, shirt dresses, one-piece body suits, beanies, leather bags, and more. A Seattle native, Karamoko seems to have keyed into Detroit's favorite style aesthetic — low maintenance clothing that shows city pride — to great effect.
Warby Parker
1449 Woodward Ave., Detroit; 248-721-4126; warbyparker.com
A group of college friends started this now-national chain after quipping that none of them could afford to get new glasses. The business brings low-cost but fashionable eyewear to the masses, and does so in the place where Vernor's Ginger Ale was once created. The shop itself — which is almost all white with a coved ceiling — is gorgeous and customers can sip from-the-tap ginger ale while they shop.
Nojo Kicks
1220 Library St., Detroit; 313-656-4402; nojokicks.com
When Nojo Kicks opened in 2014, a line of hypebeasts wrapped around the block, hoping to be the first to grab this sneaker store's in-demand stock. The chromed-out shop is still a favorite among trend-lovers, and they sell their must-have accessories too. You'll have to hop off Woodward to shop the rare, collectible, and hard-to-find sneakers, though. This shop is behind the super-busy thoroughfare on Library Street.
Hot Sam's
127 Monroe Ave., Detroit; 313-961-6779
Opened in 1921 by Sam Freedman, this store got its name from customers who couldn't believe the proprietor could offer such low prices. They added a "hot" to the store's name because the term implied the goods were stolen. Several owner changes later, Hot Sam's is still a fixture in downtown Detroit shopping (the shop was originally located on Brush Street before moving to the Compuware Building). Store owners Tony Stovall and Cliff G. Green are proud they've continued to operate their businesses within the city of Detroit, adopting the slogan, "Never Left. Never Will."
Bonobos
1417 Woodward Ave., Detroit; 313-938-0130; bonobos.com
Have you ever walked into a store and thought, "I can't buy anything in here?" Well, at Bonobos, you really can't buy anything — or at least, you can't buy anything and leave the store with it. This men's clothier is a "guide shop" which allows shoppers to get a feel for fabrics, fits, and colors. After finding what works best for them, guests can order through a stylist and have their pieces shipped to them.
Things to do:
Campus Martius
800 Woodward Ave., Detroit; 313- 963-2225; downtowndetroitparks.com
Year-round amenities at this city park make it a perfect addition to a downtown shopping trip. In the summer you can dip you toes in the faux "beach" and grab a drink at the Fountain, a shipping container bar open during the warmer months. Come winter, an enormous Christmas tree lights up the ice skating rink.
Greektown
It's an entirely different district, but its just a few short blocks — and a quick walk — from downtown Detroit. Gamble at the casino, grab a fancy dinner at Santorini, snack on saganaki at the Golden Fleece, or sip a cold one inside the Old Shillelagh.
Guardian Building
500 Griswold St., Detroit; 313-963-4567; guardianbuilding.com
With a Pure Detroit location inside, this building is the perfect refuge from the elements, should you find yourself without the proper trappings. Tours of the Wirt Rowland-designed building are every Saturday and Sunday.
Fox Theatre
2211 Woodward Ave., Detroit; 313-471-3200; olympiaentertainment.com
This drop-dead beautiful theater is the perfect reason to schedule a visit to the city. Grab dinner at the Foxtown Grille while you're there.
More stores:
Moosejaw
1275 Woodward Ave., Detroit; 313-338-3661; moosejaw.com
Nike Community Store
1261 Woodward Ave., Detroit; 313-965-3319
John Varvatos
1500 Woodward Ave., Detroit; 313-437-8095; johnvarvatos.com
Under Armour
1201 Woodward Ave., Detroit; 313-335-3162; underarmour.com
Bird Bee
1228 Griswold St., Detroit; 313-315-3070; shopbirdbee.com
Pure Detroit
Guardian Building: 500 Griswold St., Detroit; 313-963-1440
GM Renaissance Center: 400 Renaissance Center, Detroit; 313-259-5100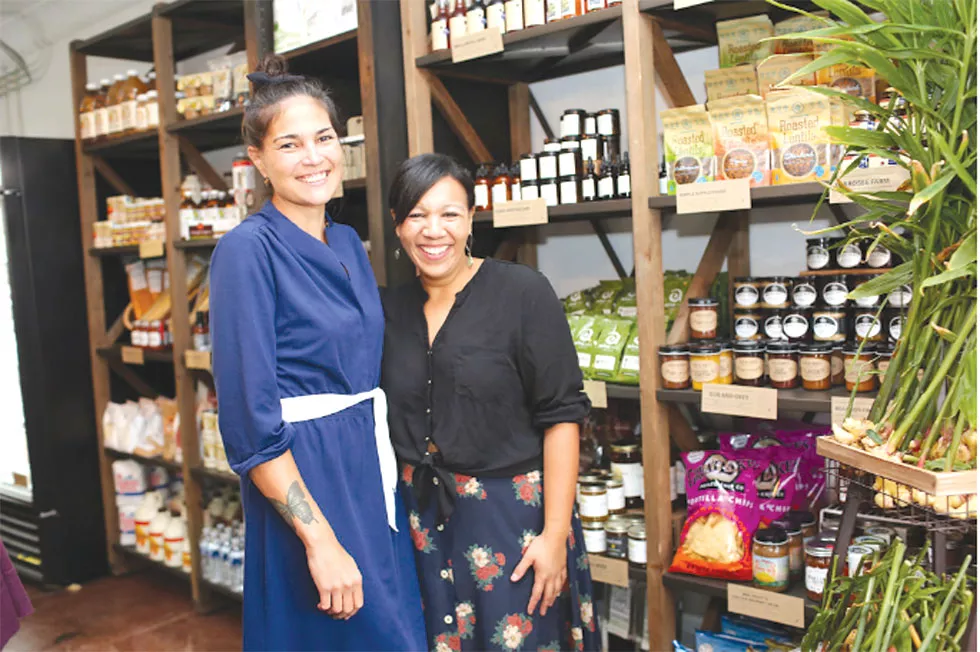 Come-uppers
Shopping destinations to keep your eye on in the coming years
It seems strange to think of any of Detroit's historic neighborhoods as "up-and-coming," especially since many have been experiencing revivals for years now. However, while we've seen an influx of bars and restaurants opening all over town, retail-based entrepreneurs have been a little more shy about coming outside of Midtown and downtown. As more and more boutiques prove Detroit can support them, we're likely to see these areas booming with retail businesses very soon.

University District

Livernois between Eight Mile and Lodge Freeway
University District — named for being home to University of Detroit Mercy and Marygrove College — includes the historic Avenue of Fashion, a shopping epicenter in Detroit's heyday. The area, which is a gateway of sorts between Detroit and Oakland County, is as popular for its historic homes as it is for
Kuzzo's Chicken and Waffles
(19345 Livernois Ave., Detroit; 313-861-0229; kuzzoschickenandwaffles.com)
. While many of the subdivisions in that area have been well-maintained, the strip of Livernois from Eight Mile to the Lodge Freeway has seen better days. But now, several groups are working to enhance the area by opening up new shops and restaurants.
Rufus Bartell, who owns
Simply Casual
(19400 Livernois Ave., Detroit; 313-864-7979)
, has worked in retail in excess of 20 years. More recently he branched off to open R.B.I Group in order to manage events and hospitality endeavors. His brother, Al Bartell, operates
Times Square
(19330 Livernois Ave., Detroit; 313-342-9005)
, a men's clothing store, and will soon open a men's shoe store called Shoebox. Bogdan Tarasov recently opened a location of his wildly popular
Bucharest Grill
(19492 Livernois Ave., Detroit; 313-965-3111)
and says he has retail plans for a storefront across the street. Renovations are almost completed and he says negotiations with a tenant are about 99 percent complete.
"There is an exciting amount of development coming in the next 12 to 24 months," Bartell says.
Those developments include a "Windmill Market" that Bartell says will take place over the next year, as well as a spa, and at least six other concepts.
Corktown
Livernois between Eight Mile and Lodge Freeway
If it seems silly to call Corktown an "up-and-coming" area, we get it. But while the happening neighborhood is so fully stacked with bars and restaurants, retail options are lagging. As of now, a few great shops currently operate in the area — including Erin Gavle's perfectly curated
Eldorado General Store
(1700 Michigan Ave., Detroit; 313-784-9220; eldoradogeneralstore.com)
and Alana Rodriguez's
Mama Coo's Boutique
(1701 Trumbull Ave., Detroit; 313-404-2543; mamacoosboutique.com)
. Both of the shops offer hand-selected vintage items, but differ greatly. While Gavle also stocks crystals, locally made jewelry, and men's and women's clothing and shoes, Rodriguez focuses on super fun women's clothing and accessories.
Next door to Mama Coo's is the
Farmer's Hand
(1701 Trumbull Ave., Detroit; 313-377-8262; thefarmershand.com)
, which bills itself as an "artisanal pantry-market-kitchen" where shoppers can grab a sandwich and shop for flowers, beads, tea and coffee, gift items, and more.
Across the street is
Hello Records
(1459 Bagley Ave., Detroit; 313-300-5654; hellorecordsdetroit.com)
, just one of the city's invaluable vinyl-hocking stores, where patrons can pick through an eclectic mix of genres and records made from the 1940s until now.
John K. King Used & Rare Books
(901 W. Lafayette Blvd., Detroit; 313-961-0622; kingbooksdetroit.com)
, a stalwart in the neighborhood, is also here, but off the main street of Michigan Avenue where more of Corktown's major developments happen.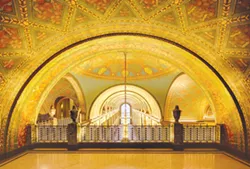 Fisher Building
3011 W. Grand Blvd., Detroit; 313-873-7873
When the Platform bought the Fisher Building at auction in 2015, they knew they wanted to restore Detroit's largest art object to its former glory. It's been two years, and their efforts are finally starting to yield visible — and exciting — results.
According to Platform president and CEO Dietrich Knoer, the company has added air-conditioning and fixed the heat in the arcade, restored the building's frescos, refurbished showcases, and added amenities like the popular
Guerrilla Food
pop-up series. They just put 40,000 square feet of office spaces up for lease, and plan to bring two new restaurants to the building soon.
They've preserved businesses like
Workshop
,
Stella Good Coffee
,
Vera Jane
,
Pure Detroit
, and
Gallery of Contemporary Crafts
, all of which were already operating inside the Albert Kahn-designed building. In addition to
Peacock Room
's flagship location and sister store
Yama
which both occupy a space in the Fisher Building.
"Just like downtown or the Arena District or Midtown, we too have created a certain vision for what it is we want to create here," Knoer says. "Who are the right retailers who fit in here? Our focus is on the independent retailers — indie retail. Not to say we would not welcome a national retailer if it was the right name and fit into the concept."