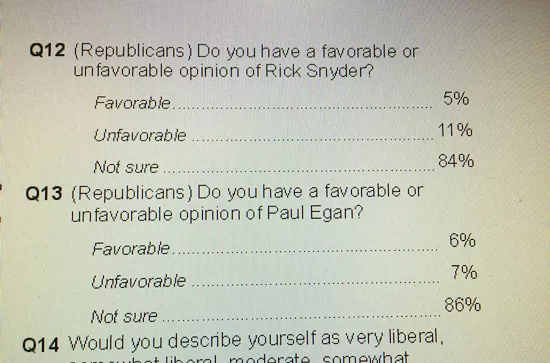 On the heels of watching his ballot proposal to fund roads
get crushed at the polls on Tuesday,
Republican Gov. Rick Snyder might have second thoughts about whether he actually
wants to make a long-shot bid for the White House
. And then there's this: Last week,
Detroit Free Press
reporter Paul Egan, writing on Snyder's consideration of a presidential run, quoted Public Policy Polling Director Tom Jensen saying:
If I had polled you for favorability with Iowa Republicans, you would come out with the same number he did.
Well, Jensen rolled with the idea in PPP's recent Arizona poll. Turns out, he was right: Egan, amazingly, polled better than Snyder for favorability with Repubilcans in Arizona, netting 6 percent compared to the governor's 5 percent.
(H/T Romensko)