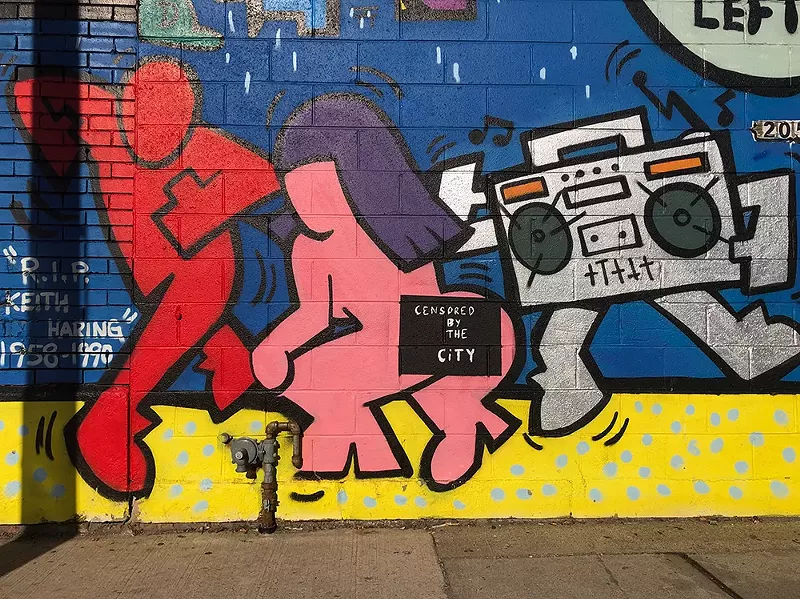 Cincinnati Bengals player Jackson Carman either has a questionable sense of humor, or Eminem's got good lawyers, or both. On Sunday, the player seemed to suggest that he had gotten sick and puked on Ford Field after eating at Eminem's new Mom's Spaghetti restaurant. "Would not recommend eating Moms spaghetti when you visit Detroit" he
tweeted
. The next day — after, we assume, Em's lawyers had time to react — he walked the story back, writing in a follow-up tweet, "FYI: I did not actually try the Moms Spaghetti Restaurant while I was in Detroit, I was referencing the
@Eminem
song lyrics." All we'll add is if Carman was trying to make a joke... well, there are other ways he could have done that without appearing to directly imply that the Mom's Spaghetti restaurant was the cause of his on-field illness. Anyway, that was our top story this week.
Readers were also interested in the drama over artist Sheefy McFly's mural featuring a woman with a large derrière, and an update on a death at this summer's Faster Horses Music Festival. Our readers are also interested in the return of
Metro Times
' Pig & Whiskey Festival, which will be held on Halloween weekend in Ferndale.
Here's what else our readers clicked on this week.
10.
"Actress Selma Blair takes on a role of a lifetime in new documentary about life with MS"
9.
"Kid Rock's Made in Detroit restaurant to be replaced with Michigan-themed spot following split with Little Caesars Arena"
8.
"Megan Thee Stallion ushers in chill girl winter with 'Big Holiday Show" with Lil Baby, Trick Trick, and more in Detroit"
7.
"Voting guide: Detroiters have a chance to root out corruption, decriminalize magic mushrooms, and pursue reparations on Nov. 2"
6.
"Macomb County schools has the highest number of COVID-19 outbreaks in Michigan, while Oakland County reported zero"
5.
"Weekend-long Pig & Whiskey fest returns to Ferndale with music from Laith Al-Saadi, Goober and the Peas, Tart, and more"
4.
"Mother-daughter duo to open Detroit's first selfie museum this weekend"
3.
"Sheefy McFly mural in Detroit 'censored' following complaint"
2.
"Woman at Faster Horses Festival died of complications from obesity, drug and alcohol use, officials say"
1.
"There's vomit on Ford Field already, Mom's Spaghetti"
Stay connected with Detroit Metro Times. Subscribe to our newsletters, and follow us on Google News, Apple News, Twitter, Facebook, Instagram, or Reddit.