After last month's Kroger incident, in which a 61-year-old man
stripped down to his birthday best
at the grocery store deli counter, we began to wonder: how many other times have metro Detroiters flaunted their God-given attributes this year? Quite a few times, it seems, and we're just talking about the instances that have made the news. For your reading pleasure, here's a list of the naked shenanigans that have gone down in metro Detroit so far this year.
1.
The story of the naked cowboy
who took a jaunt down 1-75 near Auburn Hills during one of the worst snowstorms of the season made national headlines this year. Clad
only
in a cowboy hat, this gent strolled down the highway for several minutes before being apprehended by police. It was later determined that the West Bloomfield man may have suffered from a mental delirium episode. A video of the incident, uploaded by YouTuber Francis Gojcaj, is available
right here
.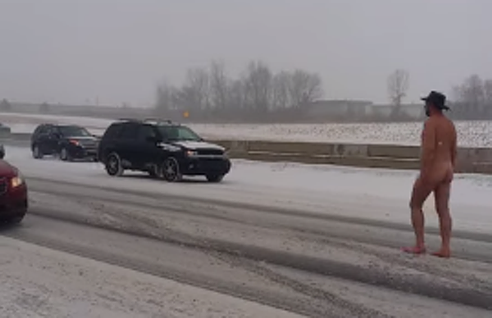 2.
There's also the naked couple
who was apprehended in May after a short police chase near Clare, MI. As you may recall, police attempted to pull over an undressed 23-year-old woman for driving the wrong way down a highway when she fled, first in her vehicle and then on foot. She was soon caught and told police she left her husband (also naked) at a nearby rest stop. The two were booked that evening.
3.
Next up is the 37-year-old
Belleville man
who decided to take a drunken, naked dip in the Detroit River earlier this summer. Lucky for him, two American Legion members were nearby and quickly responded.
4.
We might as well include
photographer Harvey Drouillard
's nude models on this list because, after all, nude is nude and his Ann Arbor Art Fair subjects definitely fit the profile. Drouillard told us that for a project of this nature, timing is everything. "The art behind Drouillard's images is not just in the formal aspects of taking a picture but in the logistics of getting nude models in a public place before causing a commotion,"
MT's Lee DeVito wrote earlier this summer
. "[O]ftentimes the background subjects in his photos have no idea about the presence of the nudes, which creates an intriguing tension." View some of Drouillard's photos
right here
.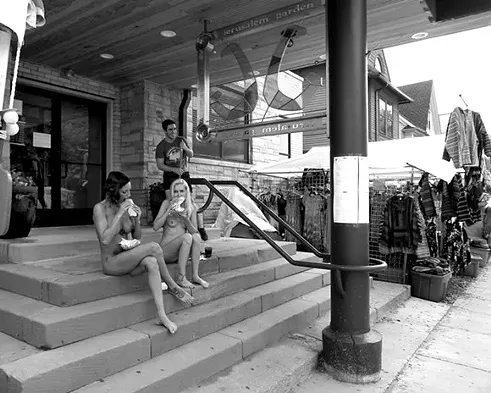 5.
We can't forget
Sen. Virgil Smith who was accused
of firing multiple shots at his ex-wife's car a few months back. He was apparently naked at the time of the incident. The Detroit lawmaker
is expected to stand trial
later this year.
6.
Then there's also the couple who was caught having sex on a picnic table at Willard Beach in Battle Creek earlier this month. The
Battle Creek Enquirer
reported that a 51-year-old Saline woman and a 36-year-old Traverse City man were caught doing the deed by a family on a Sunday afternoon drive. Catch the full story
right here
.
7.
And finally we return to the Kroger meat counter man, who's episode was posted to (and later removed) from social media.
The Detroit News
is still running one of the photos from the incident.
Know of an instance we missed? Let us know in the comment section below.