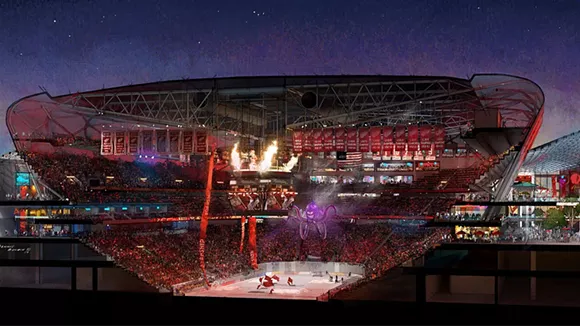 On Monday, the Downtown Development Authority approved an additional nearly $52 million in new contracts for Olympia Development's new 20,000-seat Red Wings arena and auxiliary "District Detroit" development.
According to
a press release
, more than $27 million of the new contracts are going to Detroit-based businesses, such as Motor City Electric's $16 million contract for electrical work in the arena and Ideal Contracting's $11 million contract for foundation and steel work. In total, the sum of contracts comes to $257 million, with 65 percent of the contracts going to Detroit businesses and 95 percent of the contracts going to Michigan businesses.
The arena, slated to open for the 2017-18 hockey season, was financed through a $450 million in state-issued bonds in a
"daisy chain of borrowing."
Read our 2014 cover feature on how owner Mike Ilitch scored the new Red Wings arena
here
.