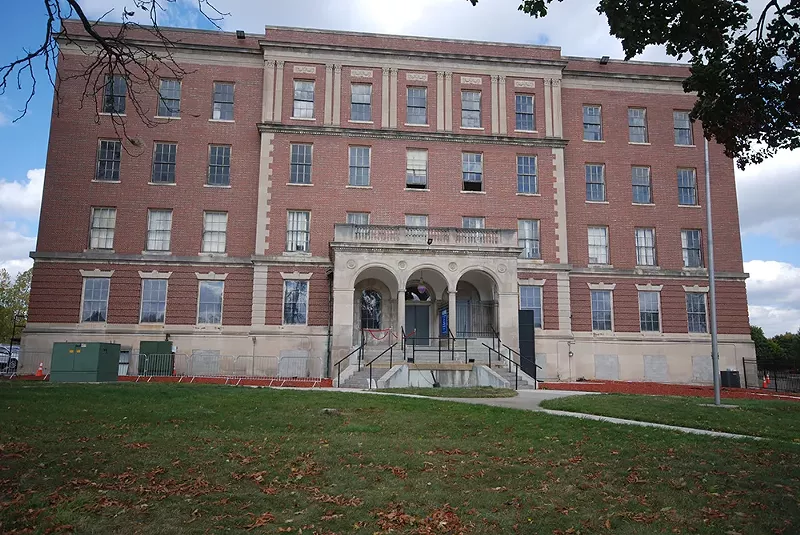 The state of Michigan announced Wednesday that it has awarded $2.9 million in brownfield funding for the cleanup of three contaminated sites in metro Detroit to make way for new developments.
The plan calls for preserving two historic buildings and the addition of new commercial establishments at the former Eloise Psychiatric Hospital in Westland, a new affordable housing apartment complex for LGBTQ+ elders in Ferndale, and a redevelopment for a mixed-use space in Northville.
Brownfield grants are used for the cleanup of abandoned properties where redevelopment is complicated due to toxic contamination.
Overall, the Michigan Department of Environment, Great Lakes, and Energy (EGLE) provided $20.7 million in brownfield funding to 67 projects statewide in 2022.
The city of Westland received a $695,000 brownfield grant to clean up contamination at the former Eloise Psychiatric Hospital so the site can be reused.
Westland has partnered with 30712 Michigan Avenue LLC to redevelop the hospital as part of a $4 million project. The plan is to remove several blighted buildings, preserve two historic structures, and build new commercial establishments, including
a haunted attraction
, a hotel, and a restaurant and bar.
"We are very grateful to EGLE, the city of Westland and the State of Michigan for this grant. It will assist us in the redevelopment of this challenging project," John G. Hambrick, managing member of 30712 Michigan Avenue LLC, said.
The redevelopment of the site has been complicated by petroleum-released compounds in the soil and groundwater, likely from a leaking underground storage tank.
In Ferndale, the city is using a $700,000 brownfield grant to remove contaminated soil on East Nine Mile Road to make way for The Shephard House, a new four-story, affordable apartment complex for LGBTQ+ elders. The development will include 53 apartments, energy-efficient appliances, a community room, and pocket park.
The project is expected to be completed in the spring of 2024.
EGLE is also providing an $800,000 brownfield redevelopment grant and $730,000 in brownfield tax increment financing for a new mixed-use residential and commercial development on a former industrial property at the eastern gateway to the city of Northville.
The redevelopment team, 456 Cady LLC, plans to demolish existing structures and build a three-story building with commercial, office, and residential spaces at a cost of $25 million.
Northville will use the funding to clean up environmental contamination and install barrier systems to prevent exposure from any residual contamination from the site's past industrial operations, which included a foundry, machine shops, and a mill pond.
Coming soon: Metro Times Daily newsletter. We'll send you a handful of interesting Detroit stories every morning. Subscribe now to not miss a thing.

Follow us: Google News | NewsBreak | Reddit | Instagram | Facebook | Twitter