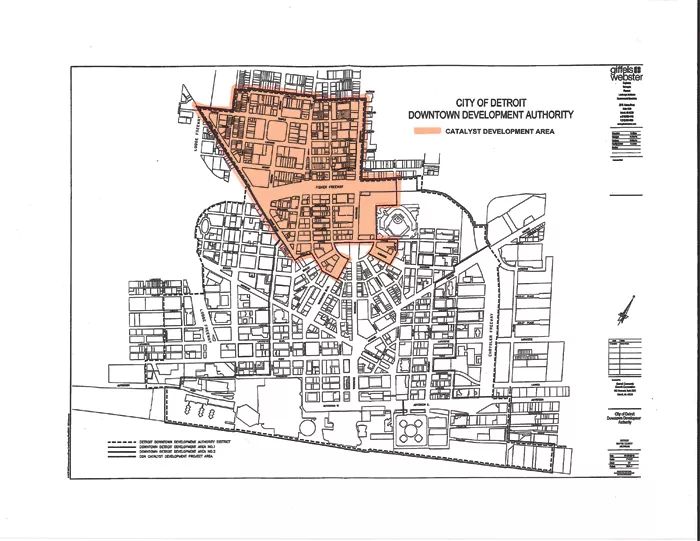 At this point, it's almost certain the southern Cass Corridor will soon be filled with a new $450 million arena, bounded by Woodward, Cass and Temple avenues and I-75. The second part to the proposal from Detroit Red Wings owner Mike Ilitch is $200 million in adjacent development to the arena. Although it's been stated in the public with the utmost level of certainty, that additional development is not exactly a given.
As Metro Times has previously reported, under the terms of the deal between the Downtown Development Authority and Olympia Development of Michigan, Ilitch's real estate arm, Olympia would either invest or "cause to invest" at least $200 million in the area around the arena.
That development could entail housing, retail, restaurants, and entertainment. The options are virtually endless and there's nothing stated in firm terms of the deal. Olympia previously told Metro Times the company is still in the early planning stages, and that it's researching virtually "every mixed-use district developed over the past decade in North America."
As noted researchers and academics have pointed out, those mixed-use districts tied to arenas don't have the best track record. And should Olympia balk at the bill, there's little punishment on the other end.
The proposed arena district's success will likely hinge on that spinoff development. The benefit for Ilitch would be the link-up between his wife Marian Ilitch's MotorCity Casino, as well as the couple's Fox Theatre and Comerica Park. Gov. Rick Snyder, a proponent of the deal, previously said the adjacent development is key.
"It's something that hopefully will be a tax-base generator," Michigan's Republican governor told reporters last September. "Not the arena as much per se, but all the surrounding development."
Here's the catch: If $200 million of investment lands in the arena district within the five-year window, the DDA would credit Olympia with $62 million for the ancillary development. If Olympia defaults on that five-year commitment, the new Red Wings arena would still move forward, but Olympia would lose that $62 million credit, city records show.
As the city's Legislative Policy Division detailed in previous reports for Detroit City Council, "The current framework for this deal entails little to no risk to [Olympia] with the potential for significant revenue interests."