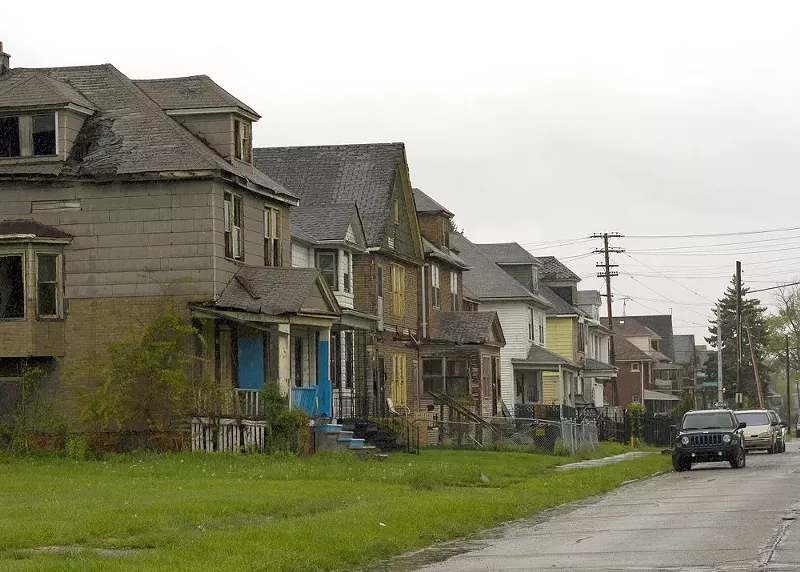 It's that time of year
again,
when the government prepares to seize and sell the homes of Detroiters who owe as much in back taxes as the value of the latest
iPhone
. But in 2018, the Wayne County Treasurer's Office says it has some good news to share: There are just 1,517 households facing foreclosure ahead of this fall's auction.
Yes, we said *just* 1,517 occupied homes. This is framed as a positive because the number represents a reduction from previous years. The number of occupied homes in foreclosure is down 22 percent from last year, and way down from the 2015 peak of 9,111 homes. This year, about 700 of the homes on the preliminary seize-and-sell list are occupied by their owners, and the other 800 are occupied by renters or others.
Officials say the improvement is the result of a number of initiatives designed to help people stay in their homes. The Wayne County Treasurer's Office and private entities have been conducting more aggressive outreach to warn people that their homes are in foreclosure and let them know their options — whether it be enrolling in a payment plan or applying for a poverty exemption. A reduced-interest payment plan came online a couple of years ago, taking the penalties on some late-paid taxes down from 18 percent to 6 percent. The city of Detroit, meanwhile, with help from philanthropic dollars, has
expanded a program
allowing renters in foreclosure (often this means a landlord did not pay his taxes) to purchase the homes they live in. And a
settlement agreement
between the American Civil Liberties Union and the city is expected to help more people living in poverty keep their homes through a property tax exemption. The ACLU had sued the city, alleging that it made it too difficult for people to obtain the exemption. The Wayne County Treasurer's Office was removed from the suit on jurisdictional grounds.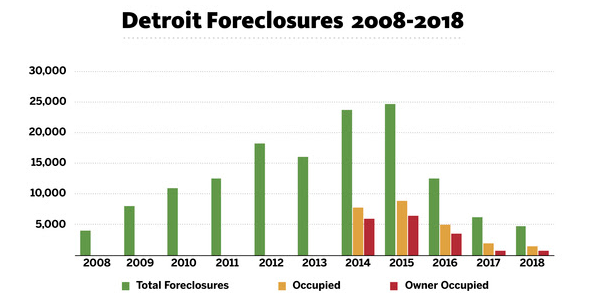 "We are working as hard and smartly as possible to help prevent foreclosures in Detroit and in all of Wayne County," Wayne County Treasurer Eric Sabree says in a media release. "Each year, you are seeing the results of the efforts of my office, [and] our public and private partners in communicating with and helping people stay in their homes."
Last year, Sabree
rejected two last-minute proposals
that could have kept hundreds of people's homes from being sold out from underneath them. The McGregor Fund in September put up $200,000 to cover the down payment for up to 600 households to enroll in payment plans with the county treasurer, but the leader of a local housing nonprofit involved said the treasurer refused to take the homes out of the auction, citing the late timing. The city of Detroit in October issued poverty exemption applications to hundreds of households that may have been eligible, only to learn that the treasurer did not intend to take those homes out of the auction, as the sale was already underway.
" Detroit Mayor
Mike Duggan says in the release. "We are seeing real progress in areas that impact all of our neighborhoods, and we are excited to continue this important work."
A study has shown that the Detroit tax assessor's office, under Duggan's purview,
overassessed the taxable value of at least 55 percent of Detroit homes
as recently as 2015, leading to inflated tax bills that may have forced people from their homes unnecessarily. The city has since conducted a citywide reassessment of all properties in order to remedy the problem, but
activists have called for reparations
for those who they say wrongly lost their homes.
An estimated 1 in 4 Detroit properties
were
foreclosed between 2011 and 2015. The latest preliminary foreclosure data represents a return to pre-recession levels.

Stay on top of Detroit news and views. Sign up for our weekly issue newsletter delivered each Wednesday.