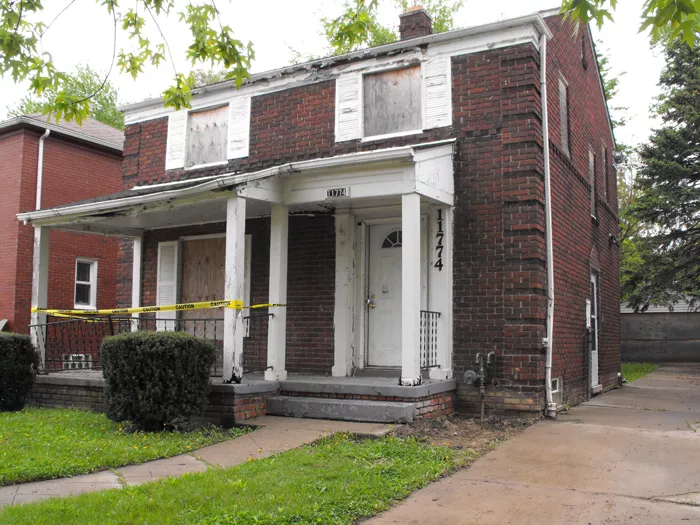 11774 Engleside St., Detroit
On May 31, Building Detroit will continue its online auctions of abandoned and foreclosed homes, dropping the gavel on this charming colonial in the Osborn neighborhood. The auction of this house begins at 9 a.m. with a starting price of $1,000. The house, built in 1939, has three bedrooms, one-and-a-half bathrooms, and a detached garage. The lot on which this potential dwelling sits is 5,097 square feet. With the main structure measuring in at 2,480 square feet, there's enough space for a family to live and, perhaps, prosper here.
Visitors to the house will be greeted by that familiar yellow caution tape strewn across the front porch's wrought-iron fence, likely placed there to keep people off the unstable porch. The red brick structure appears to be solid, despite its age and its neglect in recent years. According to research by the ASS (that's Abandoned Structure Squad to you, bub), 2011 was the last year taxes were paid on this property.
As expected, the backyard is a bit overgrown, but not so bad as to require a machete. Save for a discarded muffler behind the garage, we found surprisingly little debris in the yard. Gearheads and grease monkeys will be pleased to learn that the garage is well-ventilated (due to the lack of a garage door).
The interior is in better shape than most houses that have sat abandoned for three years. The hardwood floors and whitewashed walls seem to be in a decent state. However, there are a few tweaks any proud new owners will have to make: The house needs a new roof, new windows, a new porch, plumbing, heating and cooling, electrical, and fixtures. Fancy yourself an artist in the kitchen? Well, once you replace the countertop, cabinets, install a sink and faucet and the proper appliances, you'll have yourself one charming kitchen.
According to Building Detroit's website, the house is "in a decent neighborhood." But ASS turned up some evidence to the contrary. Between May 14 and May 20, the following crimes (at least those reported) occurred within a one-mile radius of this humble hovel: five car thefts, two burglaries, eight assaults, two larceny charges, one vandalism charge, one sex crime, two drug violations, and one weapons charge.
On the bright side, there was only one arson charge. While that might not seem inviting to those in the market to buy a home, maybe the security lights that adorn the house's outer walls will assuage your fears. The average price of a house in this welcoming neighborhood is $33 per square foot, which means all this could be a steal. Happy bidding!