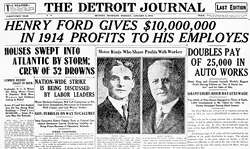 Henry Ford was a lot of things — yes, including an antisemite and a furious opponent of trade unions — but he was also something of a revolutionary when it came to paying his employees fair wages.
103 years ago today he instituted a $5 per day minimum wage for his employees
, which was double what he paid the year before. Ford created the moving assembly line, which allowed him to manufacture cars faster than any of his competitors and subsequently he shared his earnings with this staff.
BTW, $5 in 1914 translates to just about $121 in 2016 dollars,
according to this online inflation calculator
.
These days Michiganders are fighting to raise minimum wage just a little bit higher. And while the state minimum wage is set increase to $9.25 by 2018, that's still a far cry from the
$15 per hour many are hoping for.