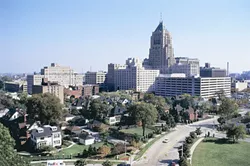 Developer Peter Cummings — son-in-law of late philanthropist Max M. Fisher — announced Monday that his new company, The Platform, will build 1,000 new apartment buildings around the QLine (née M-1 Rail).
According to the
Detroit News
' Nolan Finley, The Platform — which is a collaboration between Cummings and Dietrich Knoer of Southfield's Redico — plans to spend $250 million on apartments in Midtown (née Cass Corridor), TechTown and New Center.
The duo's apartment plans don't necessarily mean tons of new, sterile, boxy and sleek living spaces (though Cummings was in charge of the development of apartments across from the Max M. Fisher building on Woodward that fit this description). Two of The Platform's first projects are updates to the Fisher and Kahn buildings in New Center (according to Finley, they bought the buildings for $12.2 million at auction in 2015).
While the original projects are around the QLine, according to Finley, The Platform will also "help rebuild" Brightmoor, the blocks surrounding University of Detroit-Mercy, West English Village and the Island View neighborhoods. Cummings has made his goal of "developing developers" clear, too.
"We envision a village approach," Cummings, who also developed the Whole Foods in Midtown, told
The Detroit News
columnist. "We hope to help create centers around which the neighborhood can grow."
While Cummings may be clued into some of the preferred buzzwords surrounding such development programs ("village" "neighborhoods") questions remain about the future of the city and a clear tension that has grown between the tended-to neighborhoods (those along the Q-Line, in the 7.2 square miles of "New Detroit), and those that have long been neglected.

On Monday — the same day as Cummings' announcement — Detroiter Eric Thomas, a senior partner at Saga Marketing, published a
semi-viral story
on Linkedin titled, "Why I hate Detroit," in which he tangentially details some of the flaws that projects like the QLine and Cummings' proposed apartments have come to represent and fail to address — issues like the city's flawed education system, a lack of "outlet and recreation," and steady crime in neighborhoods that have been deemed less important.
"I think it's time to take a sober look at Detroit and say, 'OK, what does inclusive opportunity really look like,'" Thomas writes on his Facebook page before sharing the link to his op-ed. "If you tell me, cafes and bike lanes in the hood, well, you 'bout to get talked about."
As his editorial goes on: "
When people say they love Detroit, I think they're talking about the land mass. How else could you explain moving into a city and opening shops with price points too high for the residents to consume?" writes Thomas, who later adds, "
The 7.2 square miles often discussed is only 5% of the 142 that comprise Detroit. To say you love 5% of Detroit is like ordering a hamburger, eating the sesame seeds on the bun, and claiming you love hamburgers. No sir, you like sesame seeds. You love the tigers. You love 4 miles of Woodward. But Detroit is not what you love."
Thomas's criticism of a very area-specific form of redevelopment pushes directly at the core of projects like Cummings' — projects that Finley describes as "an entry point for institutional investors and wealthy individuals who want a piece of the Detroit excitement, but can't figure out how to nudge into a downtown landscape dominated by Dan Gilbert and the Ilitch family."