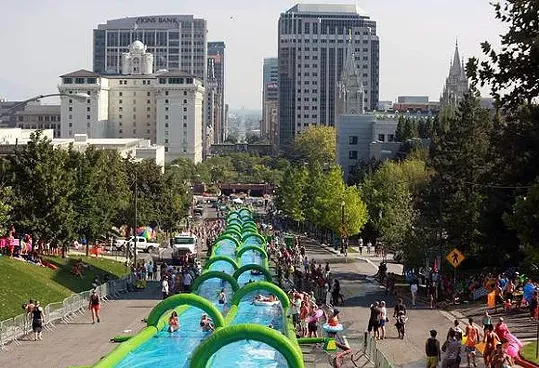 Update: The Slide the City event scheduled to take place in Flint next weekend has been canceled due to a low number of registrants.
"I got an email, not even a phone call," Gerard Burnash, an executive of the Flint Downtown Development Authority told
MLive earlier this week
. He told them: "I'm almost glad they canceled. This tells me a lot about them. I would hate to have a horribly run event," he said.
Slide the City came to Ann Arbor over the Fourth of July weekend and was scrutinized for long lines, among other things.
Full refunds will be given to those who purchased tickets from Slide the City. United Way, the official charity sponsor of the event, is also giving money back to donors, though they are offering folks the option of redirecting their refunds into a local reading program if desired.
Originally posted July 7, 2015 at 1:33 p.m.


Earlier this year, we wrote
about Slide the City, the Utah-based company bringing its 1,000-foot water slide to cities across the nation, including Detroit and Flint.
We also discussed
the problems of setting up a giant water slide and charging $15 a ride in a region that's been battling to halt water shut-offs for months.
Now, a date has been set for the Flint event: Saturday, July 25. A shove-off location has also been announced:
S Saginaw Street and W 2nd Street.

Known for tossing some of its proceeds to local charities, Slide the City has named
United Way of Genesee County
its charity sponsor. Jamie-Lee Venable, the Director of Community Impact at United Way of Genesee County, told
MT
that her organization gets a percentage every time someone uses the United Way discount code (UWGC) to purchase event tickets. Any money brought in by the event would be used for local education initiatives, she said.
For those interested, registration and additional event details
can be found here.


A Detroit date has not yet been announced.