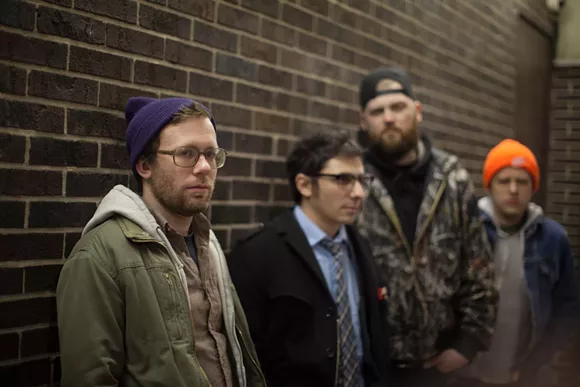 Local DIY art-punk act the
K9 Sniffies
have made a video for their song "Donovan's" —at where else, the venerable local venue
Donovan's—
during their recent record release show. It's a pretty fun video to watch; some audience members even assist the group in playing their instruments! There's a word for that: camaraderie. If you've lived in Detroit for more than one month, you will likely recognize someone in the video.
We are extra stoked, as the clip is being premiered right here, at
Metro Times
. The band's debut full length record
Master's Touch
is available now from Urinal Cake Records; find it at your favorite local record store,
or from the label directly here
. We love this label despite their horrible name, and are so glad to see them continue to release great local stuff.
"This video somehow all came together when our pal Randy Molina decided to take some random footage at the record release show at Donovan's last month," says Eric Love of Urinal Cake Records. "He showed it to me and I said it would make an actual awesome official video for 'Donovan's' off the K9 Sniffies'
Master's Touch
LP. The highlight was definitely 'the mask,' which is on the front of the LP cover, making an appearance and basically dancing behind the band, in the crowd and eventually ending up on the floor in true Sniffies fashion. The song is an ode to the band's favorite Southwest bar," Love says.
K9 Sniffies - Donovan's from Urinal Cake Records on Vimeo.
The Sniffies' song of course arrives less than a year after the Moonwalks released a song about
one of their own favorite local venues
. And since Protomartyr's infamous "
Jumbo's
" (about
Jumbo's
) was released four years ago, that means this is totally now a trend. We've just witnessed the birth of a real Detroit trend! Let's keep this one alive, friendos. It can't go the way of electrocloash, Pog or keyboard ties; we must stoke its fires. So, who's going to write a song about another venue or bar — say, the Old Miami? El Club? V Nighclub?
The K9 Sniffies' debut got a rave review from the highly regarded website
Terminal Boredom.
We've conveniently posted a screenshot of it below.
Termbo
does not hand out treats to every loud band that comes along; this is seriously a big deal.