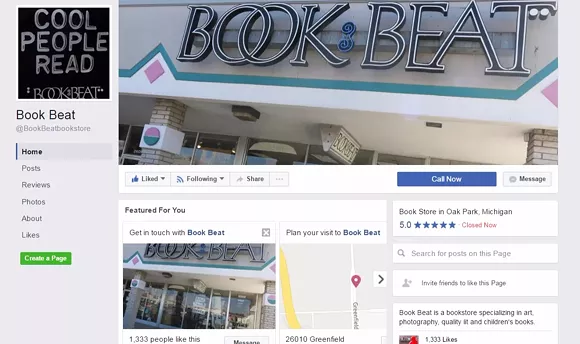 UPDATE:
The same night we ran this story, Facebook restored the bookstore's page. We are keeping the original article up, because it's a chance to extol the virtues of one of our finest local small businesses.
Cary Loren writes that he was contacted by Facebook with the following message:
"Hi, We're reaching out to you about your Page, located at www.facebook.com/BookBeat. We had previously removed this Page after receiving a report that it violated Facebook's Statement of Rights and Responsibilities. Upon further review, we realized that this was an error and we've restored your Page to the site. We're sorry for any confusion this may have caused you."
————————————————————————-
As reported by Susan Whitall at the Back Room, this weekend we learned that Facebook simply deleted the beloved 35 year-old Oak Park store
Book Beat
's Facebook page in favor of an online giant with the same name, which has been in business for far less time, over an intellectual rights claim the Goliath shop made. This was done with no warning.
There is a new page up now,
so be sure to click that "Like" button in order to keep
getting updates about events and titles from the store.
Metro Times
spoke with the shop's co-owner Cary Loren, who's also a visual artist and musician. Loren is a bit like Ed Sanders from the Fugs; he's passionate, bright, has a great sense of humor, and he's done some stuff.
Metro Times
: So, tell us about your shop for those who might not know. When and how did it get started?
Cary Loren
: I studied art and photography at Wayne State University while working for other bookstores, and then my wife Colleen Kammer and I decided to open Book Beat in August 1982, with help from a loan by my parents. My mother found the old Purple Pickle pregnancy store for lease at Lincoln center, and my brother-in-law Peter came up with the name. At the opening there were friends, relatives, a few customers and a clown with balloons. We expanded the shop in 1987 and took over the Detroit Edison store on the corner. Our focus has been on literature, the arts and children's books.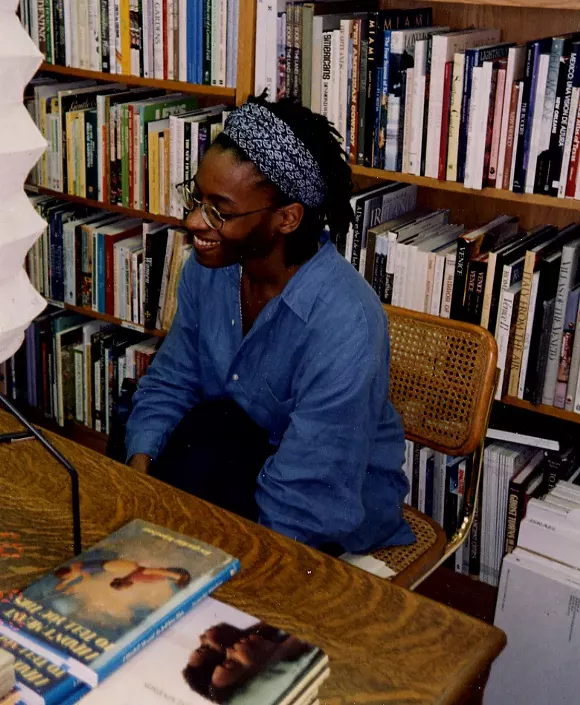 MT:
When did you first hear of another business with the same name as yours?
Loren
: I heard about a Book Beat bookstore in Arizona a few years ago, and learned about the online BookBeat.com this past Friday when our Facebook page was taken down. When I checked into BookBeat.com I found they were a digital book distributor begun in 2015 and were owned by the Bonnier Book group— a large multi-national.
MT
: What happened the other day?
Loren
: I received a brief statement from Facebook that our webpage was taken down because of a violation they called "infringement of intellectual property rights" I saw they used the "AMAZON FREE ZONE!: yield" sign that I use as a FB portrait— and I thought at first it was because of an Amazon sign complaint.
Then I noticed the words:
report # 1251702271587860 , Rights Owner: BookBeat AB
and a contact email. I heard that BookBeat.com and Bonnier are soon planning a $100 million dollar expansion into the United States book market, according to Publisher's Weekly.
MT
: What is going on now? You have a totally new page up?
Loren
: Yes, Kathryn, a customer at Book Beat suggested we put up a new FB page immediately and notify people about the situation. We took her advice and are talking now with a local copyright attorney.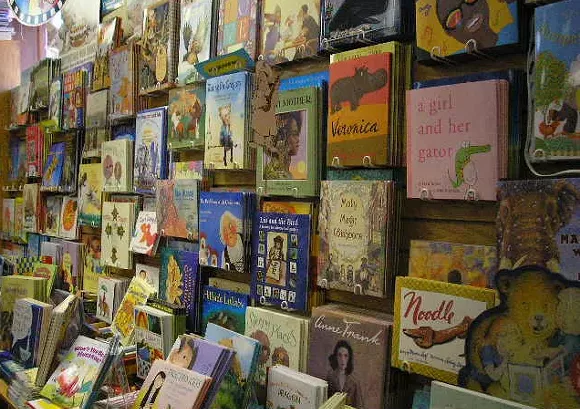 MT
: How does this make you guys feel? What has response been?
Loren
: There was a lot of outrage and anger at first, but the response locally has been amazing — mostly positive and supportive. Some people see it as a David and Goliath story, and in a way that's how this "Alternative Fact" era is working out. Strength and greed seem to be the major motivations in our government, and this kind of dumbing-down thinking is filtering into most areas of our lives. This has also just taken up a lot of our time, when we could be doing more productive things.
MT
: What is the latest with this situation?
Loren
: We started the new FB page Saturday night. And hopefully we can soon get our old page back, or FB will merge them. I'm now trying to gather up articles and proof about our existence, in case this gets deeper involved.
MT
: What else is going on with the store? How is business?
Loren
: Book Beat chugs along but its a tough business. Amazon is a giant gorilla taking sales away everywhere. Few small neighborhood shops exist anymore, and unless they have support, giant conglomerates and the likes of Trump will be running the world online and off.
The staff at Book Beat is great and everyone here has had helpful ideas in dealing with this incident. We're in the middle of cataloging our out-of-print books and have events going on outside the store to keep it running — our partnerships with schools and libraries have been wonderful. FB is still a necessary component in connecting with the public and letting folks know what's happening.
Our website has a blog where we list events:
thebookbeat.com/backroom
, and people can also sign up there to receive our newsletter or follow us on instagram @BookBeatDetroit.