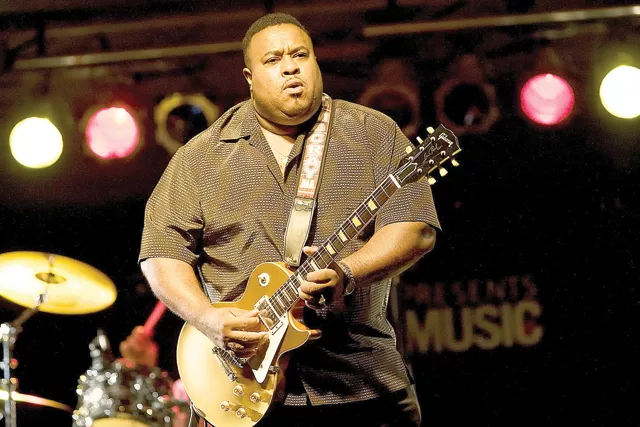 On Jan. 4-5, the first weekend of 2013 and just days after the New Year's celebrations, the Magic Bag in Ferndale will host the AntiFreeze Blues Festival, an event that celebrates everything from traditional blues to blues rock, and all that lies between.
The first AntiFreeze took place back in January of '97, with Sugar Blue, Larry McCray and AC Reed on the bill. Since then, the festival has featured the likes of the Black Keys, Reverend Peyton's Big Damn Band, Koko Taylor, Charlie Musselwhite, Johnnie Johnson, John Hammond and Junior Wells.
Sixteen years on and it's still here, though the Magic Bag's Jeremy Haberman says that AntiFreeze has waxed and waned on the public's taste for the blues. "Our challenge is to present a well-balanced show that can not only pique the interest of the converted, but also appeal to the next generation of blues fans," Haberman says. "We saw major gains from the younger segment when we featured the Black Keys a few years ago and Reverend Peyton's Big Damn Band last year. It's important to us to present this music and create a fun environment to keep the blues going strong in the hearts of Detroiters."
Sadly, one of this year's planned headliners, Andre Williams, was forced to pull out after suffering a stroke in December. How do the organizers set about filling a gap that big? "First, panic (when you're less than a month out), and then call an old friend," Haberman says. "Larry McCray headlined the very first festival and we're psyched that he was willing and able. The festival this year is heavy on guitar. As a guitar player or fan, you have your choice of a British blues-rock pioneer in Kim Simmonds of Savoy Brown, Michigan Blues legends Larry McCray and Jim McCarty, and a wealth of who's who locally (Laith Al-Saadi, Jeff Grand, Robert Jones, Mark Pasman). To put players of that caliber in one place over the course of a weekend is exciting."
It certainly is. We spoke to some of the AntiFreeze performers to get a taste for what we can expect.
Have you played the festival before? What makes it great?
Tino Gross: Yes, I have played the AntiFreeze Festival multiple times. I've backed up Hubert Sumlin (Howling Wolf's guitarist) and played with Johnnie Johnson (Chuck Berry's pianist), as well as Larry McCray, Jim McCarty and more. The AntiFreeze Festival is always great because it's a musician-driven event with an intimate feel to it. The audience is really an important part of it.
RJ Spangler: I've played all but one as I am a co-founder of the event, which started as the Deep Freeze Blues Festival under Steve Milgrom, with Jeff Grand and myself. We did it for two years then Steve sold the Bag to Jeremy, who has been kind enough to keep Jeff and I on board, now along with Willy Wilson [also of the Magic Bag].
Mark Pasman: "I have played and emceed many times over the years. It's a great, intimate theater setting, a chance for blues brothers and sisters to mix and mingle, jam and celebrate the magic that is the blues.
Is that period right after the New Year a good time for a festival?
Jeremy Haberman: It certainly is for this festival. Blues music doesn't always get the coverage as the flavor of the now, especially the guys not named Buddy or BB. We've always found that there's a dearth of live music the weekend after New Year's Eve. It makes it fruitful for publicity and for attracting live music connoisseurs that want to see a top-notch show.
Gross: I think this is usually perceived as a slow entertainment week, but this festival has "claimed it and named it," and always seems to do real well.
Pasman: First quarter is always quiet in the entertainment biz, so we all look forward to the frantic, fabulous AntiFreeze Blues Festival. Folks have all week to recover from New Year's, so the crowd at the bag is always primed for this one!
What is blues music in 2013? How has the music changed?
Gross: Blues music in 2013 has changed, and change is good. Obviously most of the older giants have left us. I did see BB King at the Fox, and Buddy Guy is still rolling. The good news is there's a whole new wave of kids playing a style of punk-blues hybrid that is really exciting. Bands like the Black Keys, Buffalo Killers, Kenny Brown and Left Lane Cruiser are reinterpreting the music. Also the remixes for Fat Possum and other labels took those Mississippi acts like RL Burnside and Junior Kimbrough to a whole new audience. Those guys opened tours for the Beastie Boys and Iggy Pop. The live jam band circuit is also having more and more blues acts added as well.
Spangler: I am not certain that I can define what blues music is in 2013 that is drastically different from years past. You ask how has the music changed? Well at its heart, we hope that it hasn't, as blues isn't a genre that is really about growth but rather more about tradition. Blues is the foundation of all modern American music; how can you drastically change the root? We have new names that come along as we lose our heroes of postwar blues. More and more, we hear rock influences, which to me is not really improving where it came from, but may be inevitable. We are a collection of our influences I suppose. So I always encourage younger blues players to dig the roots of their heroes. Who did Clapton or Stevie Ray dig?
Pasman: As host of the WCSX Motor City Blues Project, and working with blues musicians for a quarter-century here in Detroit, I can tell you that blues music, both locally and nationally, is coming out of a down cycle and growing again in some very exciting ways. There are tons of very young bands coming at the blues and R&B from some very different angles. You also have some blues-oriented bands finally getting some major action on the pop charts, like the Alabama Shakes, the Tedeschi Trucks Band and the Black Keys.
Is Detroit still a blues hotspot?
Gross: Absolutely, Detroit is a blues hotspot. Blues is the key root in rock 'n' roll. You just have to know where to find it and recognize it. Detroit is the world leader in most forms of music, still to this day. John Lee Hooker is gone, but that boogie groove will stand the test of time for eternity.
Spangler: Was Detroit ever a blues hot spot? We contributed John Lee Hooker, Little Sonny, Baby Boy Warren, Bobo Jenkins, Eddie Burns, Alberta Adams and Johnnie Bassett. Only Hooker became a blues superstar. Little Sonny was maybe second. Detroiters always loved the blues, and it enjoyed a big comeback in the late '80s and into the '90s, while Stevie Ray, the T-Birds and Robert Cray were heard on classic rock radio across the nation. Detroit's black blues-loving population helped make modern day blues anthems like "Hey, Hey, the Blues Is Alright," "Stoop Down Baby" and "Downhome Blues" into real hits. Detroiters supported the blues. BB King has returned here over and over again, throughout his career, and for good reason."
Pasman: No question from the talent perspective: some of today's best players are still made in Detroit: Thornetta, McCarty, Bobby Murray, Brothers Groove, Motor City Josh, Laith Al Saadi, Alberta Adams, the Sun Messengers, and on and on. Now, we could use some more venues, and that seems to be on the upswing, as club owners and promoters are figuring out, once again, that there ain't nothin' like a hot live blues band. DJs and karaoke gets real old, real fast.
What can we expect from your set?
Gross: Rev. Robert Jones is a virtuoso player who can bring the prewar Son House, Robert Johnson style to life. I sorta play like an auto worker from Flint. It will be a blast.
Spangler: Our set will feature some strong singing from vocalist Laura Rain, by now a solid professional. She favors the soul side of the blues and does it well. Our guitarist toured all over the world with Janiva Magness, probably the top female blues singer in the world today, and he's also toured internationally with rockabilly icon Robert Gordon. George is at the top of his game playing real blues guitar without rock histrionics. Google my name if you don't know my résumé. Real soulful blues played by real veterans.
Pasman: A super-session is different than most groups in that it is an ever revolving, evolving group of singers and musicians that get together, without rehearsal, and jam live on stage. No rehearsals, no holds barred. We pick a tune, a key and groove, and off we go. That's the way this kinda music should be played. As there were some late changes made to the talent lineup, due to Andre's illness, I got a late call, so I'm still assembling this super-session. It will include my right-hand man, Jimmy Pickles Nicholls, the Mighty Gherkin of the Blues, on harp and vocals.
The AntiFreeze Blues Festival takes place Jan 4-5,  at the Magic Bag, 22920 Woodward Ave., Ferndale;
248-544-3030.
Brett Callwood writes City Slang for Metro Times. Send comments to [email protected]